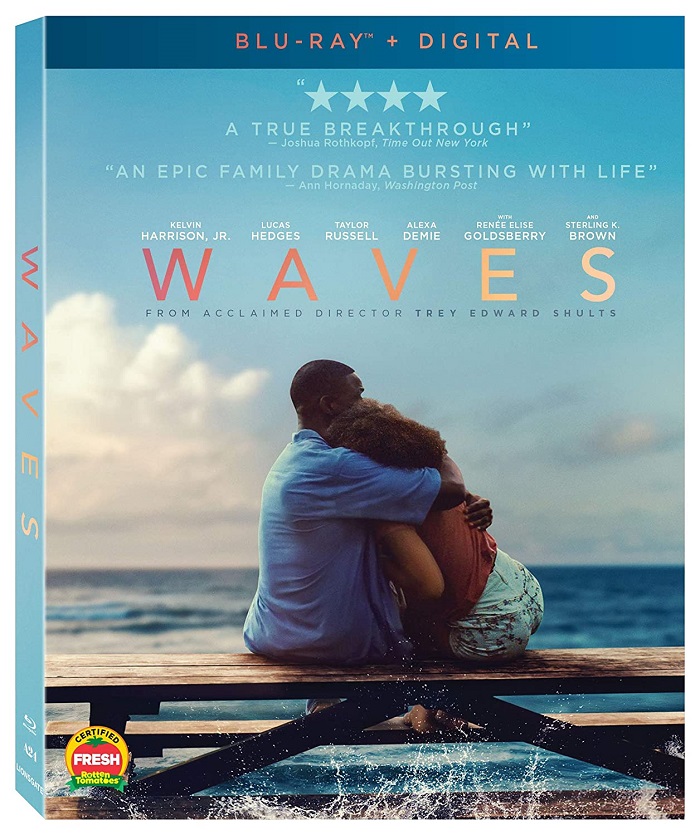 Given how Waves is a coming-of-age story about an African-American male growing up in south Florida made by A24 Films, comparisons between this and Moonlight feel inevitable. However, the comparisons end right there. Instead, Waves is a poetically visceral gem about masculinity, forgiveness, and family. Even when it gets hard to watch, it still becomes hard to look away.
Partially because of the kaleidoscopic cinematography by Drew Daniels, this look at the life of Tyler (Kelvin Harrison, Jr.), a teenager dealing with his turbulent house life along with particular girlfriend troubles, becomes a marvel to glance at even as it's tragic watching Tyler's life start to come apart. Not to mention, when his life takes a downturn, his family starts falling apart as well. His relationship with his father, Ronald (Sterling K. Brown) in particular becomes strained.
Ronald is a living embodiment of hypermasculinity and Sterling K. Brown plays him with both composure and ferocity. While it's easy to despise Ronald because of his dominating nature, one can understand his need for Tyler to excel. There's even a scene, which would surely be Brown's Oscar clip if he gets nominated, where Ronald reminds Tyler that because they're African-American and live in a society where the odds are against them, they must always do better and be careful to never make a drastic life mistake. Along with the dialogue, the power in Brown's eyes makes that scene utterly convincing.
As for Kelvin Harrison Jr. as Tyler, he makes another case as to why he's one of the best rising actors working today. He impressed earlier this year in Luce and does the same here, giving a performance packed with external yet fragile rage. Tyler keeps finding ways to throw hard punches as he's being pressured to excel only for his ego to shatter once he expresses sudden feelings of sadness.
Meanwhile, Taylor Russell is terrific as Tyler's younger sister Emily, showcasing a warm, sunny disposition used to overcome certain feelings of hatred. Also, Lucas Hedges is in fine form as Luke, Emily's eventual love interest, while Renee Elise Goldsberry is incredibly no-nonsense as Tyler and Emily's stepmother, Catherine.
All the actors are immensely believable as people finding ways to bury their loathful feelings and sync in with the film's two halves. The first one is more jarring and drenched in both red and blue to capture the chaos and melancholy of Tyler's prolonged breakdown. Even the editing by Trey Edward Shults and Isaac Hagy captures its frenetic tone. The second half, however, is drenched in blue to reflect its mellow atmosphere and hope for the futures of our main characters.
Ferocious, optimistic, and profound at once, Waves is one of the most immersive film watching experiences one will have this year. Whether it's the luminous cinematography or the powerhouse acting, there's always something about it that will linger in people's minds. With this and the equally immersive horror flick It Comes At Night, Trey Edward Shults has proven himself to be a master at tapping into the human experience in a subliminal way.