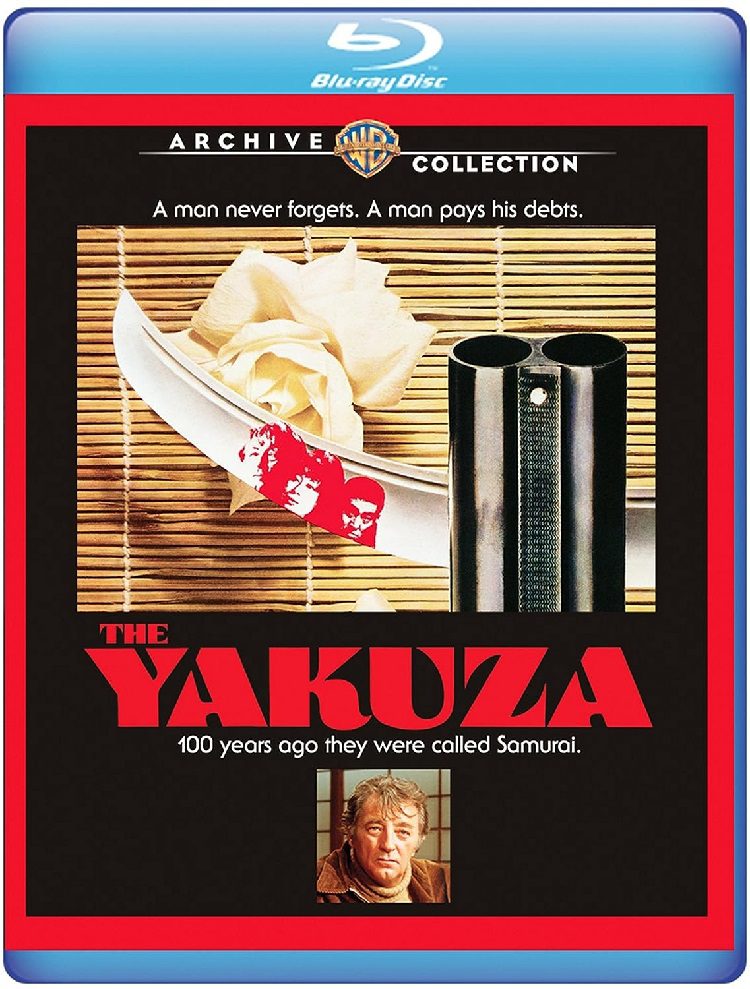 What can you say about a Japanese-American co-production from the director of Three Days of the Condor as written by the beautifully dark minds who penned Chinatown, Taxi Driver, and Kiss of the Spider Woman? Well, if said film also happens to star the great Robert Mitchum alongside Japanese icon Ken Takakura, and features an eclectic funky score by Dave Grusin, then the one and only official answer to that query is a heartfelt "Plenty!" ‒ as Sidney Pollack's 1974 cult classic The Yakuza should prove to even the most jaded classic movie buff beyond a shadow of a doubt.
After selling their story to Hollywood for an unheard-of $325,000 ‒ the costliest sum ever to be paid for a story at that point ‒ brothers Paul and Leonard Schrader developed their gritty contemporary action-drama into a stellar motion picture with the help of neo-noir specialist (and former Roger Corman protégé) Robert Towne. Here, Robert Mitchum ‒ definitely no stranger to appearing in gritty roles, having starred in Peter Yates' The Friends of Eddie Coyle the previous year ‒ is retired detective Harry Kilmer, who finds himself returning to the same Land of the Rising Sun he had bade a bitter farewell to many years before during the US occupation.
One of Harry's old armed services buddies, George Tanner (Brian Keith, in as Brian Keith of a role as there can be), has landed himself in some fairly tepid water with some no-nonsense guys called The Yakuza, resulting in them holding his daughter hostage. Giving Harry the unenviable task of rescuing the kidnapped girl, Kilmer soon finds himself calling on his ex-lover Eiko (Keiko Kishi), whom he was forced to abandon due to strained family tensions brought forth by her one-time yakuza brother Ken (Takakura). And, as anyone who has ever poured freshly squeezed lemon juice and rock salt on a wound knows full well, some things take a lot of time to heal.
Alas, it hasn't quite been long enough for poor Ken, which makes Harry's asking of his assistance all the more cumbersome. Nevertheless, the ex-gangster teams up with the ex-detective, and Pollack's edgy, realistic tale of lost loves and unresolved hard feelings soon turns up the heat. Paving the way for many a "fish out of water/buddy" picture that followed in its wake (the Rush Hour series comes quickly and rather painfully to mind), Mitchum and Takakura, two actors you would have never expected to find sharing an action sequence together ‒ let along a sensitive dramatic scene with one another ‒ have one of the most underrated chemistries ever here.
But theirs is not the only one to be found in The Yakuza. There's also a budding bonding to be seen betwixt Mitchum and his former Eddie Coyle co-star, the late Richard Jordan (whom we also saw in another recent Blu-ray release, that of Woody Allen's Interiors from Twilight Time), who plays Brian Keith's hired hand. Herb Edelman (best remembered as Murray the Cop in the original version of Neil Simon's The Odd Couple), Eiji Okada (Hiroshima mon amour, Lady Snowblood), and James Shigeta (Flower Drum Song, Die Hard) also star in this breathtakingly beautiful downer of an adult drama which deserves all of your attention.
Sadly, American audiences weren't quite ready for The Yakuza when it was first released in '74. In fact, the US really didn't become "Japanese-friendly" until the '90s rolled around, resulting in a rash of flashy action flicks like Rising Sun, Black Rain, and guilty pleasure favorite Showdown in Little Tokyo ‒ none of which possessed the same emotion as Sidney Pollack's film. Fortunately, The Yakuza had all of the right elements to make it an underground favorite as the years went by, and its addition to the very prestigious and eclectic line-up of Blu-ray releases from the Warner Archive Collection is proof of the title's popularity.
Not only has the film been given another chance to slice its way into our hearts and pinkies here, but the WAC has gone the extra mile honoring this classic by giving it the exemplary color correction and restoration we have come to expect from them with their BD releases. Sporting a transfer that is to commit ritualistic seppuku for, The Yakuza looks absolutely fantastic; and its accompanying DTS-HD MA 2.0 Mono soundtrack (remastered from the original monaural magnetic masters) delivers all of the emotional dialogue, cringe-worthy sound effects (you'll find out what I mean), and Grusin's magnificent East-Meets-West music score.
Extras for this Warner Archive release begin with an audio commentary with the late Sydney Pollack, which has been ported over from the 2005 DVD version of the title. Next up is a vintage Warner Bros. promotional featurette, which runs in the neighborhood of 20 minutes in length and has been remastered in 1080p (although it was never in top-notch condition to begin with, so don't expect much). Finally, there's the original theatrical trailer. Like the behind-the-scenes featurette, this minimalist attraction has also been remastered in 1080p. The preview features very little narration, presumably because even the movie studios of 1974 weren't quite ready for this sort of film.
Luckily, things have changed since then. Along with that barrage of Asian-oriented action films in the '90s, the rise of anime that same decade has since narrowed the large gap between our very different Western and Eastern cultures ever so slightly. And with many classic (as well as recent) Asian movies receiving wide home video distribution today (from the folks at the Criterion Collection to Arrow Video), it's nice to see this neglected underground fave ‒ which very well may have been more inspirational to modern film than most people realize ‒ reemerging from the shadows.
Bravo, Warner Archive, for doing such a very honorable thing.