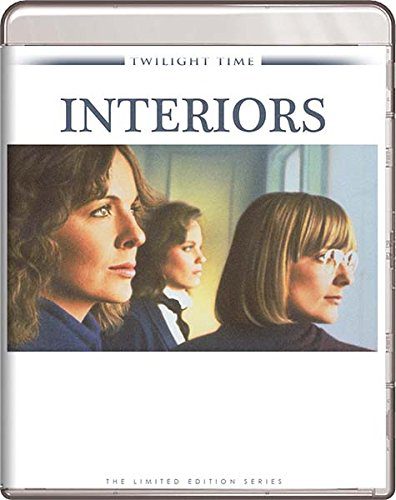 Interiors (1978)
As anyone who has ever straddled a bicycle, slipped into something made out of lamé, or walked into a brothel full well knows, there's a first time for everything. In the case of Interiors, we witness comedian/filmmaker Woody Allen's first uncompromising move into the world of motion picture drama. Following his unparalleled triumph at the Academy Awards the following year with the Oscar-winning Annie Hall ‒ something die-hard Star Wars fans still haven't forgiven him for ‒ the Woodster decided it was time to tell a different kind of story: one that didn't have to rely on elements such as budding romance and witty jokes to convey itself.
In fact, Allen was so determined to ensure there was nary a shred of the funny to be found in Interiors, that the one and only joke told in the film doesn't even receive an on-screen delivery; rather, we just hear the reactions. Nor does he even appear in the film, for that matter ‒ leaving a very stalwart cast of professional actresses and actors in this take on Chekhov's The Three Sisters by way of Ingmar Bergman. The great E.G. Marshall plays the head of a fairly well-to-do family table here, who has decided to leave his faithful ‒ but clearly nutter ‒ decorator wife, as played to the hilt by a particularly magnificent Geraldine Page.
But that's just the tip of the melodramatic iceberg. Once matriarch Page's already unstable mental condition (which clearly inspired Catherine O'Hara's character of Maureen Wallace on SCTV, and no one will ever be able to convince me anything contrary to that) takes a turn for the worst and she tries to commit suicide, her two eldest daughters ‒ as played by Diane Keaton and Mary Beth Hurt ‒ begin to war with one another. The situation changes further once dear old dad shows up to a family dinner with a new girlfriend (Maureen Stapleton) who, despite hailing from a less snobby stock, is the complete opposite of their mum, starting with the fact she's fun.
Page and Stapleton both received Oscars nomination for their efforts (as did Allen and his art directors Mel Bourne, though neither party would win ‒ presumably because Star Wars geeks hacked the Oscars that year). Co-starring in are Kristin Griffith as the youngest sister of the family ‒ who eventually has to fight off drunken, rapey brother-in-law Richard Jordan ‒ and a young Sam Waterston. Twilight Time presents Interiors via a beautiful HD print, with accompanying English DTS-HA MA 1.0 soundtrack and (SDH) subtitles. As the movie has no music score to make an isolated track of, a theatrical trailer is the only special feature apart from Julie Kirgo's liner notes.
Chilly Scenes of Winter (1979)
In this era's heavily saturated market of home video, it isn't at all uncommon to see a DVD or Blu-ray release of a movie ‒ no matter how well it fared at the box office, mind you ‒ sporting some sort of phrase such as "director's cut," "extended edition," or "unrated version." But back before the video industry began to grasp it was indeed possible to restore the faith of jaded viewers whose favorite works had been unjustly butchered by the poor decisions of studio heads, however, things were a bit different. If a movie was ruined by a distributor or producer, it was usually a case of "tough titty," and the title would usually fall into obscurity shortly after that.
So you really have to hand it to the innovative young minds who, in 1982, decided it was time to re-release a film they had lovingly worked on together in 1979. Head Over Heels, Joan Micklin Silver's sincere adaptation of Ann Beattie's novel Chilly Scenes of Winter, was unceremoniously tossed out of cinemas shortly after its premiere when everyone realized they gave the bittersweet romantic dramedy a happy ending. It bombed, needless to say, but that didn't stop its trio of young producers, actors Amy Robinson, Griffin Dunne, and Mark Metcalf, from trying it again. Long before home video would make such things easy (or at least, marketable) to do.
Now known by its "original" name, 1982's Chilly Scenes of Winter succeeded where Head Over Heels had failed, re-premiering with the ending it was supposed to have had, taking full advantage of the recent achievements of its leads. Charles (John Heard) plays our slightly nuts romantic hero here, who just can't seem to get over the short time he spent idolizing Laura (Mary Beth Hurt ‒ yes, again ‒ fresh from co-starring in The World According to Garp with Robin Williams). Alas, Laura isn't keen on making any big commitments, beginning with her indecisiveness to fully leave her husband.
A superb supporting cast of strange characters keep Winter warmed up, including Peter Riegert (with the most enviable jewfro ever), Kenneth McMillan, and Jerry Hardin. Former B-movie bad girl Gloria Grahame passed away the year before the film's re-release, making her outrageous performance as Heard's oversexed and suicidal mother all the more memorable. Co-producers Mark Metcalf (aka "The Master" from cult fave Buffy, the Vampire Slayer) and Griffin Dunne also appear, as does elderly actress Frances Bay in one of her "early" film roles. Even author Ann Beattie gets a cameo of her own.
Twilight Time brings us this routinely overlooked look at the perils of the dating pool to Blu-ray via a very crisp and clear High-Definition transfer from MGM/UA. English (SDH) subtitles accompany the default DTS-HD MA 2.0 Mono audio soundtrack, which also comes through with no noticeable issues. Special features for Chilly Scenes of Winter include an audio commentary by director Joan Micklin Silver and Amy Robinson, Ken Lauber's rather unfitting soft jazz score as an isolated DTS-HD MA 2.0 Stereo selection, and the title's official re-release trailer, which once again feels like it was marketed all wrong. Julie Kirgo once again provides the liner notes.
Both Interiors and Chilly Scenes of Winter are limited to just 3,000 copies apiece. Enjoy.