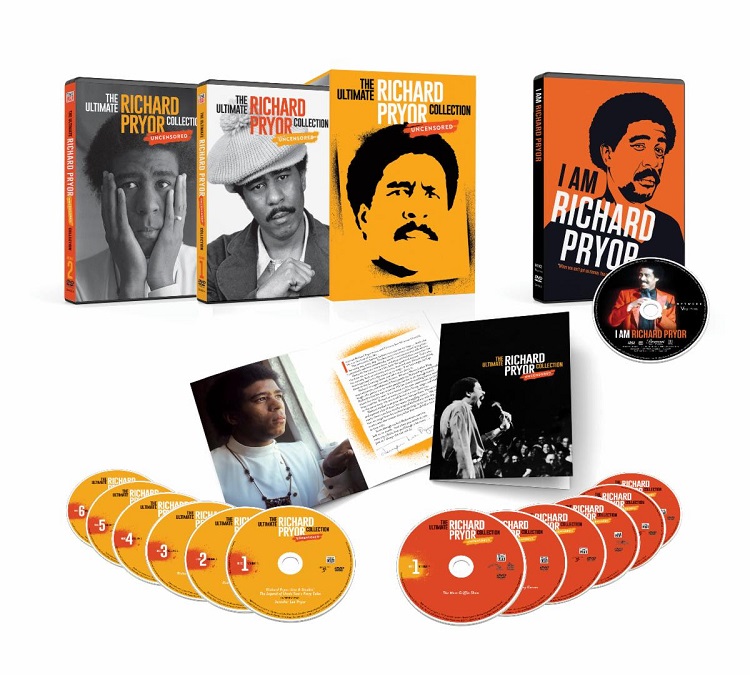 The Ultimate Richard Pryor Collection (Uncensored) is a 13-disc set celebrating the iconic comedian's work in TV and film, ranging from early talk show appearances in the 1960s to multiple documentaries produced after his death in 2005.
Volume 1, Disc 1 opens with early work. Recorded at the New York Improvisation on April 29, 1971, Richard Pryor: Live & Smokin' (46 min) presents Pryor finding his way with outrageous topics in material that needs polishing. In 1968, as writer/director, Pryor made the film The Legend of Uncle Tom's Fairy Tales (56 min). Penelope Spheeris, who was UCLA student at the time and Legend's producer and editor, tells the story behind this film. A disc extra is an interview with Jennifer Lee Pryor (23 min), his fourth and also his seventh wife as they remarried and remained so until hs death.
The next three discs presents Pryor at the peak of his career showcased in concert films. He mines his personal life for a lot of his material. Shot at the Terrace Theatre in Long Beach, California on December 10, 1978, Richard Pryor: Live in Concert (1979) is notable for being the first feature-length stand-up comedy film. Pryor talks about going to jail over shooting his car, his amorous pet squirrel monkey, his heart attack, and dealing with his Grandma and Father and the punishment they dished out.
Shot at the the Hollywood Palladium on December 9 and December 10, 1981, Richard Pryor: Live on the Sunset Strip (1982), Pryor finds humor in the freebasing-explosion incident that caused burns over half his body and talks about traveling to Africa and the epiphany that made him declare, "I ain't ever gonna call another black man, 'nigger'."
Shot at the Saenger Theatre in New Orleans on August 9, 10, and 11, 1983, Richard Pryor: Here and Now (1983) presents the comic sober for 7 months. While interacting with a rowdy crowd, he talks about being drunk, the differences in dating white and black women, an extended bit with Mudbone character, and meeting President Reagan.
The collection moves into Pryor's TV work. Disc 5 contains The Richard Pryor Special? (1977), a variety show with sketches from a black perspective of Pryor and writers like Paul Mooney. John Belushi and Sandra Bernhard guest star but the most notable performance is by Maya Angelou in a dramatic role about a woman struggling because she is married to an alcoholic.
The special led to The Richard Pryor Show, which must have been wilder than what NBC executives anticipated because they only aired 4 episodes, which are available on Disc 5 and 6. The cast included Bernhard, pre-Mork Robin Williams, Marsha Warfield, and Tim Reid. Many of the sketches run long and meander, compared to current shows. Sketches cover the first black President and spoofing movies like Fistful of Dollars. Extras are deleted material from the series.
The first two discs in Volume 2 highlight Pryor's talk show appearances. Four episodes from The Merv Griffin Show range between 8/27/65 – 7/21/66 during the show's first time in syndication. These shows are edited. Pryor does stand up, sits at the desk with Griffin, and whatever the host asks: sings, dances, and improv. As a young comic, he works hard and seems eager to do whatever required to entertain.
Three episodes from The Tonight Show with Johnny Carson, one a year starting in 1978. These shows are also edited, but in addition to Pryor sitting with Carson, the shows include the host's monologues and sketches. Pryor is a lot looser with Carson, not so much performing but conversing. The last show is his first appearance since the freebase accident. He is subdued and moved by the public's applause.
I had never heard of Pryor's Place before this set. Airing Saturday mornings on CBS in 1984, Pryor starred on this combination of Sesame Street and Fat Albert which taught children lessons about matters such as bullying, shoplifting, and divorce. Created and produced by Sid and Marty Krofft, five of the 13 episodes are collected here. Pryor is joined by Sammy Davis Jr., Robin Williams, Dodgers player Ron Cey, Rip Taylor, Willie Nelson, John Ritter, and Lily Tomlin. The makers clearly have good intentions but the show is not very good.
Disc 4 contains Jo Jo Dancer, Your Life Is Calling (1986). Pryor produced, directed, co-wrote, and stars in a story about a comic in a coma after a freebasing incident whose spirit visits himself in the past in the hopes of getting him to change his self-destructive ways. Fans will recognize many scenes of Jo Jo life's from Pryor's stand up material. The film is all right, but rather straight forward. It could have been better served by a more skilled director.
Disc 5 is a catch-all. Last Stand-up Sitting Down (23 min) presents some of Pryor's last performances at The Comedy Store from December 1995 through March '96. Also recorded at the Comedy Store is "Richard Pryor: LOVED! On the Sunset Strip: An American Cinematheque Tribute" (63 min). Recorded November '95, Paul Rodriguez emcees this evening with Rodney Dangerfield, Sugar Ray Leonard Jr., Tim Reid, Jon Voight, Gilbert Gottfried, and others paying their respects. Pryor takes the stage for the last 20 minutes. Richard Pryor: I Ain't Dead Yet, #*%$#@!! (18 min) presented almost half of a 2003 Comedy Central special with a lot of comics riffing on Pryor's material. From December 16, 1985, Pryor is the guest on The Dick Cavett Show (41 min) and among the topics is his working on the unreleased Jo Jo Dancer. Another extra finds Jennifer Lee Pryor (23 min) interviewed about different material.
Volume 2 concludes with the 2013 biographical documentary Richard Pryor: Omit the Logic and the the collection concludes with the 2019 biographical documentary I Am Richard Pryor. No one should fail a quiz about Pryor's life after making their way through these discs.
The Ultimate Richard Pryor Collection (Uncensored) earns the "ultimate" designation. This deep dive into Pryor's career is for the hardcore fan since what is essentially three biographies is a bit of overkill. The casual fan of his comedy might want to wait for Volume 1 to be available on its own. That said, there's a lot of great stuff throughout the 13-disc set that will leave one wanting more, such as his comedy albums and other movies.