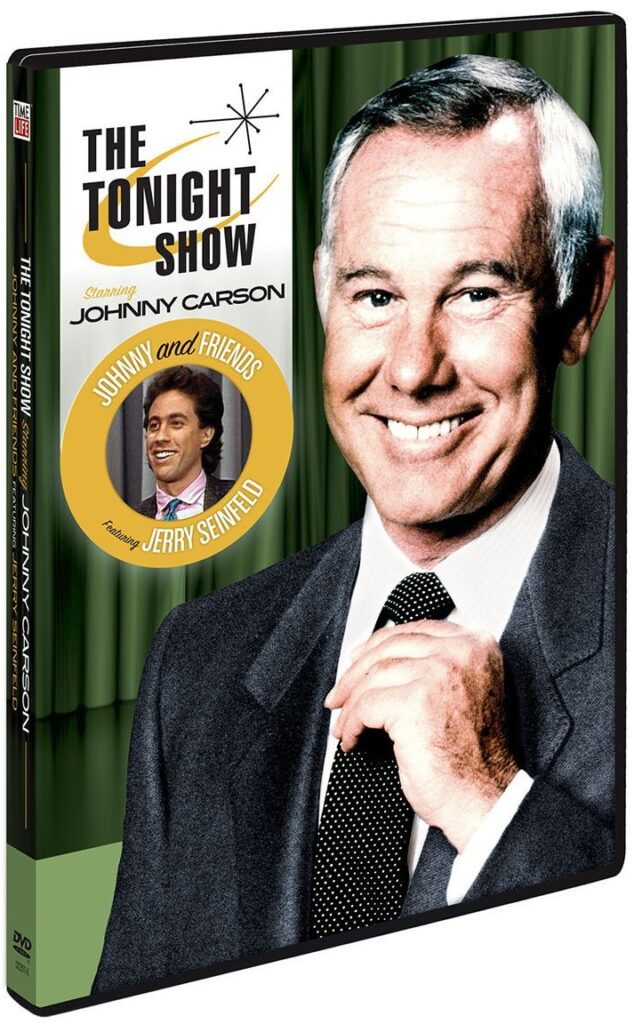 It's great that Time Life is finding new ways to market The Tonight Show Starring Johnny Carson by releasing the new series Johnny and Friends. The first installment to hit retail shelves on January 10, 2017 features Jerry Seinfeld. Unfortunately, it's too little too late.
With The Tonight Show Starring Johnny Carson running nightly on Antenna TV and Time Life making virtually everything "Johnny" available, it's not too surprising that the average consumer might expect a bit more here than simply three episodes featuring appearances by Jerry Seinfeld. Perhaps you could have given us some bonus features. Some commentary by Jerry. How about the first appearance by Jerry? Nope. Just three episodes featuring Jerry.
Now, there is some good stuff here. There is some bad stuff here. There is some ugly stuff here.
Johnny delivers three fun monologues on these episodes from 6/27/85, 2/21/86, and 6/9/88. Luckily, there seems to be a theme in that the audience from the previous night was not particularly hot. Johnny works his material well and shows why he remains the master of working material that is not well received. He milks a flubbed line on a monologue joke for all it is worth throughout the episode as only he can.
Jerry Seinfeld is hit and miss here. He certainly seems comfortable with material that does not seem quite polished in the first two episodes, and though he hits well with the horse-themed routine in the third episode, all three appearances seem to end abruptly and not with the big joke that garners applause as is so often seen in such performances. With little couch time in the three appearances, we are certainly left wanting more Jerry.
We are left wanting little from the first episode on the DVD. Shelly Winters makes her usual eccentric appearance and Johnny does his best to deal with the performer who is all over the map. The Mighty Carson Art Players production of "Mr. Rambo's Neighborhood" is appropriately a huge bomb as Johnny is left to chew scenery in a sketch that is over produced and under written.
We bounce back slightly in the second episode. The appearance by drag-race legend Shirley Muldowney is interesting but contains little energy and culminates in Johnny and Shirley racing golf carts. The race turns out to be far less exciting than it sounds and we all lose. The highlight of the episode is the appearance by a young and extremely energetic Oprah Winfrey. This has gold written all over it right from the start when Ed McMahon struggles with her name when listing the guests for the evening. Sadly, when she is introduced by Johnny, she appears from behind the legendary curtain in an outfit that leaves all wondering, "What the heck is she wearing?" Nonetheless, she is clearly very excited to be on the show which makes for a fun interview.
The third episode is as good as it gets here. Ed opens the show and mispronounces Andre Agassi, Jerry has his best set of the three, and just having Arnold Schwarzenegger, Jerry Seinfeld, and an 18-year-old Andre Agassi sitting on that stage with Johnny makes this almost worth having.
Recommendation: This is fun, frightening, frustrating, and ultimately, not worth the financial investment. What's here looks and sounds great and hearkens back to the days when talk shows were more talk than anything else. Sadly, we have come to expect more when we purchase DVDs and there are no bonuses here.