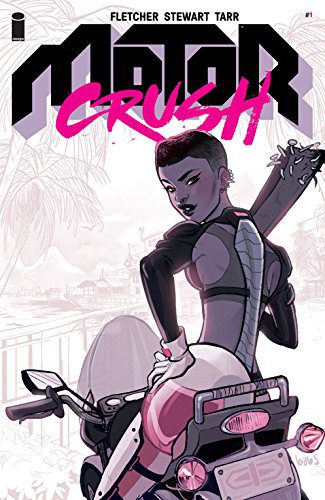 Written by Katelyn Powers
It felt like a dumpster fire kind of year, but let me tell you – it was a delightful year for comics. Just think about it: DC launched its Rebirth title, which was wildly successful and one of the most popular single issues to date. On the other hand, we had the controversial Civil War II from Marvel. That event has mixed feelings across the board, and no one seems to be able to decide if it was actually that good (or helpful).
As for me, 2016 was a year of discovering comics creators that I loved and watching them blossom. I read a lot of Big Two comics this year, but the best and brightest seemed to come from creator-owned projects rather than from big publishers. Without further introductions, this is my list of the best of the best from 2016.
I can't imagine starting off this list with anything else but this book. The Secret Loves of Geek Girls is an anthology from Dark Horse comics and edited by Hope Nicholson. This book shares stories and art from women that are self-proclaimed "geeks". This book is vividly capturing, deeply heartbreaking, joyously united, and wonderfully spirited. I haven't stopped thinking about this book since I read it a few months back. Upon completing it, I felt an overwhelming feeling of: "This is the book that 2016 needed."
Zodiac Starforce, written by Kevin Panetta and art by Paulina Ganucheau (also published by Dark Horse Comics) is a trade collection that came out in the beginning of the year, but it's consistently been the one book that I can't stop talking about. Zodiac Starforce captures the best of the magical-girl genre by having a hard-hitting, quick-witted, devoted group of gal pals that can transform and kick monster butt. The relationships between the girls, and their abilities to rise above their circumstances, leave you on an emotional roller coaster that's so sparkly and wonderful that you don't ever want to leave. Before writing this post, fans were unsure if this series was completed. I am now very happy to say that Zodiac Starforce will be making its return this year with more tales of girl power and magic. (So definitely read this so you can be on board for the next round!)
As I've said before, Batgirl of Burnside is one of the best comics I've ever read. It's what made me a Batgirl fan in 2015, and I've been riding that train ever since. However, with the end of the New 52 by DC Comics in preparation for Rebirth this past summer, I begrudgingly said goodbye to Burnside. The end of this run was so well done and so strongly detailed that I had to go back and read it again as a whole more than once. The creative team of Cameron Stewart, Brenden Fletcher, and Babs Tarr made something long lasting, and as a fan – I'm beyond grateful. (Also, as I've said before – if you haven't read this yet, you are wrong; please go fix it.)
The team from Batgirl of Burnside truly is one of the strongest creative teams I've ever seen. In December, the release of the first issue of their new comic Motor Crush released. One issue in and it made its way onto this list, and my list of most anticipated for 2017. I've previously described this as a Fight Club/motocross mix, and I'm very much excited to see where this series heads. Issue #2 comes out 1/11!
Yet another comic on this list by Dark Horse, but seriously – they were pumping out amazing things in 2016. If you like books about magic, witches, road trips, or mysteries get this right now. Spells on Wheels is a current running mini series, and it's about halfway finished. It's seriously one of the most original concepts I read this year, and even though I believe writer Kate Leth is actually made of magic – I like seeing her write it too.
The year 2016 was when I became a Marvel comics fan, and this was the comic that did it. Writer Dennis Hopeless brings us a truly sassy, smart, and down-to-earth superhero comic that before now – I didn't know could exist. Bonus: Spider-Woman gets a long overdue costume change (into something actually realistic), and she decides to be a mom. Read this if you want to laugh until your belly hurts, and unexpectedly fall in love with a set of characters.
Wonder Woman: Earth One is part of collection that DC Comics is doing where creative teams tell the origin stories of favorite heroes with their multiverse, Earth-One counterpart. What that means for you is: this isn't a typical Wonder Woman story. With a creative team of the famous Grant Morrison, and the very talented Yanick Paquette, there's little wonder as to why this book is so good. Before I read this book, I had always been skeptical of Wonder Woman. I had been under the assumption that she was just an overrated character of the ages, but this graphic novel showed up and proved me wrong on all fronts. I am now an avid Wonder Woman fan, and this is now my favorite WW story.
If you haven't figured it out by this point in my list – I really, really, really like empowering female-lead stories. It's not exclusively what I read, but I feel that it's important and vital right now. The last comic I'm featuring is nothing short of perfect for proving that point. Writer Andrew Wheeler and artist Paulina Ganucheau make a dynamic duo on this story of a princess that goes against all odds to fight for the freedom of her kingdom. You'll laugh, you'll smile, you might even cry (I definitely did more than once), but you'll feel hope more than anything else. You can read the whole series in a trade paperback published by Oni Press entitled Another Castle: Grimoire coming out February 15th.
And there ya have it! I read a bunch of really amazing comics that didn't end up on this list, and I read a ton of not-so-great comics that I probably won't mention anywhere. But one thing is for sure: It's a great time to be a comic reader.