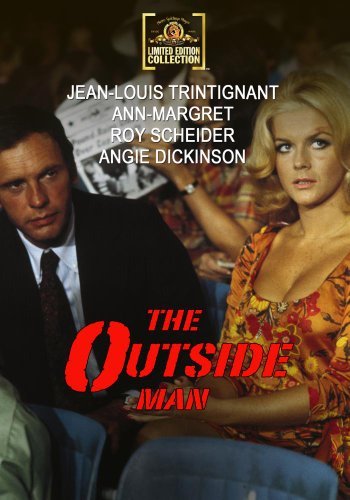 An enjoyable conflation of French gangster cool a la Melville and reinvented 1970s American noir, the little-known The Outside Man offers up a languid take on mafia hits and gun-toting car chases. There's little that can ruffle the nonchalance of French hit man Lucien Bellon (Jean-Louis Trintignant), even as his mission to kill a prominent Los Angeles mobster goes to shit in the first few minutes of the film. Director Jacques Deray opts for an unfailingly deliberate pace and drops us right into the action without a bunch of background exposition.
For the most part, the storytelling strategy works, offering up a distinct contrast to the increasingly violent events of the film and effectively putting us in Bellon's frame of mind. After what was supposed to be a quick in-and-out hit, Bellon finds his passport and personal items stolen from his hotel room, stranding him in the states. Soon, he's being hunted by a menacing Roy Scheider, exploiting his underappreciated ability to be utterly cold-blooded.
With no connections and nowhere to turn, Bellon is forced to invade the home of an uptight single mother (Georgia Engel) and her bratty kid (Jackie Earle Haley in his first big-screen role), and he eventually gets in contact with Nancy Robson (Ann-Margret), his boss's former flame and maybe the only person who can help him out. Angie Dickinson is sort of shoehorned in as the mobster's widow who may not be exactly what she appears.
The film works better when it's not getting caught up in the somewhat implausible backstory and keeps us involved in Bellon's immediate predicament. Deray may not be Melville, but he's still able to evoke a considerable amount of existential dread in the film's bleak circumstances, and Trintignant's performance confirms it with an underlying current of loneliness.
The Outside Man ends with an exciting shootout setpiece in a funeral home, but even when the bullets aren't flying in its frequent contemplative moments, the film remains quite engaging.
MGM's Limited Edition Collection burn-on-demand DVD presents the film in a decent 1.85:1 transfer that's fairly hazy but seems appropriate to the intended look of the film. There are no extras.