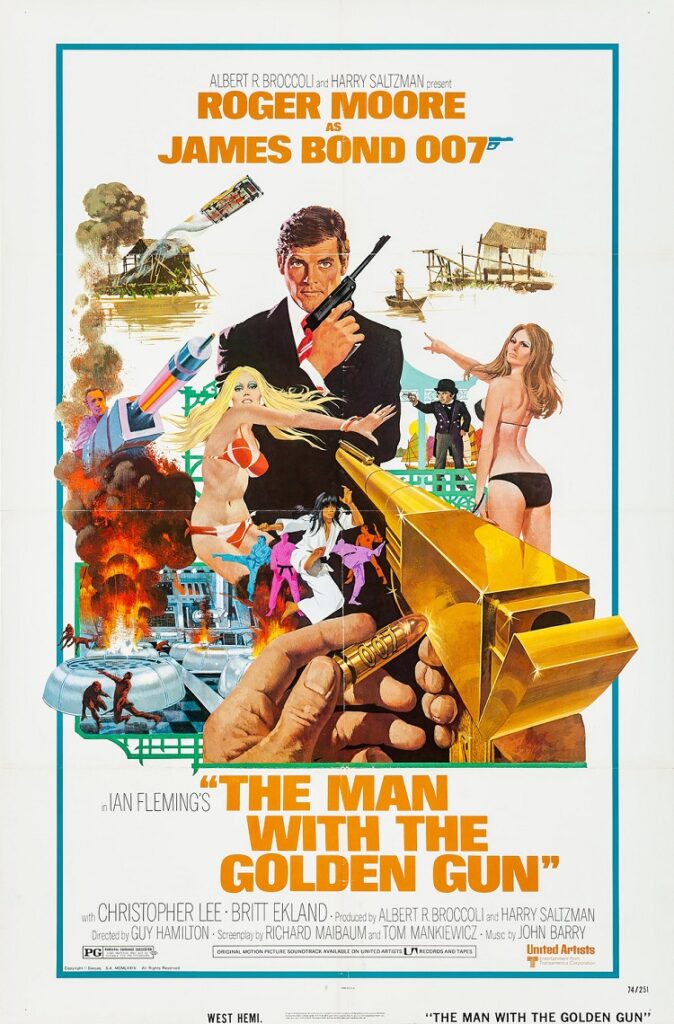 Roger Moore made his second appearance as James Bond in The Man with the Golden Gun, which saw the secret agent return to the Far East and go up against assassin Francisco Scaramanga (Christopher Lee), renown as a marksman. The movie is based on the final Bond novel by Lee's cousin Ian Fleming, who died before he had completed it to his satisfaction. It's got the action, gadgets, and girls that people expect in a Bond movie and makes for a very good time capsule of the early '70s, but all that's gold does not glitter.
MI6 receives a golden bullet with "007," a calling card used by Scaramanga, who is so confident in his skills he warns his victims he's coming. Bond is pulled off his current assignment and goes searching for Scaramanga. He tracks a goldsmith to Macau and then follows Scaramanga's mistress, Andrea Anders (Maud Adams in her first Bond girl role), to Hong Kong. There, he slaps her around to get information in manner that seemed rougher than Bond has been up to now, but with one's life on the line, it was plausible
Bond rushes off with Andrea's info, but when the audience sees Scaramanga hidden in a building, it appears Bond may have been set up. However, the target is a scientist named Gibson who has been working on a device called the Solex Agitator, which harnesses solar energy. Bond figures Hai Fat (Richard Loo), a rich Thai businessman, order the hit and goes to Thailand posing as Scaramanga, but gets caught.
Rather than having Bond killed quickly by Scaramanga, Fat sends him a dojo to be beaten to death by his men. With the help of some friends, Bond escapes; though it may not be for long as the boat he commandeers runs out of gas, which was a very good plot twist, but he naturally stays a step ahead of the nameless goons.
Back at his hotel, Bond is about to bed his assistant Mary Goodnight (Britt Ekland) when Andrea arrives at his room. She offers to get Bond the Solex Agitator if he kills Scaramanga so she can escape him and offers him something else (off camera) to seal the deal. Bond meets Andrea the next day and finds Scaramanga and his diminutive henchmen Nick Nack (Hervé Villechaize). After some cat-and-mouse action involving an unbelievable car jump and another car that turns into a plane, Bond follows Scaramanga to his personal island and has it out with him. Of course, Scaramanga could have easily killed Bond numerous times, but for some reason wants to battle Bond in a funhouse. Considering the franchise continued, the outcome is obvious.
Bond and Scaramanga make great foils. Bond outsmarts Scaramanga and Nick Nack by hiding from the funhouse cameras, although the way Bond triumphs in the climax is hard to believe. The scene at the boxing match where the two one-up each other is also well executed. The character and Lee's performance make me wish Scaramanga had escaped. He's a much more interesting villain than the oft-seen Blofeld.
Bond's way with women seems written by someone who believes pizza guys do get lucky with the lady of the house in pornos. Andrea using sex to get Bond to do her bidding is completely believable, but the ease with which Mary jumps into his bed is rather laughable, regardless of how freewheeling attitudes may have been in the early '70s. She also seems to have something going on with Scaramanga as she parades around in a bikini on his island, and looks undeniably good doing it. The same goes for the Beirut belly dancer, who upon meeting Bond lets him kiss and fondle her.
The oddest thing about the movie is the appearance of Sheriff J.W. Pepper (Clifton James). Because director Guy Hamilton enjoyed him so much in Live and Let Die, the Louisiana sheriff and his wife just happen to be vacationing in Thailand, creating comic relief that goes too far over the top. Also appearing in a brief cameo is the camera crew. They can be seen in a mirror during the fight scene in the belly dancer's dressing room.
The Man with the Golden Gun is adequate entertainment for those in the mood for some mindless action that teases with potential. It has moments where it almost elevates to a top-tier entry in the franchise, but something always happens that unfortunately undercuts it.
Operation: BOND will return with The Spy Who Loved Me.