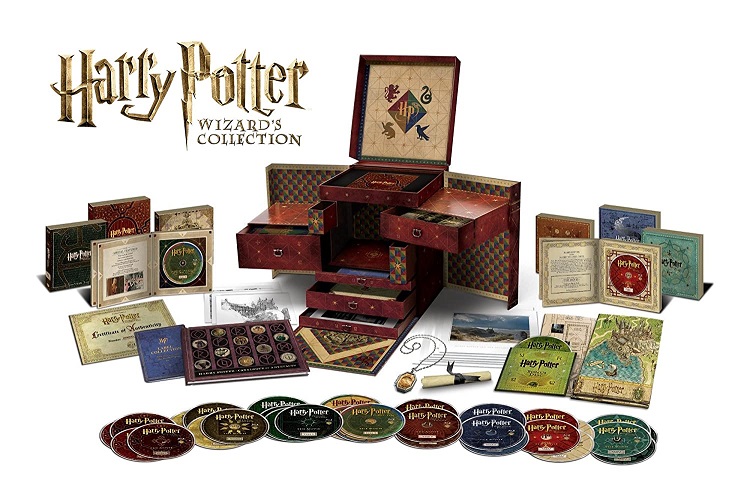 I'm a child of the '80s therefore I am a Star Wars man. As a kid, I watched the original trilogy a million times, I collected all the toy figures, playing cards, etc., and in my imagination I played out the saga of Luke Skywalker over and over and over again. I was in college when they released the special editions of the original trilogy and I was first in line to see them. Ditto the prequels, nearly wetting myself at their very announcement. 

As an adult film-lover, I recognize that as a series the films don't really hold up all that well together. I know there are much better movies out there, and my desire to see them anymore is very small. Yet, they were a hugely important part of my youth and I hold them dear for it. As a father, I very much look forward to watching the series again with my daughter when she gets a bit older.
This is also very true for the Lord of the Rings trilogy (and likely the three new Hobbit films once they come out) and the entire Harry Potter series. I was an adult when Harry Potter came out, and a late-to-the-game one at that (I didn't start watching the films until the fourth one had hit theatres and I was three films in before I started reading the books.) But I love them just the same. Likewise with the Star Wars films, I recognize that the movies aren't all masterpieces yet I care even less than I do with the Star Wars films. Maybe its a lack of nostalgia for Harry Potter or perhaps a better understanding going in that this is a story for entertainment not great art that makes their lapses easier to take. Whatever the case I love those stories, flaws and all.

 I suppose every generation gets their big series that they fall in love with. I don't know what my daughter's will be, but with Star Wars, Lord of the Rings and eight Harry Potter films we've got hours upon hours of enjoyment before she finds her own. I can't wait.
I own all the standard Harry Potter films on DVD so I don't imagine I'll be buying the giant Harry Potter Wizard's Collection, but it is an amazing looking box and it is now my Pick of the Week. The set includes 31 disks including every movie in Blu-ray and standard DVD. The first two films include the theatrical and extended version cuts and The Deathly Hallows, Part II also includes the movie in Blu-ray 3-D. Every film includes a bonus disk of special features. All in all it is a huge set loaded with extras. With a $500 price tag I imagine not too many folks will be able to afford it, but for those who can I doubt they will be disappointed. Also out this week that looks interesting:
Titanic (4-Disk Special Edition Blu-ray): I have not seen James Cameron's mega-blockbuster since it came out and I never bought into the enormous hype surrounding it. Still, I did thoroughly enjoy the movie and now that time has settled it down I think I'd like to revisit the movie. This set comes with Blu-ray 3-D plus the regular Blu-ray, standard DVD, and digital versions. Extras include three audio commentaries, a new documentary and 60 featurettes.
The Re-Animator (Blu-ray): Another film I haven't seen since I was a teenager but loved in an entirely different way than I did the Star Wars movies. The Re-Animator taught me that horror could be scary, gory, bloody, and terrifically funny at the same time. I'm very much looking forward to giving this one another viewing after so many years. Extras include commentaries, a documentary and several interviews with most of the main filmmakers.
Parks and Recreation: Season Four: When this show first came out, I gave it a couple of episodes, and while funny, it seemed too much like an Office knock-off, and I ditched it. In the four seasons since I've had numerous people tell me I should give it another try (and that I should start with Season Two, skipping the first one all together.) This summer that's what I did and I'm now completely hooked. The first three seasons are streaming on Netflix so I watched the latter two and then went back and watched the first one just for kicks. I'm delighted Season Four is now out on DVD so I can catch myself completely up.
The Good Wife: Season Three: I've only caught a few episodes of this series at random and out of order but its made its way onto my list of things I should check out.
The Office: Season 8: I completely stopped watching this one several seasons back. Critics and fans alike haven't been kind since Steve Carell left, but at some point I suspect I'll watch them must to find some completion.
Hung: Season 3: I'm about mid-way through the second season of this teacher-turned-prostitute comedy. It has some very funny moments and overall I enjoy the story, but not enough to make me zip through each episode marathon style. In fact I haven't watched an episode in several months though I keep meaning to pick it back up. Which is to say I like it but not enough to make me worry about missing it.
Bored to Death: The Complete Season 3: Pretty much everything I said about Hung up above applies to Bored to Death. I give it a slight quirky edge to the sexcapades of Hung, but I'm not in a hurry to get through it either.
Umberto D (Criterion Blu-ray): This Italian classic is getting a Criterion upgrade. I've not seen it, but its status as a classic put it on this list.