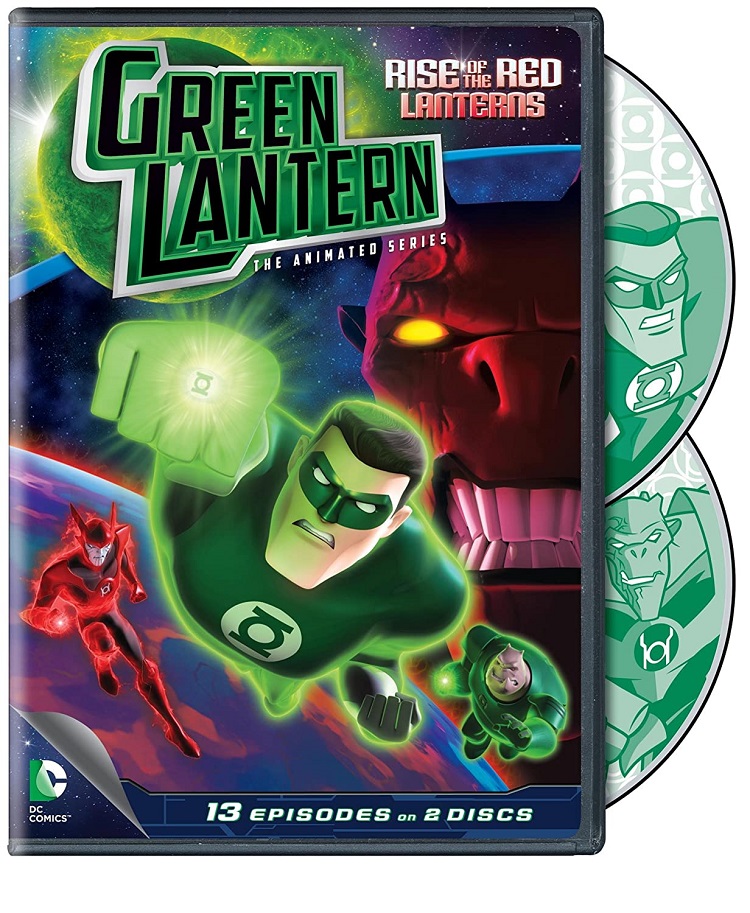 Many have worn the mask of the Green Lantern over the character's long history in the pages of DC Comics. The most notable is Hal Jordan, whose origin was told in Showcase #22 (September-October 1959), so it's not surprising that he is the lead in Green Lantern: The Animated Series, which airs on Cartoon Network.
The first half of Season One, 13 episodes now available on a two-disc set, is subtitled "Rise of the Red Lanterns" and features a story arc about the villain Atrocitus and his army of Red Lanterns preparing for war against the Guardians of the Universe. Their rise begins on the far-off fringes of where the Green Lantern Corps patrol, a region called Frontier Space.
Hal (Josh Keaton) and fellow Green Lantern Kilowog (Kevin Michael Richardson) from the planet Bolovax Vik are sent there in the Interceptor, an experimental spacecraft. The ship runs on Green Lantern energy and possesses an artificial intelligence, dubbed Aya (Grey DeLisle) by Hal, which can inhabit a robot body when needed. The Red Lantern Razer (Jason Spisak) is at first their prisoner and then their ally after he rejects Atrocitus' methods.
Admittedly, the computer-graphic design takes some getting used to as the artwork is the least successful element of the series. Hal's exaggerated upper torso is one example, and I was disappointed Aya's robot body was so shapely, which is not how a computer would design it.
However, the great writing makes the visuals tolerable. The characters are much more interesting than some of their comic-book peers. It's not just generic good guys vs. bad guys. Even the horribly named Atrocitus is given motivation for his actions that make him a much more interesting character than anticipated.
Some comic-book readers may recognize some of the stories. "Lost Planet" is based on Alan Moore's "Mogo Doesn't Socialize" from Green Lantern vol. 2 #188, and "Heir Apparent" is taken from Green Lantern Corps volume 3 #2-3. While the creators of characters such as Kilowog and Atrocitus get mentioned in the credits, I was utterly baffled that the men who created the Silver Age Green Lantern, writer John Broome and artist Gil Kane, got no mention I could find.
Aside from allowing fans a chance to own them, Green Lantern: The Animated Series: Season One Part One has secured a new viewer for the Part Two, starting September 29, and should bring in many more who try it. The set also comes with the digital comic Green Lantern: The Animated Series Vol. 1 #0 and five trailers for assorted WB children's DVDs.