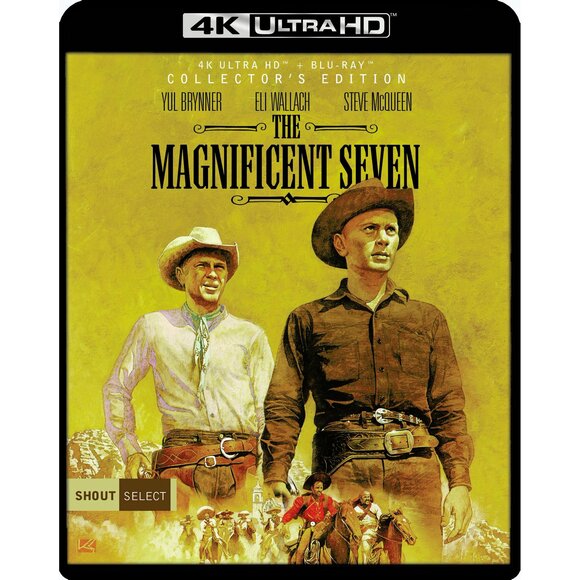 It's an Old West spin on a brilliant film, director Akira Kurosawa's Seven Samurai. And hey, did it need to exist? Of course not. But The Magnificent Seven (1960; dir. John Sturges) engages you.
The story is about mercenaries (gunmen) who drift from job to job. Poor farmers have been unable to defend themselves against bandits. The bandits follow the ruthless Calvera (Eli Wallach, slimy fun). Desperate, the farmers ask a merc, Chris Adams (Yul Brynner), for help. The pay's bad, but to all the mercs that Adams recruits a job's a job; and besides. Something about the farmers' plight appeals.
Samurai casts a long shadow. At 3.5 hours, it flows. It's a satisfying actioner, a novelistic achievement that's both rousing and poetic. We get a feel for each samurai. We're spellbound, invested. Kurosawa's masterpiece has the power to seep into your brain, to change your life.
That's not hyperbole.
As for Mag7, it's—decent. The Shout Factory 4K scan of the film looks and sounds great, but the movie still drags in its second half. Some parts bore (the scenes in which the mercs train the farmers; the romance between a farmer girl and a merc). These moments (especially those of the samurai being recruited) are among the most memorable in Kurosawa's classic.
The cast, though! When Sturges made Mag7, Brynner was the only marquee name. And he's good. But other cats shine—in particular, Charles Bronson, James Coburn, and Steve McQueen. Mag7 helped launch their careers. (McQueen, making curious little silent gestures, passing sly looks to Brynner, is so commanding, his ascendancy to the pantheon of the Cool was inevitable.) Mag7 gives you a chance to see these guys share the screen, riding around in fantastic Mexican locations. And the famous Oscar-winning score by Elmer Bernstein adds a mythic punch as well.
All the big names attached to this film went onto better projects. But taken on its own terms, The Magnificent Seven remains a fun, respectable western.
The 2-disc Shout Factory 4K UHD release sports a 4K version on one disc, a Blu-ray on the other. Special features on the Blu-ray include audio commentaries by Coburn, Wallach, executive producer Walter Mirisch, and film historian Sir Christopher Frayling. You also get a still gallery, a making-of documentary, a retrospective appreciation by Bernstein and Frayling, and a couple of theatrical trailers.