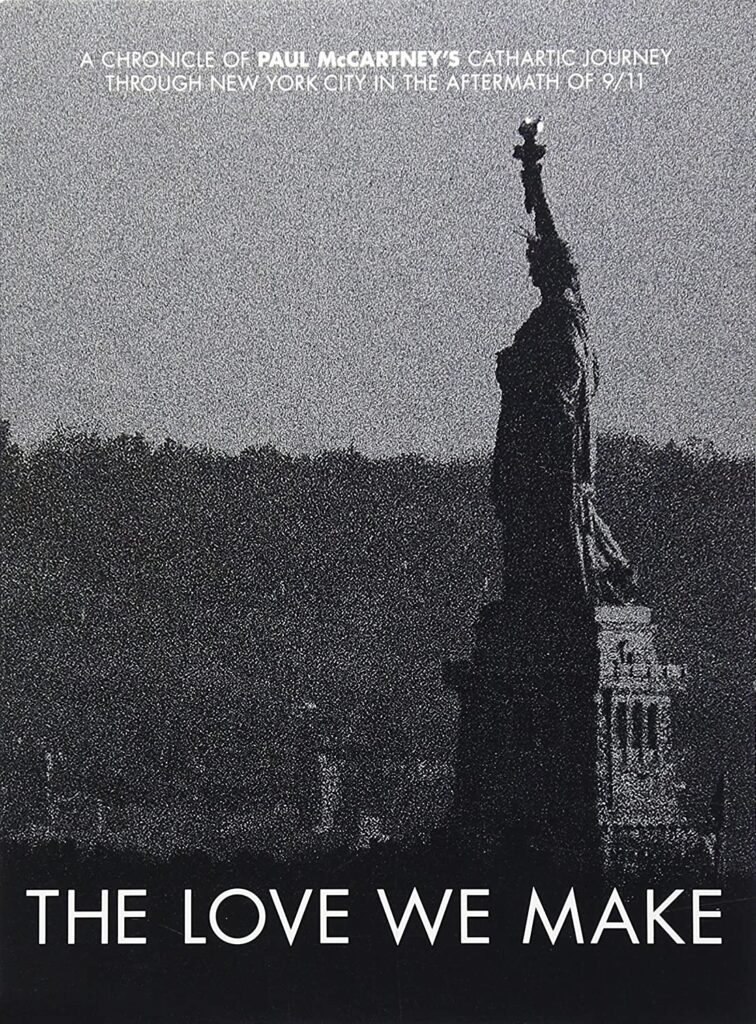 When the tragedy of 9/11 occurred, Paul McCartney was sitting in an airplane on the tarmac at JFK airport. He could see the smoke coming from the towers. As the day rolled on and it became clear these were no accidents, McCartney decided he needed to do something to give back to the city and country that had given him so much. McCartney called upon his celebrity friends and organized the Concert for New York City. The events leading up to the concert were captured on film by Bradley Kaplan and Albert Maysles (who, along with his brother, famously filmed the Beatles on their first trip to the United States) and make up the basis of the documentary, The Love We Make.
The film is shot in 16mm black and white and often takes a fly-on-the-wall, home-movie feel, with Kaplan and Maysles doing their best to stay out of the way. Throughout, rehearsal footage is mixed with clips of McCartney doing interviews and meeting with a number of celebrities.
The first rehearsal clip is of the Beatles' classic, "I'm Down." In spite of this being the first time he had performed with the core of what is now his current band, the group is in fine form, with McCartney's vocals defying his age. Later we see guitarist Rusty Anderson leading the band in an impromptu version of the song to work on the background vocals.
The good feeling of that clip is contrasted with McCartney's interview with Dan Rather. Rather is late for the interview as there was an anthrax scare in his office. It is a stark reminder of the scary mood of the period. In a more lighthearted scene, McCartney runs into Barbara Walters and later confesses he was worried she wouldn't recognize him.
McCartney needn't worry about that. As he walked down the streets of New York City, many adults were reduced to teenagers again at the very sight of the ex-Beatle. McCartney turns on the charm and even speaks on one person's cell phone to prove it is really him.
An upcoming interview with Howard Stern manages to even rattle an old pro like McCartney who, while listening to Stern interview Ozzy Osbourne on the car ride over, ponders ditching the show altogether. He keeps his date though and Osbourne is there waiting to meet his hero, proving McCartney can even make the Prince of Darkness melt.
We start to see more celebrities arrive at the concert venue for rehearsal. McCartney explains to Pete Townshend that he'd like him to ask the crowd if they'd like to hear "Freedom," a new song written for the event, again. He tells him to be specific though as he is to say it after "Let It Be" and McCartney worried that if he asked if they wanted to hear it again, they'd choose the Beatles' song instead.
McCartney admits the song is a bit corny, but he doesn't care. The song really is everything people either love or hate about the guy, so why start to worry now? He does tell Eric Clapton that he felt like he was auditioning for Mick Jagger when he told him of it and that Townshend thought him brave to test a new song in this environment.
During the concert, former President Bill Clinton visits McCartney backstage, gushing like everyone else. McCartney refers to him as Bill, making him arguably one of the few people in the world who could get away with calling him that.
As for the concert, it was a who's who of music royalty. Everyone from New Yorkers Billy Joel and Jay-Z to Eric Clapton with Buddy Guy to Jagger with Keith Richards to Bon Jovi were there, all turning in fine performances. It was a British band though that stole the show. The Who, in one of their last performances with the late John Entwistle, delivered a blistering, angry set that seemed to be just what the Madison Square Garden audience needed.
The documentary ends with McCartney visiting a fire station, telling the firefighters that his father was a firefighter during World War II and that he never truly appreciated what he did until he saw what the first responders did during 9/11. It is a touching scene and a good way to end the film.
The DVD includes PCM Stereo, Dolby Digital 5.1 and DTS 5.1 audio as well as subtitles in English, Spanish, German and French. It is lacking in any other extras and, not surprisingly, there is no footage of McCartney's then-current now ex-wife, Heather Mills, to be found.
The Love We Make is an interesting look at McCartney's attempt to help out in the aftermath of 9/11. While some may consider his hard sell of "Freedom" a bit much, he seems sincere and it doesn't take away from an otherwise enjoyable film.