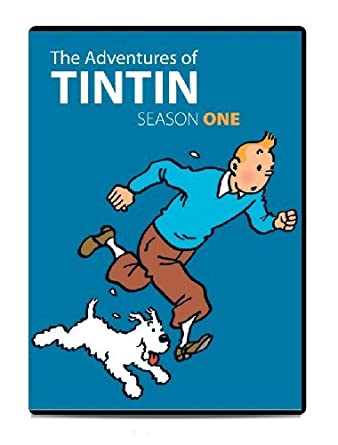 The Adventures of Tintin by Belgian artist Hegre first appeared as a comic strip in a children's newspaper supplement in 1929 featuring the intrepid young reporter/detective. The strips were collected in 1930 and presented as Tintin in the Land of the Soviets. Over the course of four decades, Herge created 23 adventures for Tintin that took him and an assorted cast of characters all over the globe and to the moon, concluding with Tintin and the Picaros in 1976.
Considered one of the most popular European comics in the world, the Tintin stories are a multimedia sensation, having been adapted into movies, television, radio, and theater over the years. Wisely capitalizing on the motion capture 3D blockbuster The Adventures of Tintin: Secret of the Unicorn, directed by Steven Spielberg and produced by Peter Jackson, Shout Factory has released Season One of The Adventures of Tintin (1991-1993). Created by the French studio Ellipse and the Canadian animation company Nelvana, this is the second animated series based upon the character and it appears on DVD for the first time.
Tintin (Colin O'Meara) is a young reporter with a penchant for finding adventure and mystery, or maybe it finds him. He doesn't have a great deal of personality or memorable character traits for a lead character other than dogged determination, but plenty of those around him do, mainly amusing ones. His main companion is his white fox terrier Snowy (Susan Roman). Feisty Captain Haddock's(David Fox) is a good friend whose drinking has been toned from the comics. Though not related, Scotland Yard detectives Thomson (Dan Hennessey) and Thompson (John Stocker) look exactly alike except the former's mustache is slightly bushier on the ends and do more bumbling around than detecting. The hard-of-hearing Professor Calculus(Wayne Robson) is a helpful fellow when he understands what's needed to be done.
Seven of the Tintin stories appear in the 13 episodes of Season One; all but one told in two parts, including the three adapted for Spielberg's film: "The Crab with the Golden Claws" (the 9th adventure), "The Secret of the Unicorn" (11th), and "Red Rackham's Treasure" (12th). All seven are fun adventures that should appeal to boys. There's more violence and gunfire than I expected for a children's show, likely due in part to the series' creation outside the United States, but there's nothing that's too egregious, and it increases the stakes of the stories.
The animation is limited. On occasion, only the main characters move in a scene with others still in background. Character movements are more herky-jerky than natural and fluid. Some times, dialogue occurs and no one's mouth is moving. The video is not pristine, showing some minor defects and wear.
The Adventures of Tintin – Season One is a very good introduction to Herge's creation and it should be enjoyed by fans of boys' adventure stories.