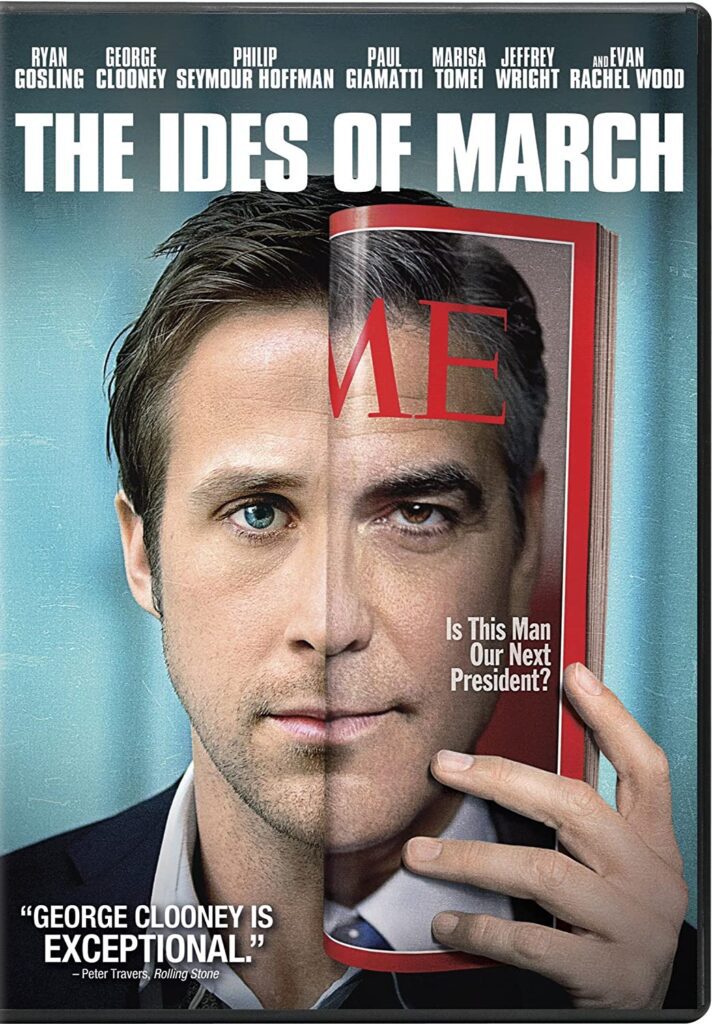 No less than the collapse of a doe-eyed young man's faith in politics stands at the core of The Ides of March. This film, penned and directed by George Clooney, is not unlike many political films in that it smashes the illusion of goodness that few have with respect to the political realm. Nobody with any sense is surprised that the political game is unethical and chock-full of sleazy characters, but narratives like Clooney's can make for good entertainment.
The Ides of March is based on Beau Willimon's 2008 play Farragut North and has received an Academy Award nomination for Adapted Screenplay. Willimon worked for Senator Charles E. Schumer of New York and former Vermont governor Howard Dean before becoming a playwright and his experiences served him well. His nose for the details translates well under Clooney's polish.
The film opens on Stephen Meyers (Ryan Gosling), a young, brash, idealistic deputy campaign manager for Democratic presidential candidate Mike Morris (Clooney). Morris is battling in Ohio against Senator Ted Pullman (Michael Mantell) for the party's nomination and the much-desired endorsement of Senator Franklin Thompson (Jeffrey Wright) will help clinch the nod for either man.
Meyers is eventually asked to meet with Pullman's campaign manager, a shrewd man named Paul Duffy (Paul Giamatti), and discovers that his boss's opponent has interest in his services. Meyers is caught in a tough spot after he fails to inform Morris' senior campaign manager (Philip Seymour Hoffman) about the details of the Duffy meeting. To make matters more complex, an intern (Evan Rachel Wood) shows up carrying a secret that could bring down the Morris campaign.
The political gamesmanship in The Ides of March isn't very surprising. There are lots of secret meetings and hushed conversations that never happened and things operate on the level of a good spy thriller, but the content never matches the panting pace and top-quality performances. The main thrust is about the inexorable pessimism that is required to "make it" in the political arena, but the movie lacks guts.
That said, there's a lot of good stuff at play in The Ides of March. The acting is brilliant, for one thing, with the always-reliable Gosling at the heart. He delivers with his barely-tucked force as usual, of course, but his naiveté in the opening frames also has some legs. All smiles and always ready to plunge into bed with an intern, his quandary is that of the randy but steadfast Washington foot soldier.
Destroying that persona is Clooney's job and he does so stylishly. He plays his on-screen part well, generating enough discreet menace to offset the dream candidate he plays when the cameras flick on. In the director's chair, he manages the scenes with care and leads the audience along effortlessly. There's nothing shocking or novel to handle, so The Ides of March gets to be more succinct than a more intricate tale would've allowed for.
Even though The Ides of March fails to provide much by way of eyebrow-raising material, it's a quality picture and should be seen by those who like a fine, sophisticated political thriller. It may have sharper viewers wanting more, but there's something about the neatness of it all that makes it ultimately enjoyable.