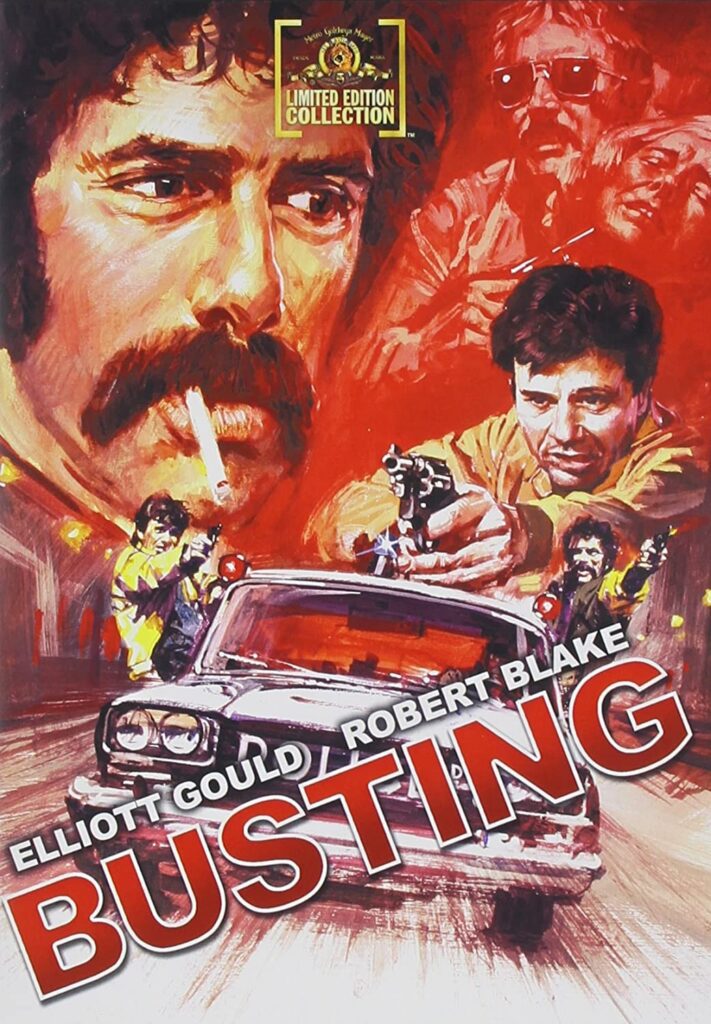 As far as little-seen '70s buddy cop films go, Peter Hyams' Busting isn't as bizarrely transgressive as Richard Rush's Freebie and the Bean or as relentlessly downbeat as Robert Culp's Hickey & Boggs. It certainly feels like less of a discovery than those two films, but there's plenty to stick around for — especially if you're a fan of Elliott Gould in his sardonic prime.
Like the aforementioned films, Busting straddles the line between ironic distance and hard-hitting bleakness, but comedy tends to rule the day, even if many of the film's implications are less than cheery. Gould's Det. Keneely and Robert Blake's Det. Farrel are a pair of free-wheeling vice cops in Los Angeles whose enthusiasm for busting hookers and drug dealers is generally not matched by their superiors.
When the two make plans to take down kingpin Carl Rizzo (Allen Garfield), they're blocked at every turn and eventually demoted to bathroom patrol to keep an eye out for stall-hopping perverts. There's little room for nuance here — the rest of the vice squad is completely corrupt and only Keneely and Farrel seem to have any interest in justice. Naturally, their only option is to go rogue and attempt to nail Rizzo in a series of increasingly brazen confrontations.
The more outlandishly confident the pair is, the better the scene, like when they clear out one of Rizzo's cabaret joints by loudly announcing their presence and clumsily looking for the establishment's license or when they get Rizzo's attention by setting his car on fire. Some of the more complicated setpieces — like a shootout in an underground market — reveal Hyams' inexperience and lose their impact in a jumbled mess of spatial incoherence and poor editing.
Hyams' script ambles along pleasantly, even if it's rather simpleminded and schematic at points. What really props the film up are the lead performances, especially Gould, whose distinctive laconic and sarcastic demeanor is a perfect fit for Keneely. His casually offhand nature sees him busting up small-time dealers and dangerous power players with equal ease — and hiding a stuffed-down sense of futility inside.
The MGM Limited Edition Collection burn-on-demand DVD is no doubt an improvement over the previous VHS version, presenting the film in its original 1.85:1 aspect ratio and giving it a solid transfer. The washed-out colors and pervasive film grain are sharply rendered, and only minor damage mars the print occasionally. The disc includes the film's original theatrical trailer.