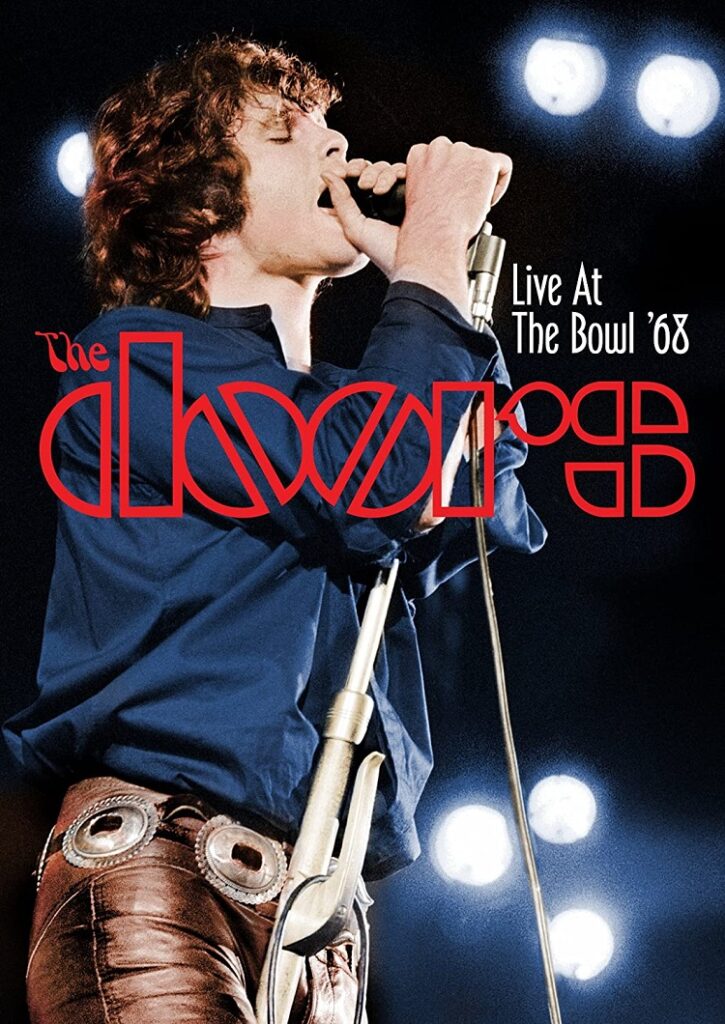 Written by Chad Derdowski
The Doors' 1968 show at the Hollywood Bowl has long been considered one of the band's finest performances. Sadly, there were a variety of audio problems that evening, and though the concert has been available for quite some time, it has been incomplete. Thanks to the marvels of modern science, this legendary show has been restored and remastered from original camera negatives and remixed using original multi-track tapes to create the definitive version for home consumption.
Speaking of consumption, legend has it that Jim Morrison may have ingested some LSD before stepping on stage. Judging by the faraway look in his eyes and the random, stream-of-consciousness poetry he spouts during the show, it's safe to say that the rumors are most likely true. Of course, Morrison always had that faraway look in his eyes and was always spouting random, stream-of-consciousness poetry, so maybe he was always on acid? It's a chicken-and-egg mystery that may never be solved and at any rate; it certainly doesn't hurt the performance any. In fact, Morrison is in prime form in this video, every bit the leather-pantsed shaman we' ve always heard about. And despite tales of guitarist Robbie Krieger's sour mindset due to a lack of desired amplification negatively affecting his playing, he and the rest of the band sound absolutely amazing as well.
Purists may find fault with the restoration of this performance, as certain aspects of Morrison's vocal tracks were taken from other concerts in order to create a more complete show. The recording sounds seamless, but it's understandable that some offense may be taken at the fact that it isn't 100% "real". Personally, I don't see a problem with it: there are only three tracks that were previously unreleased and if you're of the mind that only a true performance will do, you can just skip 'em. Problem solved. And since we're talking about DTS-HD 5.1 audio, why would you complain?
Actually, we're not talking about DTS-HD 5.1 audio. I mean, some of the other reviews are, but I was unable to get my hands on a Blu -ray copy, so my review is based on the DVD. Now don't get me wrong; the DVD is more than adequate and both looks and sounds impressive. But you're probably going to want to buy the Blu-ray because…I mean, it's a Blu-ray. Of course it sounds better. All things considered though, if you haven't caught up to the rest of us in terms of home entertainment, you still won't be disappointed. The audio on this DVD is fantastic and as Ray Manzarek states in the extras, "You can hear it as if you were at the Hollywood Bowl, on stage with us." And he ain't lyin' – it sounds great.
The picture is something of a different story. It was shot on 16mm film in 1968, so no matter how much you remaster, rework, remix, and reconfigure, you're still stuck with 16mm film shot by film school students in 1968. While this might seem like a good opportunity to trot out an old cliché like "you can't polish a turd," we're talking about a solid gold turd here, so this old adage may not be quite apt. Anyway, it's not the latest 3D concert shot in IMAX by Martin Scorcese, but hey – it's the Doors looking better than they ever have and it sounds amazing. Shut up already.
Nearly as entertaining as the concert itself are the extras. "Echoes from the Bowl" gives us a brief history of the venue and a tale of its transition from an arena which showcased strictly orchestral fare to a place where pop music reigned. Much emphasis is placed on the tradition of the Hollywood Bowl and the supreme honor felt by artists who played there. If the title doesn't already give it away, "You Had to be There" is another collection of interviews with the folks who were there. I don't know about you, but I could listen to Ray Manzarek reminisce about his glory days until the cows come home. The guy is just so enthusiastic and full of joy and love when he looks back on his time spent playing with John Densmore, Robby Krieger, and of course, Jim Morrison. Krieger is also featured in these interviews, as well as members of the Chambers Brothers and a bunch of sound guys and engineers. John Densmore is here too, and even though I value the guy's opinions and insights, he always comes off as kind of a pompous dick (which might explain why he's sitting alone in his interview sessions while Krieger and Manzarek sit side-by-side). That's neither here nor there and doesn't really pertain to this review – I just like to take shots at aging rock stars when I get the opportunity.
There's also an interview with the gentleman who reworked the sound for this release and he explains his particular brand of magic. Rounding out the collection are a music video and two live performances taken from The Smothers Brothers Show and The Jonathan Winters Show.
At the end of the day, if you're a Doors fan or music historian, you'll want to pick up a copy of The Doors: Live at the Bowl '68. It's the definitive version of the definitive live show from one of the most legendary bands in rock and roll history.