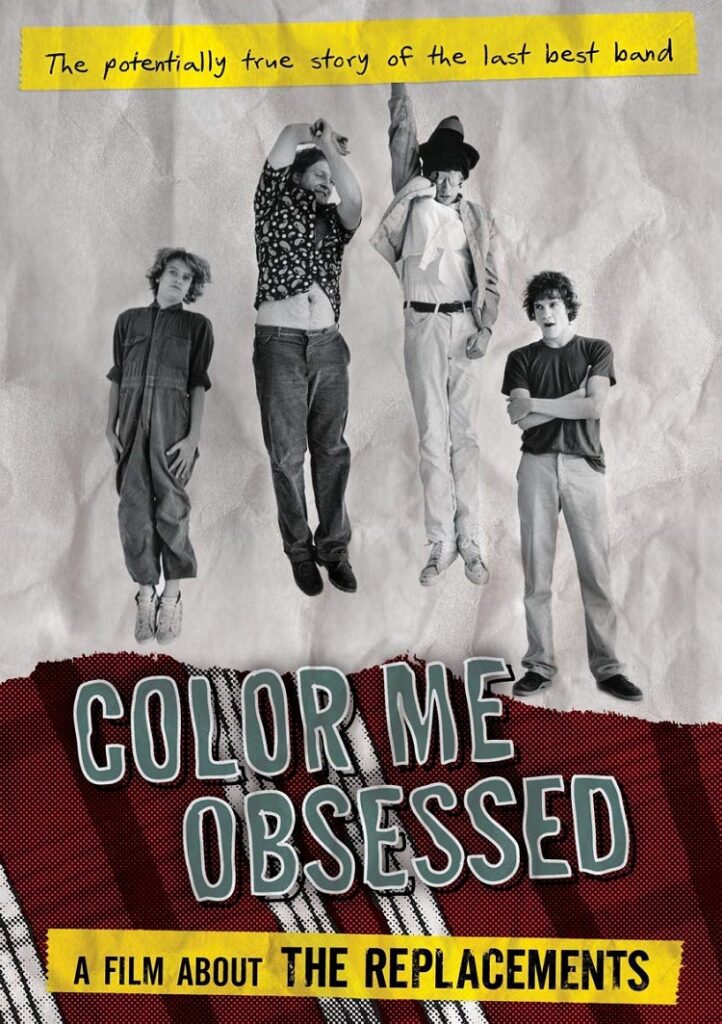 During the documentary Color Me Obsessed: A Film About The Replacements, one critic describes the band with one simple phrase: "a glorious mess." The same could be said for this film, a tribute to the Minneapolis-based group that includes no actual music or footage of the Replacements. Instead, their story is told through the eyes of critics, fans, and roadies who struggle to explain how the post-punk band influenced college rock, grunge, and even emo. Longtime fans will enjoy this complicated, often humor-filled look back at their unusual odyssey; casual listeners, however, may walk away without a clear notion of why the Replacements remain noteworthy.
Critics such as Greg Kot and Jim DeRogatis, members of Hüsker Dü and the Goo Goo Dolls, and the ex-wife of founding member Bob Stinson reminisce about the Replacements' journey from their first album, Sorry Ma, Forgot to Take Out the Trash, to their final release, 1990's All Shook Down. From their late 1970s beginnings, the group–Stinson, Paul Westerberg, Tommy Stinson, and Chris Mars–set out to break rules concerning recording and performing. According to numerous fans' recollections, the band's live shows could either be transcendent or complete disasters, largely dependent upon how much alcohol the members had consumed before stepping onstage. Alcohol is a recurrent theme in Color Me Obsessed, as it seemingly inspired and ultimately consumed the group.
Throughout the film's interviews, another phrase is uttered repeatedly: "they didn't give a shit." At times the Replacements seemed determined to torpedo their own careers. For example, one critic recalls, the band had a golden opportunity to score a hit when releasing their first major label album, 1985's Tim. As "Bastards of Young" was gaining traction with radio programmers, the Replacements released an accompanying video consisting of a single shot of a speaker for almost four minutes. Paired with an ill-fated appearance on Saturday Night Live (their swearing and raucous behavior resulted in them being banned from the show), they largely ruined their chances for increased sales. Ongoing alcohol abuse, combined with the ouster of increasingly erratic Bob Stinson and the firing of their longtime manager, contributed to their downward spiral. While they produced two more strong albums–Pleased to Meet Me and Don't Tell A Soul–their final album, All Shook Down, was essentially a Westerberg solo project. After a spectacular onstage breakup during a 1991 Chicago concert, the Replacements went their separate ways; Bob Stinson passed away in 1995, thus making a reunion impossible.
Color Me Obsessed attempts to argue that the Replacements were the "best band you've never heard of," and that their legacy looms large in today's music. However, not including any music or archival footage hardly supports their hypotheses. Having the critics and fans not discuss specific songs and provide examples–a guitar lick, bass part, particular lyric–presents an incomplete picture of the band's importance. What made them so unique and influential? Hard-core fans may already know the answer, but others will scratch their heads in confusion. One of the best portions of the documentary, however, is when some people describe how the Replacements touched them as younger listeners; one fan tears up as she remembers how their angst-ridden music made her feel that being different could be a positive trait. But when some posit that the Replacements virtually invented college rock, and that grunge and emo can be traced directly back to the band, little evidence is presented to support those claims.
Longtime Replacements enthusiasts will enjoy Color Me Obsessed the most, as the film bolsters what they already believe, that the Replacements were one of the very best groups to emerge from the 1980s. Those with only a passing familiarity, however, will find their previous opinion of the band largely unchanged.
The DVD package includes two discs with numerous extras: deleted scenes, full interviews with certain critics, interviews with the film's producer and director, and commentaries.