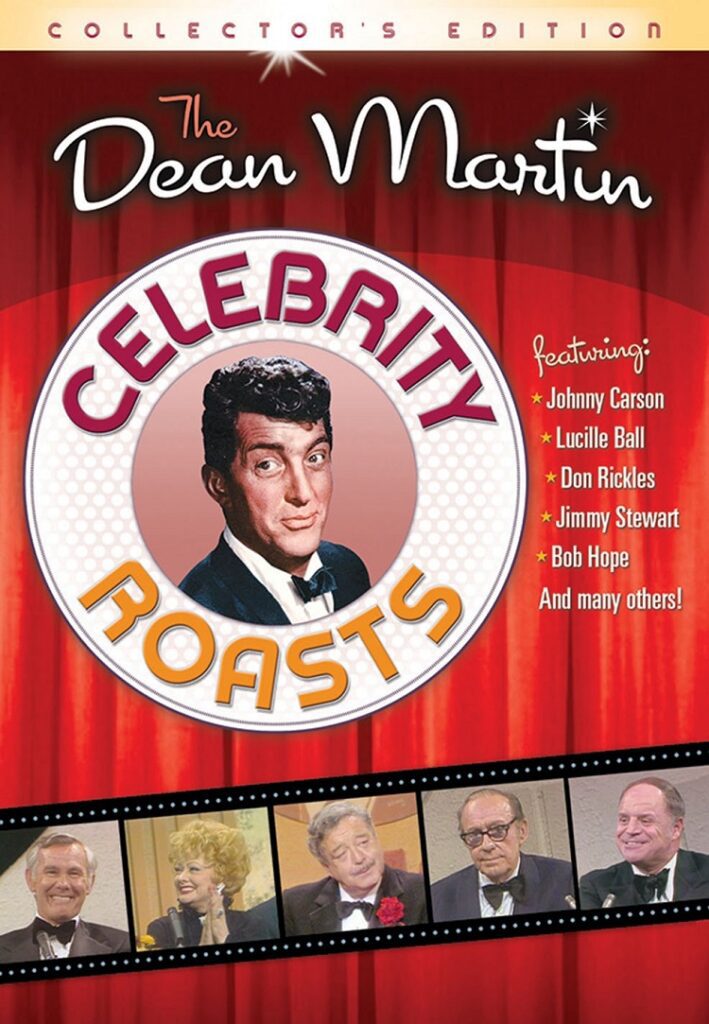 During the ninth and final season of The Dean Martin Show, which ran from 1965 to 1974, a segment was devoted to "The Man/Woman of the Week," a TV-friendly version of the legendary Friars Club Roasts where a special guest was roasted by a group of comedians and celebrities. This segment was so popular that after Dean's show was cancelled the roasts were spun off into a series of specials over the next ten years with the honoree dubbed "The Man/Woman of the Hour."
StarVista Entertainment and Time Life have released The Complete Collection featuring all 54 roasts and a six-disc Collector's Edition that presents 12 roasts. In the latter collection, the roastees are Bob Hope, Johnny Carson, Jimmy Stewart, Sammy Davis Jr., Jack Benny, Lucille Ball, Kirk Douglas, Michael Landon, Jackie Gleason, Don Rickles, Joan Collins, and the Roastmaster himself, Dean Martin.
Shot at either NBC Studios in Burbank or the MGM Grand in Las Vegas, many of the top comics of the day along with well-known celebrities and public figures gathered to deliver what Bob Hope called "affectionate malice" as they teasingly insulted the roastee and their fellow roasters on the stage. However, don't expect everyone in attendance to get a turn at the dais.
What's great about the roasts is seeing the different types of comedians, some say funny things while others say things funny. While many are reading from cue cards, the flubs and ad-libs generate some of the biggest laughs, as do the unexpected performances. Singer Dionne Warwick arguably gives the funniest roast about former paramour Sammy Davis Jr. A few of the public figures, like General Omar Bradley, have no timing when it comes to delivering jokes, which make their cold reads funny in their own way.
The humor is bit dated at times and wouldn't go over well nowadays with certain groups, like Foster Brooks' drunk act and the racial jokes. Even though he laughs throughout, some of the jokes directed towards Sammy Davis Jr. seem a bit rough and awkward during his roast, and it's a bit shocking when Flip Wilson refers to Nipsey Russell as a nigger during Bob Hope's roast. The TV editing is even worse, cutting to people who might not even be laughing at the jokes told and the relentless use of laugh and applause tracks with the latter having an annoying whistling.
The set also comes packed with Bonus Features. Disc 1 has Dean's Place (30 min), a TV special set in a fictional tavern owned by Dino. It aired 9/6/75 and features guests like Angie Dickinson, Robert Mitchum, and Governor and Mrs. Ronald Reagan. "Legends of the Roasts" (21 min) is featurette about the roasts jam-packed with celebrities who did and didn't take part like Tom Dreeson, Fred Willard, Carol Burnett, and Jimmie Walker. There are also Interviews with Don Rickles (16 min) and Betty White (7 min). Disc 3 has "The Art of the Roast" (20 min) and Interviews with Rich Little (15 min) and Jackie Mason (6 min). Disc 4 has "The King of Cool: Always in Fashion" (13 min) about Dean's style, Interviews with Tim Conway (8 min) and Ruth Buzzi (20 min), and Sketches from The Dean Martin Show (15 min), which aired on 10/12/73 and features Ted Knight, Burns and Schreiber, Tim Conway, and Gail Materko. Disc 6 features Dean Martin's Red Hot Scandals of 1926 (15 min), a TV special with Dom DeLuise, Abe Vigoda, and Jonathan Winters that aired on 11/8/76.
For fans of classic comedy, few collections deliver the variety that appears on The Dean Martin Celebrity Roasts. I recommend whichever set you can afford.