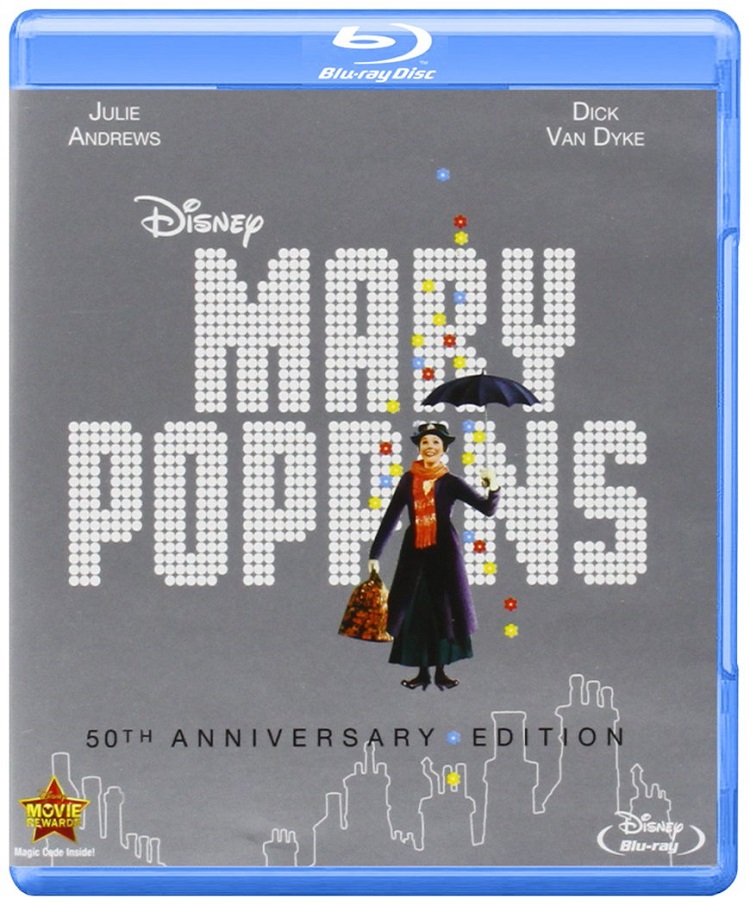 Never ones to pass up a marketing opportunity, the fine folks at Disney lined up a two-fer with the Blu-ray debut of this classic film. Not only is this the 50th anniversary of its theatrical release, but it's also timed to coincide with the theatrical release of Saving Mr. Banks, the new film about Walt Disney's efforts to win the rights to make Mary Poppins. If it's been a few years or decades since your last visit to the rooftops of London, now is the ideal time for a return trip.
In case you've been stuck in a chimney for the last 50 years, the film follows the exploits of an unconventional nanny (Julie Andrews) as she gains employment with a stuffy English family and puts their small, unruly children under her somewhat magical spell. She's aided by a kindly chimney sweep (Dick Van Dyke) in her adventures with the children outside of the house, with both of them teaching the mischievous children about the simple pleasures to be found in obedience and daily routines. It's lighthearted fare intended for the entire family, with numerous musical numbers including extended animated sequences that further the fantastical elements of the material. Andrews and Van Dyke are pitch-perfect in the defining roles, and the songs by the legendary Sherman Brothers are guaranteed to become firmly lodged in the memories of all viewers. It's just as much fun now as at any time in the past 50 years, a truly timeless classic that deserves viewing by all.
The film has been digitally restored for this release, and it's easy to see the improvements when watching the Blu-ray. The print is wiped clean of defects, the color and contrast are rock-solid, and the soundtrack exhibits very little hiss. That soundtrack has been beefed up to DTS-HD Master Audio 7.1 on the Blu-ray, creating a wonderfully immersive sound field. It's a real treat revisiting this classic material in crystal clear hi-def image and sound, a well-deserved and expertly produced digital restoration.
Bonus features are robust, headlined by a conversation about the song writing process between surviving composer Richard Sherman and Jason Schwartzman, the actor who plays him in Saving Mr. Banks. There's also a sentimental "Magical Musical Reunion" with Andrews, Van Dyke, and Sherman guaranteed to warm the cockles of the coldest of hearts. Elsewhere, we're treated to a deleted song called "Chimpanzoo", as well as an in-depth feature on the making of the film.