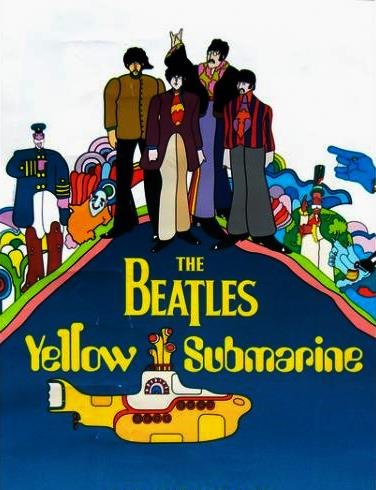 Written by Greg Barbrick
For their third film, The Beatles kind of phoned it in. Their first, A Hard Day's Night was brilliant, and their second, Help! was a lot of fun. But in the mere three years that passed between A Hard Day's Night and Yellow Submarine, the individual members of the band went through an enormous amount of changes. George Harrison memorably described the time as if each month equaled a year. So it is somewhat surprising just how good Yellow Submarine actually is.
Having recently reviewed the book Revolver: How The Beatles Reimagined Rock 'N' Roll for a "sister" site of Cinema Sentries, Blinded By Sound, I went back and listened to the album that "Yellow Submarine" originally appeared on. To be honest, the song itself is almost a kid's song. The follow-up album to Revolver was Sgt. Pepper's Lonely Hearts Club Band, and the psychedelia is much closer to the spirit of Yellow Submarine. Besides the songs, the film features very little (if any) direct involvement from The Beatles. Yet it holds up as not only a very enjoyable viewing experience, but is surprisingly deep.
In fact, Yellow Submarine has far more to say than either A Hard Day's Night or Help!. While A Hard Day's Night was very obviously made to cash in on the perceived fad that The Beatles were thought to be, the vastly underrated director Richard Lester decided to make it much more. The plot is very simple. The group face various obstacles to getting to a gig on time. It is the performances of John, Paul, George, and Ringo, combined with a very smart script that makes it so special. On the other hand, Help! was pretty much a James Bond spoof, albeit with plenty of fun interludes.
In contrast, Yellow Submarine actually addresses the generation gap that was the primary social event going on in 1968. I kind of doubt that it is necessary to recount the plot here, as Yellow Submarine has been out for over 40 years, and every Beatles fan has seen it at least once. But in a nutshell, the (good) Beatles battle the (bad) Blue Meanies. Substitute The Beatles for Baby Boomers, and the Blue Meanies for LBJ and company, and you see what was really being said.
As mentioned, the music of The Beatles is among their best, and oddly enough, their least well-known except for the Revolver and Pepper tracks. For my money, George Harrison's "It's All Too Much" is one of the best songs he ever wrote, and right up there with the best Lennon-McCartney tunes. And how about John's "Hey Bulldog?" Again, another fantastic "lost" Beatles tune.
The re-mastered DVD of Yellow Submarine is a wonder in itself. I remember actually seeing the film for the first time on TV. I simply wasn't old enough to see it in the theatre when it was initially released. Yet as a confirmed Beatles fan, I do own the VHS version – and this DVD is remarkably vivid in comparison.
While I am not going to engage in a debate over which Beatles film was the "best," I can certainly say that it beats out the depressing Let It Be. And even though the band did not even provide the voices of their characters, I think Yellow Submarine has a lot to say when you read between the lines.
In short, the re-mastered DVD looks better than ever and has a lot more to say than may have originally been thought. It is a great movie with an even better soundtrack. And if you think you have seen the brilliance of the of the colors in the animation before, think again. Yellow Submarine has never looked like this before, except maybe upon its initial theatrical release.
Of the extras, by far the most impressive has to be "Mod Odyssey" from 1968, which runs for 7:41. It includes some fascinating tidbits about how The Beatles themselves were to be represented in cartoon form. As is explained in the short: "George walks like a cowboy, Paul like a confident young executive, John like a shoreman, and Ringo like a schoolboy Charlie Chaplin." Once hearing these things, it is impossible not to notice them during the film.
"Mod Odyssey" also includes this description of the script itself. Yellow Submarine is supposedly "an open-ended Rorschach, filled with Joycean puns." Ok, so maybe my simplistic good vs. bad description may not have caught the "Joycean" aspects of the film. Then again, I think calling something "Joycean" is a pseudo-intellectual way of saying "surreal" anyway. British class-egotism never ends, even when describing four working-class Liverpool lads who changed the world.
Also included in the extras is the theatrical trailer, original storyboards, and audio commentary.
Yellow Submarine is a fun and thought provoking film, with a soundtrack by the greatest band rock 'n' roll has ever produced. This new DVD edition is the best way to see it, and highly recommended.