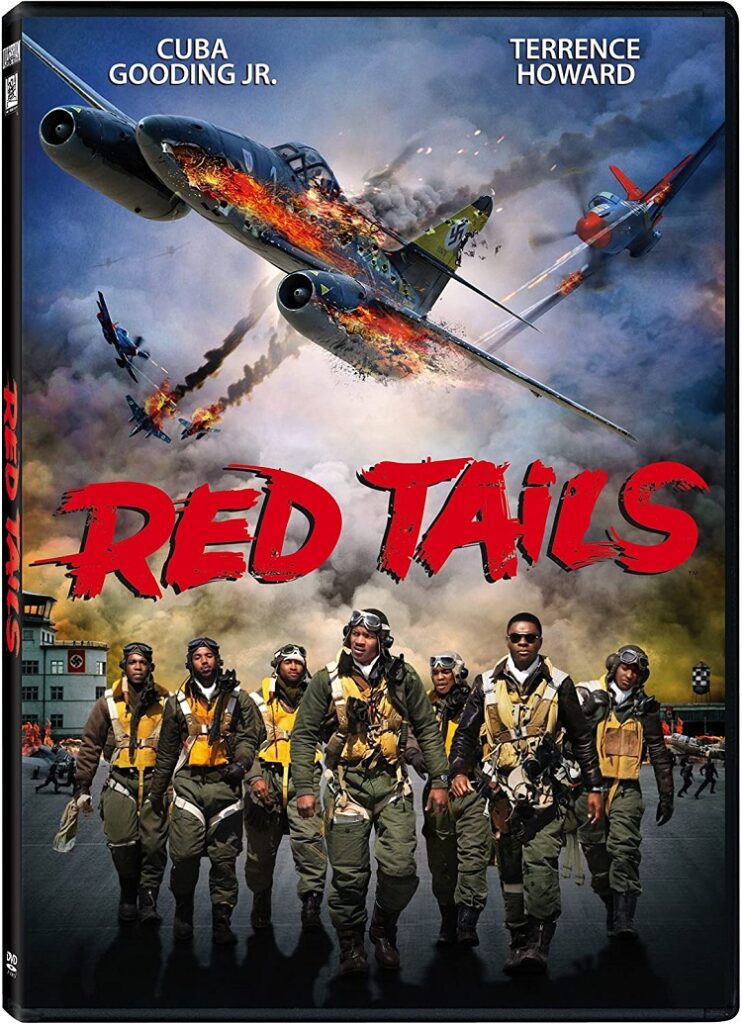 If there is any one subject that doesn't get enough screen time, it's that of the Tuskegee Airmen. These legends of the air have been in dire need of a big-budgeted, heartfelt, genuine dramatization of their deeds for decades now (cable-TV movies with Laurence Fishburne notwithstanding) that tell the real story. Sadly, the Lucasfilm production of Red Tails — a PG-13 offering about the brave black pilots who gave their all during World War II, which stars Terrence Howard and Cuba Gooding, Jr. — is not the film we've been waiting for.
It's rare these days to see a moving picture bearing the famous Lucasfilm logo at the beginning that isn't part of the Indiana Jones or Star Wars franchises. In fact, it's downright extraordinary to see said brand, though it is certainly a welcomed sight — especially when the subject matter is a fictional account of the brave Tuskegee Airmen. But then, when you stop to think about it, George Lucas is quite the WWII nut, having based the dogfight sequences of the original Star Wars off of historic documentary footage.
It should therefore serve as no surprise that the dogfight sequences in Red Tails are familiar-looking. Actually, the whole damn story here is familiar, as it is about as clichéd and tired as your average WWII b-movie. In fact, Red Tails essentially is a low-budget war flick. The only major difference between it and many of its predecessors is that this one was produced by George Lucas. And his hand shows-a-plenty here, too: Red Tails' aerial battles almost seem like they were copied frame-for-frame from the opening of Star Wars: Episode III – Revenge of the Sith — complete with an overdose of CGI to boot.
It's not just the special effects, though. Though the film credits John B. Holway's book as its source material, the paint-by-numbers ensemble of fighter pilots and commanding officers present in the movie itself are nothing more than cartoonish, fictional cardboard creations — brought to half-life by a slew of professional and not-so-skilled actors, some of whom use modern-day speech patterns. Talk about crippling one's ability to fully enjoy the feature: just how in the Hell do you get into a World War II flick when you hear someone say "A'ight"?
I shouldn't complain too terribly much about the lack of historical accuracy and dialogue coaching, though: there are just as many editorial anachronisms to laugh at here — which is a real oddity considering Lucas regular Ben Burtt was one of the film's editors (he must have supervised some newbs or something). But then, truth be known, Mr. Lucas actually stepped in to direct several reshoots in 2010 (with The Boondocks creator Aaron McGruder coming in to re-write John Ridley's original screenplay) after principal photography wrapped in 2009 (yes, it took that long to release), so perhaps his idle form of overseeing had something to do with it all.
Beget as a mere twinkle in the eye of George Lucas himself way back in 1988, Red Tails never came to pass in the era of real special effects since there was nary a studio willing to invest in a film that focused on the Tuskegee Airmen — a project that meant "box office failure" to them on account that the movie would consist entirely of black actors. So, George wisely waited until he had sold several different Star Wars box sets on VHS, Laserdisc, DVD, and Blu-ray before shelling out $58 million from his own pockets to produce his long unrealized dream project Red Tails — only to gross just under $50 at the box office.
Perhaps his choice of performers should have been questioned. Though he isn't in the film all that much, the name Cuba Gooding, Jr. has been synonymous with direct-to-video shitfests for several years now. Terrence Howard is also little more than a b-movie actor. The remaining cast (black or white) is mostly comprised of recording artists and television personalities. Frankly, surprised it made as much as it did in the theaters with that lineup, to say nothing of the hackneyed story and boring CGI effects. Granted, I've seen much worse, but this could — and should — have been a lot better.
In short: Red Tails — which, I should point out, should not be confused with any sort of similarly-titled adult films pertaining to bondage and spanking — is proof that George Lucas is capable of dropping the ball on any kind of project.