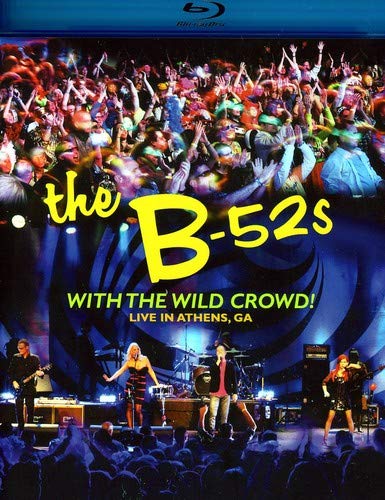 For more than 30 years, the B-52's have delivered their own quirky brand of retro-influenced new wave. From the bee-hive hairdos and surf guitar to the synthesizers and unique vocal interplay between Fred Schneider, Kate Pierson, and Cindy Wilson, they have carved out a sound uniquely their own. In February 2011, they returned to their hometown of Athens, GA, for an enthusiastic performance covering their entire career, the results of which are captured on The B-52's – With the Wild Crowd: Live in Athens, GA.
The show opens with the driving "Pump," a track from their 2008 release, Funplex. While Funplex is now four years old, at the time, it was their first album of all-new material in 16 years. The song is representative of everything people like about the band: a twangy, surf-inspired guitar riff courtesy of Keith Strickland's Telecaster and spirited vocals between Pierson and Wilson.
The band follows that up with the quirky new wave of "Private Idaho" from their 1980 release, Wild Planet. John Lennon reportedly commented when first hearing the B-52's that they were "doing a Yoko Ono," and was excited that her brand of music was seemingly gaining acceptance and indeed, Pierson's opening vocals do bare some resemblance to Ono's. "Mesopotamia," from the EP of the same name, takes new wave and merges it with disco seamlessly.
"Dancing Now," one of several songs from Funplex, is a riff-oriented rocker. The song serves as a showcase for Schneider's unique vocal stylings. The group also offers up a rather faithful, but fun, version of "Roam" from their biggest album, 1989's Cosmic Thing.
Not surprisingly, the most enthusiastic audience responses are reserved for the band's biggest hits, "Love Shack" and "Rock Lobster." The group doesn't disappoint, playing revved-up versions of both (even if Schneider's vocals are a tad flat in the first verse of "Love Shack.") The emphasis here, and throughout the show, is on fun.
Live, the band is augmented by Sterling Campbell on drums, Paul Gordon on keyboards and additional guitar, and Tracy Wormworth on bass. Campbell and Wormworth in particular make for a formidable rhythm section. The picture is 1080i widescreen 16×9 (1.78:1) and looks fantastic. Audio options are LPCM Stereo, Dolby Digital 5.1 and DTS HD Master Audio. The disc also includes an interview with the band members.
When the band recorded Funplex, they were afraid of becoming pigeonholed as a legacy act and wanted some new material to play. Its acceptance by the fans seems to have renewed the B-52's and makes The B-52's – With the Wild Crowd: Live in Athens, GA a fun ride.