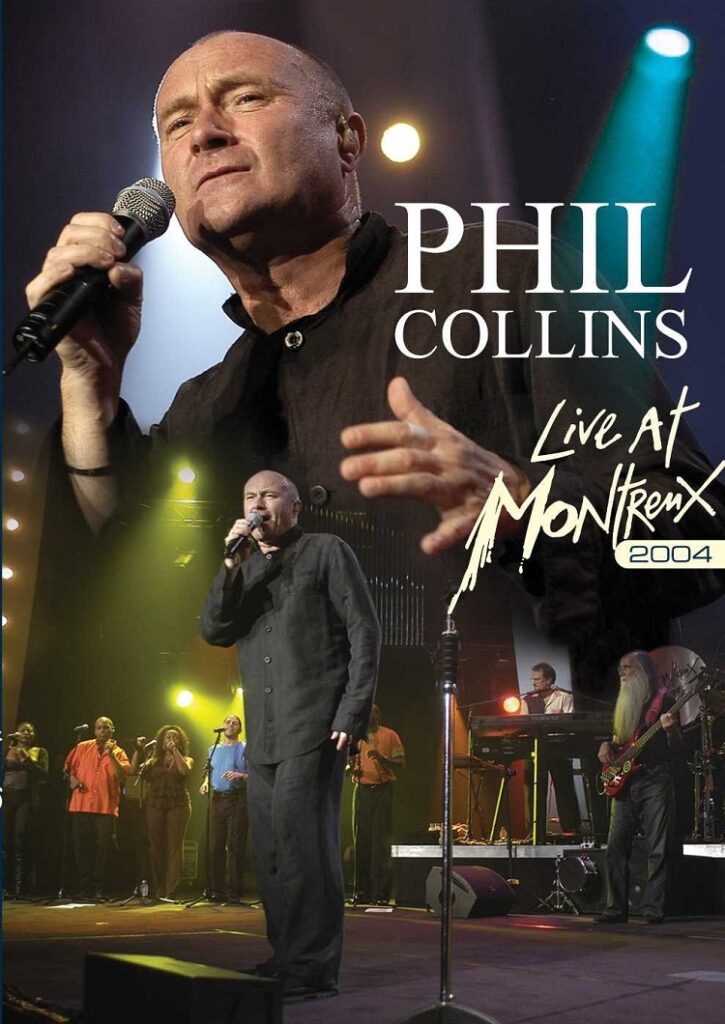 As Phil Collins embarked on his "First Final Farewell Tour" in 2004 and 2005, it occurred to him that he should pay his old friend, Claude Nobs, a visit and perform at the Montreux Jazz Festival. Collins had played there before, including a stint in 1996 with the Phil Collins Big Band and both of these performances are included on Phil Collins – Live at Montreux 2004.
The 2004 show opens with "Drums, Drums And More Drums," which is, you guessed it, a drum solo. Actually it's more of a trio, as Collins is joined onstage by longtime drummer (and touring member of Genesis) Chester Thompson, as well as percussionist Luis Conte for an entertaining, if unusual way to start the show. Collins says in the liner notes that he started on drums and wanted to finish on the drums and the show reflects that.
What follows after are the hits – and there are many. While Collins' solo career has often been maligned, sometimes fairly, sometimes not, no one can deny the man has had a lot of hits and Collins and his crack band, which includes Thompson as well as fellow touring member of Genesis, Daryl Stuermer, deliver spirited versions of them.
The horn section brings life to songs such as "Something Happened On The Way To Heaven, "I Missed Again" and "Sussudio," the latter of which also features an extended, syncopated guitar intro from Stuermer. Having real horns is so much better than the alternative and something fans of another legendary British artist, Paul McCartney, have been clamoring for in his live sets.
Collins features his excellent backup singers, bringing them to the front of the stage for his cover of "True Colors." Collins himself is in fine voice, though he struggles a bit with some of the higher parts. During another cover, "You Can't Hurry Love," the backup singers do the hand gestures a la the Supremes.
"In The Air Tonight" has an extended synth intro before going into its familiar drum machine pattern. Collins runs behind the kit to deliver his signature drum fill, arguably one of the most famous rock fills ever, in a fine performance of this signature tune.
The show closes, appropriately enough, with "Take Me Home," with Collins again returning to the drum kit. The show offers a nice overview of Collins' many hits, though it could have a few more songs from his first two solo albums, Face Value and Hello, I Must be Going!, and a few less ballads. That's nitpicking though and the show would be a welcome addition to any Collins fan's collection.
The 1996 performance is an entirely different animal altogether. Collins was given carte blanche at the 1996 festival and came up with his own big band. At this show, Collins is just the drummer in the band and, admittedly, he had to learn how to play in that style. Joined once again by Stuermer, Nathan East on bass, the WDR Big Band, and Quincy Jones as conductor, Collins and the band reinterpret his solo and Genesis hits in the big band style of old.
The results are mostly good, though some of the arrangements don't stray far enough from their original form. Highlights include a bouncy, swinging version of "That's All," and a moody "In The Air Tonight" with David Sanborn supplying the vocal lines on saxophone.
The great Tony Bennett joined the band for a spirited, "There'll Be Some Changes Made," remaining as cool as ever. Bennett's voice showed no signs of age as he hit (and held) the big note at the end. While this is the only song with Bennett that is included, he actually played a half hour set with the band.
Both shows feature LPCM Stereo, Dolby Digital 5.1 and DTS HD Master Audio sound options and the 2004 show is in 1080i widescreen 16×9 (1.78:1). The 1996 performance is shot in 4×3 standard definition, but both shows look and sound great.
Fans wanting a nice overview of Collins' long solo career would do well to pick up Phil Collins – Live at Montreux 2004. The fact that it includes the rarely seen Big Band footage is an added bonus.