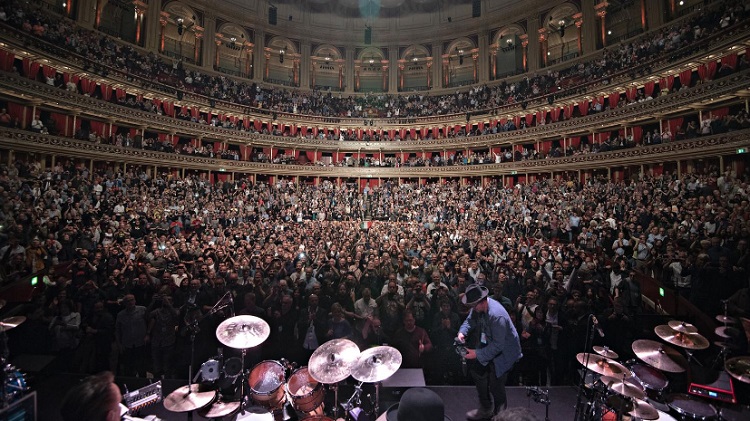 I've seen King Crimson once in concert. It was at the Greek in Los Angeles in 2017, and I went with my brother and his girlfriend. Neither had heard a note from the band before that show. By the end, they were as transfixed as I was by the beauty and the power of the Crimson sound.
The staging was unique: three drummers took front stage, while the rest of the band: two guitarists, bass, wind instruments, and keys played behind them. They did not engage in stage banter. Except for Jakko Jakszyk's singing, I do not think the band said one word to the audience. The wind player, Mel Collins, flubbed a note on a solo, and when it came back around, he got it right. He gave the crowd a thumbs up, and we burst into cheers. That was it, as far as interaction with the crowd goes.
This is an example of one of the themes that is prevalent in the new documentary about the band, In the Court of the Crimson King, which played at SXSW this week. King Crimson has had one permanent member, lead guitarist Robert Fripp. And his relationship with his audience can be fairly described as contentious. Signs are posted at the concerts which cheerily request photos not be taken during the show. If they are, security not so cheerily finds the photographer and kicks them out. It happened at the show I went to. An audience member interviewed in the film relates it happening to him, as well.
King Crimson is a progressive rock band, though that description lends them an air of preciousness and pretension. I don't think King Crimson are either of those p words – what they are is precise. They have a precise outlook and a precise sound, which is rhythmically and melodically complex and requires precise players.
To achieve this precision, Robert Fripp becomes a demanding taskmaster. He expects it of himself; he practices guitar four to five hours a day. And he expects it of his bandmates. In the Court of the Crimson King is not a critical documentary, but neither is it worshipful. Robert Fripp commissioned the film for the band's 50th anniversary but constantly seems irritated by a camera in his midst. More than once he interrupts interviews with other band members to inform the interviewer how stupid his questions are. He's barely patient at the best of times.
There are several interviews with former bandmates: Bill Bruford, Trey Gunn, Ian Macdonald. Adrian Belew's status with the band is currently ambiguous, which is clearly irritating to him. The others, however much they appreciate the fantastic music they made in collaboration with Fripp, seem very happy to have it behind them. Trey Gunn compared being in King Crimson to having an infection that lasted 10 years.
There's a major poignancy at the center of the film in the status of band member Bill Rieflin. Formerly of industrial bands, including Ministry in its heyday, he was Robert Fripp's friend and joined King Crimson when it reformed after a long hiatus in 2013. He started as a drummer, but moved to focus on keyboards, which is what he was performing when I saw him in 2017. He developed cancer, and In the Court of the Crimson King documents his final days, both with the band and of his life.
The documentarian and cinematographer, Toby Amies, asks Bill why he spends his last days not resting but touring, at an exhausting pace, with King Crimson. He says it is because music is what he does. And that has always been Robert Fripp's description of King Crimson. Not really a band, but "a way of doing things."
In the Court of the Crimson King, which is often hilarious, often poignant, shows a minor glimpse of this way of doing things. It has to be minor because the moving parts of this band are too complex to be encapsulated in a documentary. The only way to understand King Crimson is to experience them. That might be impossible now since the word is they have performed their last shows in 2021.
The last years of the band make something of a comeback story. From an extended hiatus, Robert Fripp reformed the band, bringing in several members from previous incarnations (including Mel Collins, who had last been in the band in the early '70s) and toured to massive success for the better part of a decade. But this documentary is not that familiar story. It does not shoehorn a conventional narrative on to the band. It documents a process. And central to the process is the prickly figure of Robert Fripp. He plays his guitar seated, in the position on the stage furthest from the audience. He is typically dwarfed by the racks of effects equipment he uses to achieve his ethereal sounds.
But despite his obvious resistance, we find moments of vulnerability. Times where his carefully constructed shell is pierced. That alone would make In the Court of the Crimson King worthwhile from a fan's perspective. But it is also very funny and sprinkled with snippets of fantastic musical performances. And it gives a sense of both the price, and the point, of King Crimson's obsessive musical precision.