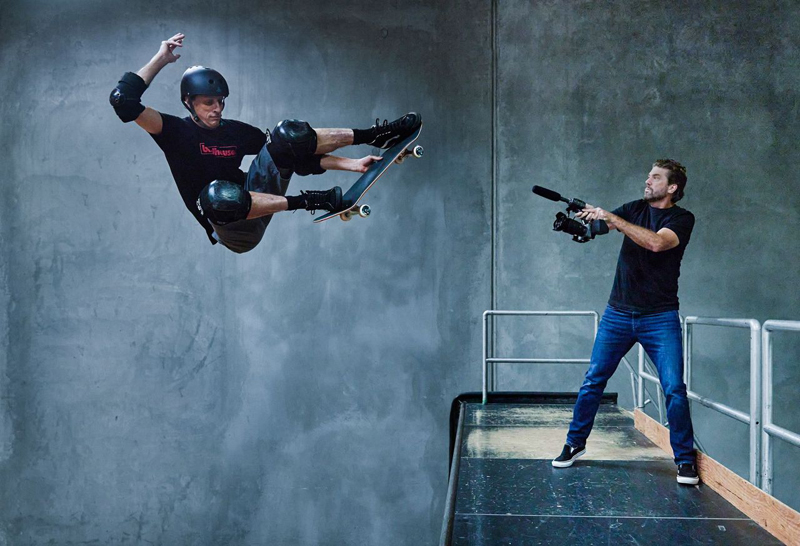 The opening minutes of Tony Hawk: Until the Wheels Fall Off captivate the viewer with footage of a present-day Hawk, at age 53, still skateboarding and attempting to complete a 360 spin. Even after failing numerous times in a row, Hawk gets up and tries again. He's determined and admittedly stubborn, as he reveals in the documentary, but he also doesn't surrender until he can complete what he set out to do.
It's a terrific beginning – one which results in Hawk crashing multiple times. He comes close to completing the move with success a few times, only to slip off the skateboard. And each time, the viewer keeps hoping Hawk can land it and then winces once his body meets the ground. Even when he's in the most pain, Hawk won't give up. Director Sam Jones concludes the opening shot brilliantly with the camera focused on Hawk's skateboard wheels continuously spinning after one failed attempt. It's a symbol of Hawk's determination, and it also perfectly matches the documentary's title.
Until the Wheels Fall Off takes a deep dive into Hawk's life from when he was still in high school and gaining recognition for his moves to when he eventually retired from competing in the sport and beyond that. At times, he would have a competition run late and then have to wake up the next morning and go to school. Hawk was just 14 when he started becoming a big name in the skateboarding world.
Hawk's rise to fame came at a time when the skateboarding world was seeing a spike in popularity again in the 1980s. Many of the people interviewed, including Hawk, mention how the sport has been a financial rollercoaster, and there were times when it seemed like their careers were going to be over. Simultaneously, at the time Hawk was rising to fame, multiple technological sources also saw their industries beginning and booming. VHS camcorders were able to capture moments in real-time and become not just the source for home movies, but also one in which a particular niche could be filled: underground skateboarding videos.
Jones incorporates a wide range of different footage for Until the Wheels Fall Off, whether it's from The Bones Brigade – the first skateboarding crew Hawk joined and where his recognition began – or it's from Hawk's personal collection. It's all extremely entertaining to watch and will serve as a jog down memory lane for those who were heavily into skateboarding during this time – or even those who were more observant of the sport and not as into wanting to be the next Hawk.
It also can be hard to watch at times, as some of the skateboarders – Hawk included – experience some gruesome injuries. Jones doesn't shy away from the fact that skateboarding, like a lot of professional sports, comes with a warning on how it can impact your body. One particularly scary moment shows how Hawk almost lost his life after he crash-landed head first on a ramp.
Hawk talks about how, growing up, the sudden fame was a shock to him, and seeing paychecks that hit six figures with his name on them before he was 18 was eye-opening. It was also surprising to see how his stardom was becoming more popular than those he idolized, such as Stacy Peralta, Andy MacDonald, Duane Peters, and more. Those three serve as interviewees for the documentary, along with Rodney Mullen, Sean Mortimer, Steve Caballero, and others. They all do a terrific job of showcasing their experiences and interactions with Hawk and giving an insider scoop on the skateboarding world.
While there is a lot of skateboarding footage used in Until the Wheels Fall Off, Jones also goes beyond the sensation and the excitement of the sport to focus on Hawk's personal life. This is where the documentary becomes more hard-hitting and investing. One scene shows Hawk from a few years ago visiting his mother, Nancy Hawk, in a retirement community (she passed in 2019). Their touching interaction shows the importance of visiting family, even when fame consumes your life. This moment was when Hawk had long retired from competing in the sport, but it also serves as something that didn't happen as much when his career was taking off.
Hawk opens up on how skateboarding for him has always been like a drug. Even when the industry took a dive in the 1990s, and he had to take contract jobs in video editing, Hawk was more focused on developing his career and the fame than he was on his home life. He admits to the pain it caused his family, especially his first-born son Riley (also interviewed here). His honest confession to, at that time, not being good at building a strong romantic relationship is powerful and heart-breaking.
Until the Wheels Fall Off is a remarkable and revealing documentary on Hawk's career, his personal life, and the skateboarding world. There is a lot of energy throughout when it showcases the archival footage and even when it shows some of the modern-day skateboarding videos. Its 135-minute runtime may seem a little long, but Jones fills that time without dwelling too long on any one particular moment and is able to balance juggling the good and bad sides of Hawk's life. It's a must-see for skateboarding enthusiasts and non-fans alike.