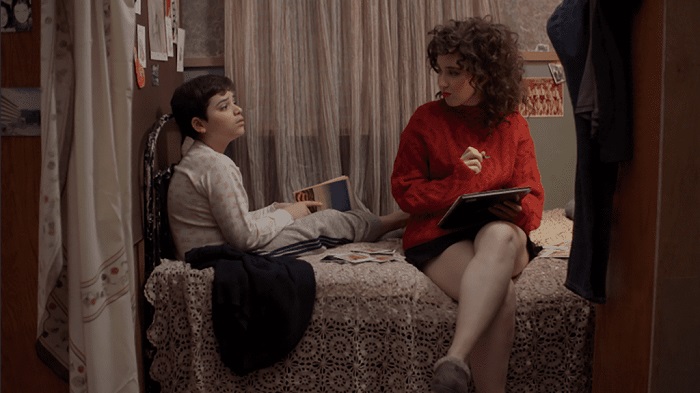 Queer youth goes on a journey of self-discovery while concealing their identity out of fear. A simple story that we've seen before. But as Potato Dreams of America depicts this story, which frankly should be reinforced to hammer down how countless queer youths have trouble coming out because they're afraid of bigotry, it does so in an earnest and ethereal manner.
As it depicts a queer protagonist growing up in Russia where homophobia runs rampant, it could've easily ventured into over-sentimental, dour territory. However, writer/director Wes Hurley, who based the story on his own upbringing, demonstrates a more lenient approach, emphasizing on fantastical reverie being used as a coping mechanism as the protagonist Potato (Hersh Powers) befriends an imaginary version of Jesus Christ (Jonathan Bennett) to escape his loneliness. Both when living as a child in Russia, and as a teenager (Tyler Bocock) in the United States, where he and his mother move once she becomes a mail order bride, Potato also develops a love for cinema and realizes how it can be used as a form of escapism and connection.
The American films that Potato becomes introduced to serve as an entry into happiness as opposed to the conservatism present within Russian cinema. Eventually, they play a vital role in his journey of self-discovery as during his teenage years, Potato becomes infatuated with The Living End from queer cinema icon Gregg Araki which he rents from his local video store while having to keep his love for it secret from his mother Lena (Marya Sea Kominski) and her domineering husband John (Dan Lauria).
Although Potato lives in a freer country, because of the strict religious beliefs that John enacts in their household, he fears that if his sexuality gets discovered, he may still face discrimination like in his previous home. A struggle involving immigration and trying to build a great American life that gives the second half of Potato Dreams of America an added layer of resonance. The first half, however, plays out like a Wes Anderson homage with the lavish production design by Kristen Bonnalie, the eccentric characters including Potato's grandmother Tamara (a scene-stealing Lea DeLaria), the vivid cinematography from Vincent Pierce, and even a musical number thrown in for artistic measure.
Given how Potato gets lost in the world of cinema, it is fitting for the first half to reflect how he, as a child, has an imaginary, movie-like view of his crumbling environment. That being said, it does end up being style over substance as there's more of a feel for the visual aesthetic than the performances since only Lea DeLaria and Jonathan Bennett as an aloof imaginary Jesus leave an impression. The second half does have a small ounce of peculiarity as Potato and Lena speak in Russian accents as opposed to their initial American ones. Yet, it still escapes the picture's previous fantastical machinations.
Normally, a picture feeling like two different short films would be detrimental, but in the case of Potato Dreams of America, it works wonders. Even if some might feel thrown off by the tonal shifts, Wes Hurley's ingenious vision that makes this stand out from other stories within the continuous coming-of-age queer collection is still immensely admirable.