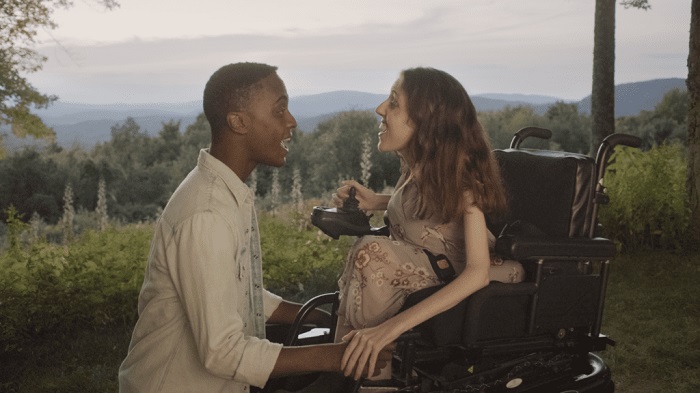 Without necessarily pitting the two films against each other, Best Summer Ever makes movies like the highly controversial Golden Globe nominated film Music feel like relics of the past. With pictures like Best Summer Ever, Run, and even Best Picture nominee Sound of Metal having actual disabled actors in their casts, any excuse being made for casting able-bodied actors as disabled people that's along the lines of "There just aren't many disabled actors out there" is void.
While not perfect, Best Summer Ever still does its part at being a familiar yet inclusive crowd pleaser. Also, because it features disabled actors in lead roles as well as supporting ones, co-directors Lauren Smitelli and Michael Parks Randa are able to present the disabled experience in a way that the characters' disabilities are never a plot point or portrayed as a burden. Neither acting like their conditions are a weight on them nor trying to overcome them, these characters simply go through the motions that able-bodied characters in teen films often do.
The plot of Best Summer Ever is as follows. High school jock Tony (Rickey Wilson, Jr.) and Sage (Shannon DeVido), a new student and wheelchair user who has settled into Tony's small town with her nomad mothers, attempt to rekindle the romance they formed at summer camp once they cross paths again. However, mean girl Beth (MuMu) attempts to break off their romance due to her desire to be crowned Homecoming Queen and her clear belief that because Tony is the star football player and she's the head cheerleader, they're more compatible.
Once Beth tries concocting her dastardly plan, that's where the film falls into cliche territory as its storyline involving two high schoolers from radically different cliques targeted by a villainous Queen Bee hoping to land the handsome popular boy provides flashes of the musical Hairspray. At the very least, Beth gets a killer villain song known as "The G" which actress MuMu performs with plenty of bravado. It's easily the picture's most memorable tune along with "Roll Your Path" sung by Eileen Grubba and Holly Palmer who play Sage's mothers Kate and Gillian, respectively. Other than the vocals from the two actresses, "Roll Your Path" is also significant because of the juxtaposition of Sage pleading for them to settle down so she can live a normal life and Kate and Gillian singing about how she should reject such conformity. Partially as a way for them to carry out their own life path and to avoid having Sage succumb to cruel ostracism.
Despite the fear her mothers may have that at times comes true when Sage becomes antagonized by her unintended foe, Sage still persists with a caustic wit demonstrated by lead actress Shannon DeVido. Additionally, DeVido and Rickey Wilson Jr. have pretty delightful chemistry as the central couple in love while MuMu is in standout form as Beth, clearly having a ball playing the archetypal evil Queen Bee as she chews up every moment of screen time she has. Plus, Eileen Grubba and Holly Palmer are beacons of light as the unconditionally loving Kate and Gillian, encapsulating the jubilant heart that Best Summer Ever beats with.
Best Summer Ever may not completely reinvent the wheel for teen musical storytelling. However, its familiar story formula still remains effective. The spirited song-and-dance numbers and dignified depiction of the disabled community also make Best Summer Ever an ultimately winning experience.