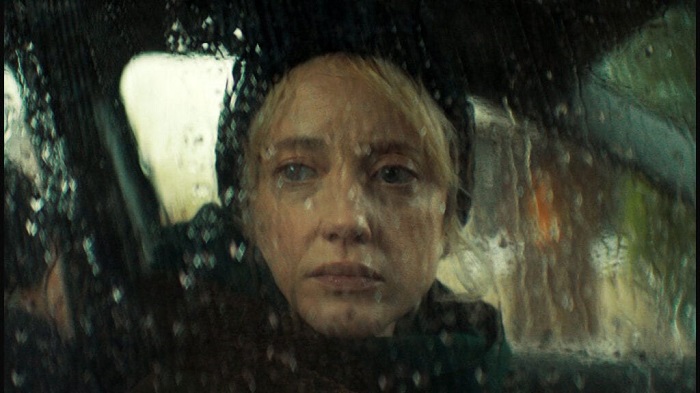 One word that can be used to describe Andrea Riseborough is "dauntless." The unsung British actress has proven there's no genre that she won't do and that no role is too big or small for her since she always leave an impression even in the smallest cameo (See Nocturnal Animals for proof). But the thriller Here Before is a fine example of Riseborough both carrying a movie on her shoulders and proving she's unafraid to show her dark side as she dives deep into her role as a woman obsessed.
In Here Before, Riseborough plays Laura, a wife and mother living in Northern Ireland grieving over the loss of her daughter. Once new neighbors move in next door, Laura forms a bond with the family daughter Megan (Niamh Dornan) that becomes obsessive to the degree where Laura believes that Megan may be a reincarnation of her deceased child. As Laura's sanity becomes called into question, her growing bond with Megan puts her at odds with both her concerned husband Brendan (Jonjo O'Neill) and Megan's protective mother Marie (Eileen O'Higgins).
As Laura begins her fixation with her new neighbors, Riseborough presents her as unassumingly obsessed. Someone who uses small kind gestures, like drawing a ketchup smile on Megan's sandwich during an early scene where Megan comes to Laura's house for dinner, as a smokescreen for getting too integrated in her neighbor's home life. While Laura may present a calm demeanor, Riseborough's widened eyes serve as a window into Laura's crazed psyche. Even when Marie becomes concerned when Laura spends too much time with Megan and advises her to stop doing so, Laura appears undisturbed, acting as if she's not doing anything wrong.
The dark shadow that Laura seems to cast on everyone around her is also reflected in the cinematography by BP Chloe Thomson. During the aforementioned scene of Laura drawing the ketchup smile, the sandwich is encased in light while almost everything else is drenched in shadow. A haunting and perfect encapsulation of Laura attempting to have Megan under her grasp and create an emblematic space occupied by just the two of them. As Laura tries distancing Megan from her own family, Laura does so as a way to force Megan to fill in the void that took place in her own life when her daughter tragically passed away.
Along with the cinematography and the chilly score by Adam Janota Bzowski that's even present in scenes involving mundane conversation between Laura and Megan, the editing by Brian Phillip Davis makes this slow-burn thriller effective. As soon as Here Before begins with Laura becoming acquainted with her new neighbors, the film wastes no time establishing her obsessive behavior. There's no gradual build-up to a moment of crazed histrionics to stress how deranged the central stalker character is before they really go off the deep end. Thanks to Riseborough's sly performance, it's evident from the beginning that something's off with Laura and even when she does start going off the rails, Riseborough never overplays her unhinged nature.
Of course, credit for making sure the picture moves along and hits you from the get-go should go to writer/director Stacey Gregg. In her hands, Here Before becomes less of a typical obsessive stalker pic and more of an insidious portrait of grief. While Laura becoming too acquainted with Megan is less agreeable, because of her reeling from the untimely loss of her own child, Gregg still stresses how grief and loss can take a severe toll on a person's mind even if the screenplay nearly suffers from its convoluted reincarnation story elements that are further explored in the third act.
Other than that slight story flaw, Here Before is still a promising feature debut from Stacey Gregg that proves why we should, quite frankly, stop underrating the heck out of Andrea Riseborough. It's an unsettling yet masterfully refined portrayal of a woman obsessed that's a part of a string of flawless performances from the perpetually unsung actress. While Here Before succeeds as a technical exercise thanks to its editing, score, and cinematography, Riseborough's committed performance remains the picture's most valuable element.