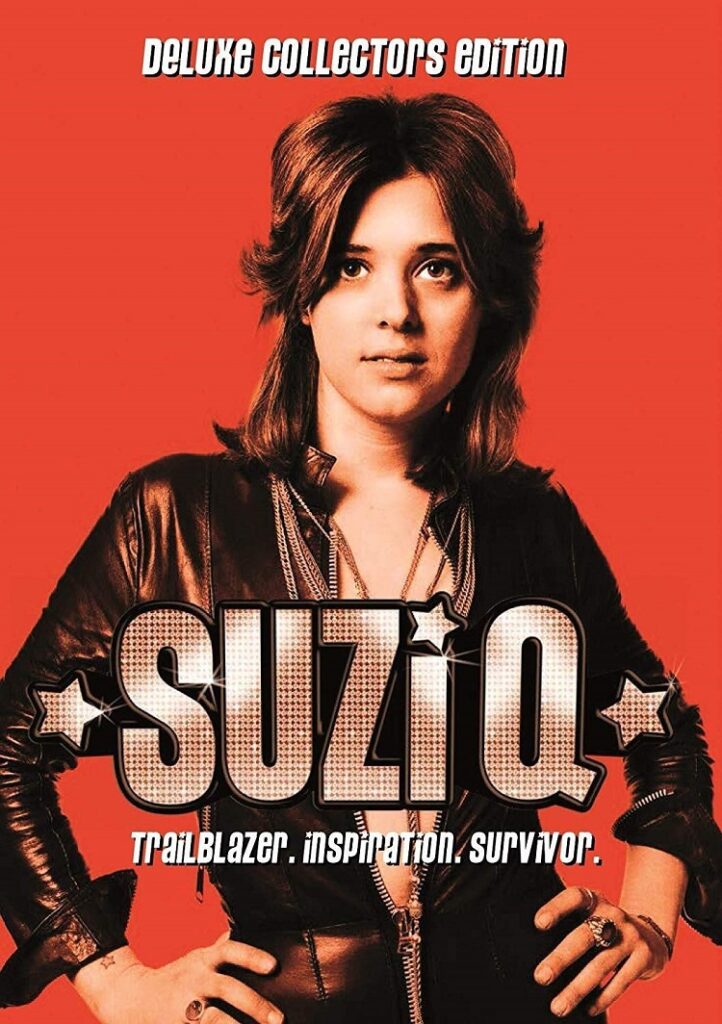 Australian director Liam Firmager spent four years working on Suzi Q, the definitive documentary of Detroit-born rock star Suzi Quatro, who rocketed to fame in the UK and Europe in the 1970s. His modus operandi draws heavily on Quatro's sometimes difficult relationship with her sisters, as well as her music and indefatigable spirit. Even after over 50 years as a rock star and musical icon, it took almost a lifetime for Quarto to acquire perspective and peace about her relationship with her parents and siblings. Through original and vintage interviews, film clips, and a slew of newspaper and magazine clippings, we get an in-depth look at of Quatro's career as a groundbreaking rock star.
Quarto was destined for a life as a musician. Her father, Arthur, was a musician and performer. Brother Michael was a musical prodigy. Suzi and her sisters took music lessons and performing had always been an integral part of family life. Suzi's fate was sealed at five and a half when she saw Elvis – I am going to do.. that, she remembers thinking. Suzi Quatro became the female Elvis. She was a trailblazer who opened the floodgates for the female rockers to follow, most notably the Runaways. "She was the first, and broke the ice and kicked down the doors for the rest of us gals," Cherie Currie, the film's first interviewee, says. Suzi's style and music laid the groundwork for female musicians that followed her. Firmager also interviewed Joan Jett and Lita Ford of The Runaways, Debbie Harry, Wendy James, Abby Travis and Kathy Valentine of the Go-Gos, Tina Weymouth of the Talking Heads, and Donita Sparks of L7. Chris Frantz talks about how Suzi's music inspired him to enlist his wife Tina as an electric bass player.
After watching the Beatles a few years after discovering Elvis, Suzi and her sister Patti started their own band, the Pleasure Seekers. They played shows in the Detroit area and gained an enthusiastic following. Diminutive Suzi was the bass player, but she soon became the band's singer and focal point. Their first single, "What a Way to Die", was a "singing and beer drinking" song. By a group of five Catholic schoolgirls. Suzi was 14, Patti, 16. The band signed to Mercury Records and toured extensively across the country, but wider success eluded them.
Producer Mickie Most discovered Suzi on a trip to Detroit. He invited her to Motown to jam and signed her as a solo act. Suzi had her big break, but her sisters were left behind. "You have to say goodbye to a very comfortable, perfect existence and I knew it taking it up and I knew the first time I went on he road with the band." Quarto says early in the film in response to a question about the side effects of fame.
Homesick, Suzi spent her first year in London living alone in a bedsit while struggling for her big break. She received a cassette tape recorded by her family, but instead of happy chit-chat, the tape contained dinner table conversation about Suzi's sloppy bass playing. On a trip back home after her initial success in the UK, Quarto discovers that her childhood bedroom was stripped and it was as though her family had "written her out of their lives."
Quatro and her band (including husband-to-be, guitar player Len Tuckey) opened for Slade and other glam bands. Suzi became a phenomenon with "Can the Can", "48 Crash" and "Devil Gate Drive" hit the charts. In the U.S., most people don't know the name Suzi Quatro unless you're a hardcore rock 'n' roll aficionado. Now mention Leather Tuscadero from Happy Days, and it's a different story. Suzi got the role of Milwaukee's sassiest rocker after a casting agent spotted her on the cover of Rolling Stone. Her three-year stint on the show brought her mainstream success in the U.S., but not in the way she had hoped.
After Suzi left Happy Days, her attempts at a hit single in the U.S. peaked in 1979 when she recorded the duet "Stumblin' In" with Chris Norman of Smokie. It was a catchy, hummable tune, but quite different than all of her solo material. Efforts to score a solo hit in the US fell flat.
Lita Ford talks about how Joan Jett looked like Suzi's twin when the Runaways first formed, with the same hair style, playing style, and posture. Eventually, Jett dyed her hair black and created a distinctive image. Even so, Jett was often mistaken for Suzi (aka Leather Tuscadero) by causal fans.
Early rock 'n' roll had its share of all-female bands (Birtha, Ace of Cups, Goldie and the Gingerbreads). Fanny had a mainstream hit with "Charity Ball", but Suzi was the first female hard rocker in the world (except for the U.S.) with a string of hits. Even so, it was a tough road, as the UK press accused Suzi of being a puppet controlled by her handlers and record company. Suzi, however, maneuvered through the music business labyrinth without being cheated or falling prey to the business skullduggery common in the '60s and '70s. "I developed a smart mouth, which kept the assholes aways," Suzi remarks. However, the documentary includes a cringe-worthy clip of a talk show host slapping Suzi's butt. In those days, such behavior was common. (Just ask Ann and Nancy Wilson about one of the ads put out by their record company.)
It's difficult to imagine how groundbreaking Quarto's success was in Europe. She wasn't girlie feminine, like Cilla Black, or other UK female singers. She had an androgynous charm that captivated kids, but wouldn't scare the adults. "She's not really threatening," says Donita Sparks of L7. "She's just got these dudes behind her, but she's totally in charge. It's just incredibly empowering, I think." Suzi was the first female to be a part of the glam rock scene of the time – Alice Cooper, David Bowie, T-Rex, and Slade. She was a rocker through and through musically, but her only vices were beer and cigarettes with the boys.
In the '80s, Suzi branched out into other pursuits, including the title role in the London stage version of Annie, Get Your Gun. "I will not be boxed in. How can you do that to anyone?" she says. She also co-wrote and starred in a musical based on the life of actress Tallulah Bankhead. She continued to tour and record throughout the years, and her latest No Control, was released in 2019.
Suzi Q also has a few quick clips and of domestic bliss with her first husband, guitarist Len Tuckey, and her children. In a situation that completely flipped the dynamic of the time, Suzi worried that the media would refer to her husband as "Mr. Suzi Quatro".
Does Quatro have any regrets? More time to be a kid, says Quatro. She remembers that her friends from school wouldn't spend time with her after she came back from touring with the Pleasure Seekers.
Suzi broke down the barriers with her own ambition, talent, and chutzpah. Says John Norwood Fisher of Fishbone, "Maybe girls were trained to not aspire to those things, to say I can't do that. And it takes a Suzi Quatro to come along and say 'this is possible'."
Suzi Q virtual theatrical event release on July 1 (with Suzi, Cherie Currie and Kathy Valentine) and release on DVD & VOD on July 3.