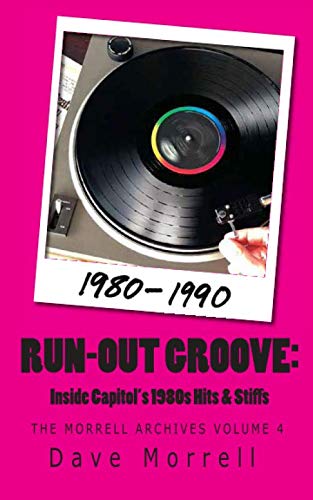 In the 1980s, everything seemed bigger: the fashions, the drugs, the money, and even the sound of music. For Dave Morrell, who helmed Capitol Records' East Coast FM promotion efforts during the decade, it was an era of excess and wild times. In the fourth volume of his highly entertaining series, The Morrell Archives, Run-Out Groove: Inside Capitol's 1980s Hits & Stiffs takes readers behind the scenes of parties, the record company's desperate attempts to promote both successful and unsuccessful acts, and the occasionally outrageous behavior of some of the era's biggest stars. Morrell, a music fan and Beatles fanatic, shares stories with humor and wonderment at how he was able to channel his passion into his career.
Morrell's prose simulates the experience of the man himself sitting with the reader over a beer and sharing his many stories. He recalls very personal anecdotes such as learning about John Lennon's death (Morrell, a well-known Beatles music collector, had known Lennon since the 1970s and had met the singer on the street only months before his death). In addition, he reveals the thrill of promoting two Paul McCartney albums and meeting his hero at a press event for the 1986 album Press to Play; his description of his star-struck moment will resonate with any fan.
Readers also learn about the music business, as Morrell describes the high-pressure stakes with promoting artists. Heads of promotion would "motivate" teams on expletive-filled phone calls, screaming at Morrell and other members to make sure enough radio stations had added bands like Prism to their playlists (don't remember the band? Morrell discusses why Capitol attempted but never succeeded in making the band the next Beatles). Some team members would be in tears after being chewed out by what Morrell terms "rumpdogs," or "the yellers and screamers. . . You could smell the rump or rear end of these dogs from 3,000 miles away."
More stories abound of rescuing Great White from a drug deal gone bad, and in a particularly surreal moment taking the rock band Helix to a screening of This Is Spinal Tap. Morrell has particularly kind words for Donny Osmond, whom he escorted to interviews while the singer was promoting his comeback single "Soldier of Love." He was the hardest working person Morrell ever met, and treated the promotions team well. Graham Nash was also a favorite, and Morrell's stories of playing Beatles bootleg tapes while driving him to his hotel are charming. "[Nash] yelled, 'Beep the horn! Flash the lights!'" Morrell and other collector friends later compiled a selection of Hollies performances from the 1960s and screened them in Nash's hotel room; Nash regaled Morrell with stories of that era that probably could have been a separate book.
As with the previous volumes, Run-Out Groove: Inside Capitol's 1980s Hits & Stiffs is part gossip, part diary, and just pure fun. Beatles and music fans in general will find Morrell's tales of sex, drugs, and rock and roll an absorbing read, and will be just a bit jealous that a music fan managed to turn his hobby into his profession. As Morrell writes, "I'd made a career out of introducing people to some of the most wonderful, interesting music ever recorded. How could I be anything but grateful?"