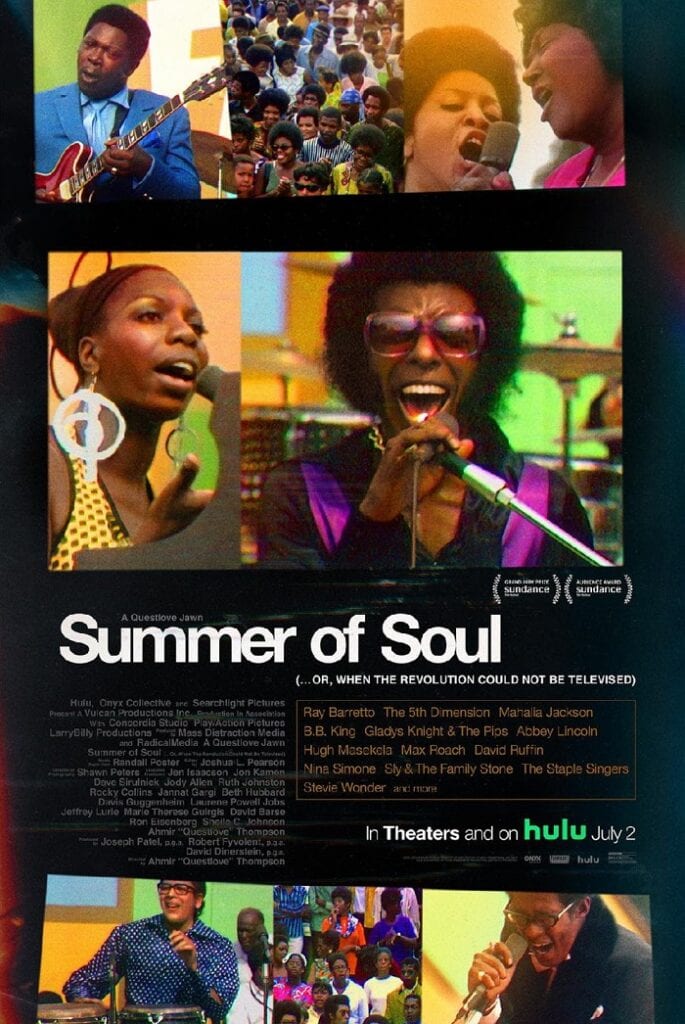 During the summer of 1969, a remarkable music festival was held in New York that featured some of the world's most talented musicians and singers whose performances enraptured the audience. Most readers probably presume I am talking about Woodstock, and I would have too, but thanks to director Ahmir-Khalib Thompson and his film Summer of Soul (…Or, When the Revolution Could Not Be Televised), audiences are able to learn about the Harlem Cultural Festival, a free concert series held over six weekends during the summer of 1969 in Mt. Morris Park. It was a star-studded affair filled with such talent it's hard to understand how it's been kept secret from so many for so long.
Musician and entertainer Tony Lawrence spearheaded the festival and was its emcee each day's curated roster of amazing talent. Stevie Wonder is the first performer shown and it's stunning to see him play drums at one point and play them well. In addition to known acts like B.B. King, David Ruffin (who had left The Temptations the year prior), and Mahalia Jackson, there are lesser-known acts deserving of attention such as Clara Walker & the Gospel Redeemers. A couple highlights are Mahalia Jackson dueting with Mavis Staples, because the matriarch requested her assistance, on "Take My Hand, Precious Lord" and Nina Simone with a powerful "Backlash Blues".
An awakening in the black community about their place in society was taking place. Reverend Al Sharpton said 1969 was when the term "Negro" died and "Black" was born. Afrocentric styles were being embraced. Gladys Knight, who performed with the Pips, was one of the artists interviewed for the film and said it "wasn't just abut the music. We wanted progress." On July 20, the United States' Apollo 11 was the first crewed mission to land on the Moon. Some festival attendees were interviewed by local news stations and most didn't care, thinking all the money and resources could have been better spent in their communities on problems of poverty and heroin addiction.
But the issues were more complex, and through the artists and their song choices, Thompson presents the complex dynamics on hand. South African Hugh Masekela illustrated the Black experience not solely an American experience Cuban percussionist/bandleader Mongo Santamaría and Puerto Rican percussionist/bandleader Ray Barretto suggest the Cuban/Latin influences in music, as well as their communities facing similar hardships.
And the issues weren't always external. Marilyn McCoo & Billy Davis Jr of The 5th Dimension reveal that because of their musical style people thought they were white, which lead to them being told they weren't black enough, a cruel attitude that still causes them pain decades later. The Edwin Hawkins Singers, a gospel group, had to deal with fellow Pentaconstals persecuting them for straying from the choir's role. One of the attendees interview for the film talked about his reaction to Sly and the Family Stone. He was used to the dapperly dressed men from Motown. He wasn't sure what to make of many things, such as the group's freewheeling clothes; girls being in the group and one playing trumpet; white guys in the group, and one playing drums. But the performance made him a believer.
Only in the last 10 minutes is there talk about what happened to this footage. The man who recorded it couldn't sell it as Woodstock was getting all the attention, and no one was interested in a predominantly all Black music program. That's a shame but thankfully Thompson and his team have now rectified that error and more can see what they have missed out on.
Summer of Soul (…Or, When the Revolution Could Not Be Televised) is an important documentary about music, about the Black experience, and about American history. It tells a story that deserves to be told and presents music that deserves to be heard. Hopefully, a soundtrack will be forthcoming.