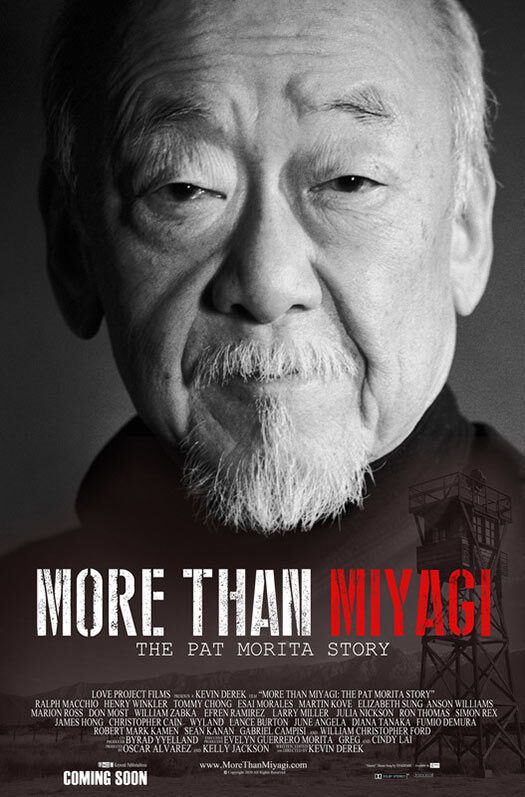 Whether you knew him from Sanford and Son, Happy Days, The Karate Kid films, or the many other characters the diminutive thespian played over the years, you would be hard pressed to find a role that you didn't love watching Pat Morita play. Yes, that even inculdes Mr. T and Tina.
Love is what More Than Miyagi: The Pat Morita Story is about. Evelyn, the third wife of Noriyuki "Pat" Morita, leads us through the life of her husband in what is clearly a project of love for her. Though the result is a story filled with passion, there are parts that are simply hard to watch. As is often the case, this man that we came to love and enjoy because of his natural talent and ability to make us laugh, had much pain in his life. Pain, tragedy, and battling demons, was not the "more" I was hoping to find in this film from director Kevin Derek and, ironically, Love Project Films. It is what I found, it is powerful, and mixed with the comedy of Pat Morita, makes for a hard story to tell.
I knew going in that Morita had done many projects prior to taking on the role of Mr. Miyagi in The Karate Kid, and I was looking forward to revisiting that work. As we flow quickly through his childhood and his start in show business, I immediately had a desire for more of More than Miyagi. There are so many roles not mentioned, and the details of how he became such a heavily utilized character actor are thin at best. The customary talking heads telling us how wonderful and talented Morita was are plentiful, but in the review copy I watched, the initial testimonials failed to identify the speakers, which was annoying. As the documentary progresses, we finally begin to detect the addition of names on the screen, but the font color blends in, making it difficult to read. Actor Esai Morales clearly had a high opinion of Morita, but there is no explanation of how they knew each other. Again, I was left looking for more
By the time we get to Happy Days and Morita portrayal of Arnold, the details are plentiful, as they are when the role of Miyagi is cast. In fact, considering the title, there may be a little too much Miyagi in this 90-minute outing. With all the content related to the portrayal of Miyagi, there is surprisingly little mention of the second and third Karate Kid films. The primary motivation for mentioning the fourth film is that giving Morita a star on the Hollywood Walk of Fame is utilized to promote The Next Karate Kid.
It's the post-Miyagi period where we learn about how much pain Pat Morita was in throughout his life. As his career winds down, so does his life, and ultimately, we are left with a depressing ending. A montage of happier moments might have helped us feel better about the 90 minutes we just spent.
Recommendation: It's good to leave the audience wanting more, which More Than Miyagi does. We want what the title promises. Expand the film to two hours and give us more of the career of Pat Morita as well as the full Myagi story that includes all four films.
More Than Myagi: The Pat Morita Story is worth watching. You'll find out things you didn't know about this loveable man, and the trip down memory lane is pleasant. Pleasant until reality kicks you in the face with the crane technique which we all know, "no can defend."
More Than Myagi: The Pat Morita Story is available February 5 on iTunes, Amazon, Vudu, Google Play, DVD, and Blu-ray. https://www.youtube.com/embed/HUSUnltOwYI