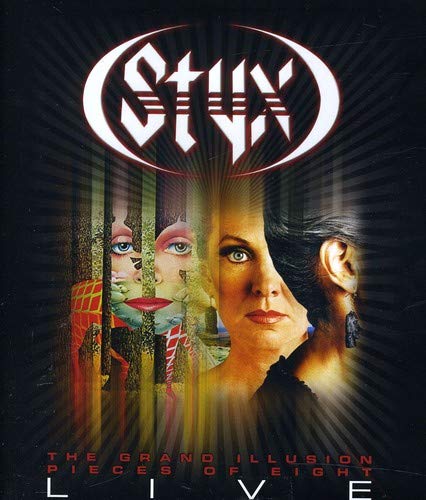 The trend for classic rock acts over the last decade or so is to revisit a classic album in its entirety live. Everyone from Cheap Trick to Aerosmith to Bruce Springsteen has done it, and the shows have usually been well received. Styx has joined their ranks, performing not one, but two of their most famous recordings, The Grand Illusion and Pieces Of Eight on the new Blu-ray, Styx: The Grand Illusion • Pieces Of Eight Live.
Filmed in high definition with 11 cameras at Memphis' famed Orpheum Theater, the Blu-ray finds the band in fine form, delivering many of their hits and featuring original bassist Chuck Panozzo on a few tracks. As often is the case with these album shows, the band had to learn a few songs they had never played live before. Before the band takes the stage, a video plays with an opening title crawl lifted right from Star Wars (But including Star Trek references for good measure). The video then cuts to someone, presumably in the 1970s, going through his records to find a Styx album to put on.
The show itself opens with a bombastic version of "The Grand Illusion," with longtime keyboardist and vocalist Lawrence Gowan ably filling in for Dennis DeYoung. Gowan has been with the band more than a decade and while many pine for DeYoung's return, he does a good job in his own right.
Tommy Shaw's "Fooling Yourself (Angry Young Man)" is up next and it's amazing how well-preserved his voice is some 35 years later, souding just like the records, as he delivers spot-on versions of not only this song, but Pieces Of Eight's "Blue Collar Man (Long Nights)" and "Renegade." James "JY" Young also delivers a spirited version of his signature "Miss America" and is entertaining just to watch with all his facial contortions. The band is having fun throughout and the crowd definitely feeds off their energy.
The Blu-ray is in 1080i high definition widescreen 16×9 with a 1.78:1 ratio and has DTS HD Master Audio, Dolby Digital 5.1 and LPCM stereo. The picture and sound are fantastic throughout. Also included is a bonus feature entitled Putting On The Show that takes an interesting look behind the scenes and gives the spotlight to those in the crew who never get it.
In spite of not having all its "classic" members, Styx still delivers a fine show with all of their trademark harmonies and radio-friendly rock anthems. Fans of the band and of these albums in particular will definitely enjoy Styx: The Grand Illusion • Pieces Of Eight Live.