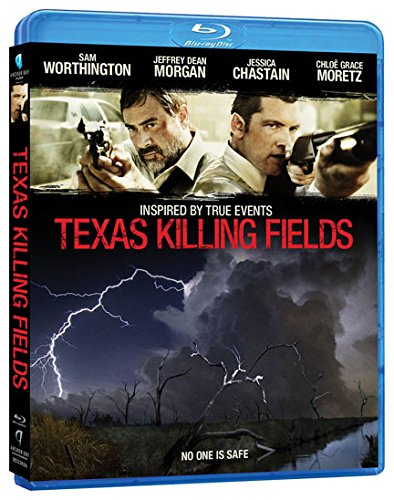 I am always a little concerned when reviewing a film that I have never heard of that has already been released in theaters. Texas Killing Fields is one such film, originally released in theaters in October 2011, it is now available on Blu-ray. I took an interest in watching the film despite my concerns since I enjoy crime films and because of the cast. Unfortunately, I should have gone with my instincts. It is unimaginative, disjointed, and a sad waste of the actors' talents.
Homicide detective Mike Souder (Sam Worthington) and his recently transferred partner from New York, Brian Heigh (Jeffrey Dean Morgan), get called out to the murder of a local street girl in their town of Texas City, Texas. While conducting that investigation, Souder's ex-wife Pam Stall (Jessica Chastain) asks for their help in connection with the hunt for a serial killer that leaves his victims in a swampland area called "The Killing Fields." Even though this area is outside of their jurisdiction, Heigh is drawn into case despite Souder's warnings. It becomes quickly apparent that being a local has clouded Souder's ability to stay impartial and he plays the bad cop to Heigh's more genteel good cop nature. When Anne (Chloe Grace Moretz), a young girl Heigh has come to care about, goes missing, the partners work together to catch the killer.
Texas Killing Fields is inspired by the real-life string of unsolved murders that happened in the 1970s through the 1990s. The one success of the film is the overall mood. It is dark, creepy and gives an overwhelming sense of foreboding. Sadly, that is the only positive.
The characters are stereotypical and undeveloped. You get a hint of some really interesting background but it never materializes. All of the actors do the best they can with the material provided, but Worthington, Morgan, Chastain, and Moretz are completely underutilized. Annabeth Gish plays Morgan's wife and has such little screen time that I wondered why they would even bother with casting this role at all. Sheryl Lee from Twin Peaks fame plays Moretz's mom and is such a deplorable human being that at the point when she attempts to show a caring side it is completely unbelievable.
The two investigations are used to confuse the viewer but don't add any value. There is no cohesion between the investigations and instead makes the film convoluted. Lastly, there is no connection to any of the villains, resulting in an unsatisfying resolution. Nothing is properly explained and it is wrapped up a little too neatly.
Michael Mann, director of films such as The Insider and Collateral, was one of the film's producers and I wonder if this was a favor for his daughter, director Ami Canaan Mann, because I really don't know why this film was made. It had the potential to take a dark look at these murders and delve into the real lives of detectives who work on these types of cases. Instead, it is just another procedural crime drama.
The only bonus feature offered on the Blu-ray disc is an audio commentary by Ami Canaan Mann and writer Donald F. Ferraron, but they don't offer much of interest.