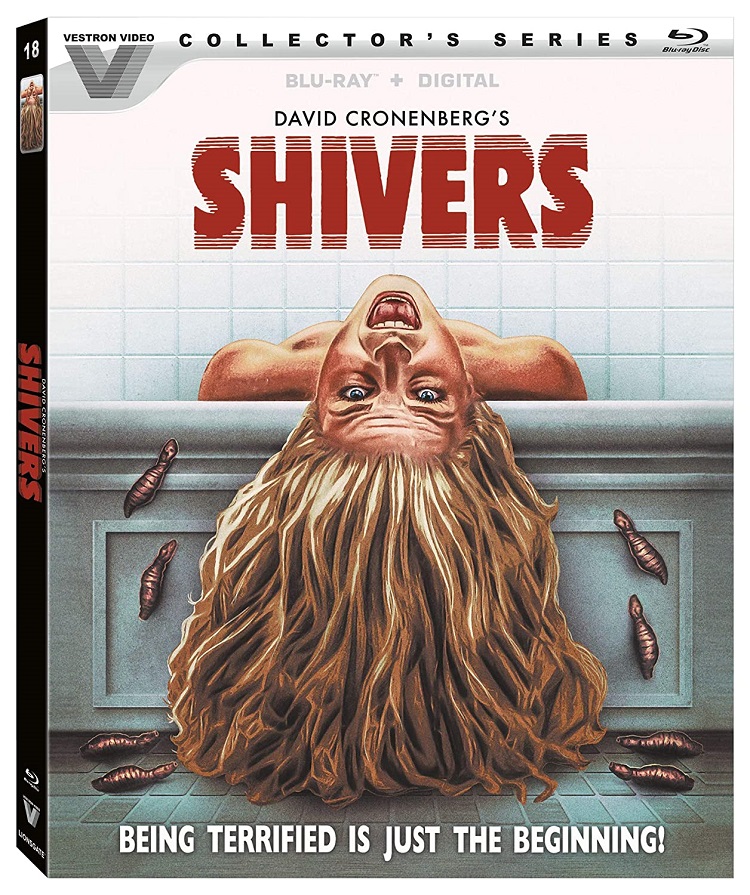 David Cronenberg, the master of "Body Horror", has more than any other director in the history of cinema, expertly showcased, through film, how we have completely lost control of our bodies, and they can turn on us at any minute. When you think about his legendary oevure, you always hear discussions of Videodrome, The Dead Zone, The Fly, and even his later (non-horror) works, including A History of Violence, and Eastern Promises. However, you rarely hear about his shocking 1975 cult classics Shivers (aka The Came From Within), which was the one that started it all.
The film takes place at a posh apartment complex in Montreal, where a crazed doctor kills his very young lover (the resident trollop) and conducts a very bizarre experiment- creating squirmy, slimey, phallic-shaped parasites that can control and manipulate an individual's sexual compulsions. Afterwards, he kills himself, and many of the young girl's conquests start to erupt, meaning that they have contracted the disease which causes multiple births of the slugs. Soon after, people in the building start falling prey to these creatures and are turn into sex-crazed, flesh-eating zombies. It's up to Dr. Roger St. Luc (Paul Hampton) and Forsythe (cult film icon Lynn Lowry), his lovely nurse girlfriend, to stop the outbreak before it spreads, turning the world into one huge, mindless orgy.
Cronenberg doesn't make straightforward horror films. Each of them are something you've never seen before. He is also not afraid to delve into bleak territory, and Shivers is definitely no exception. There is no happy ending to this pandemic, and even the Dr. Luc (the hero) is outrunned and turned into zombie himself. The film ends with everyone in the complex driving out into the city to cause even more violent and sexual chaos. Man, you gotta love Cronenberg and his grossly unique ideas!
There are many memorable scenes that are still haunting to this day. Besides the ending, there is the attack on a mother and her daughter in an elevator; a carrier whose stomach erupts like tumors as he gives birth to his own group of slugs; a dinner delivery guy being attacked by an older victim who spouts "I'm hungry for love", and especially the infamous bathtub scene with the legendary Barbara Steele (who plays repressed lesbian Betts) who gets attacked by a slug. These moments among others represent the genius of Cronenberg, who was finding his footing, but would eventually go on to become one of the greatest directors of all-time.
The folks at Lionsgate have generously given us a new Blu-ray edition of their Vestron Collector's Series label with great special features including a new audio commentary with Cronenberg, moderated by Chris Alexander; new audio commentary with co-producer Don Carmody, also moderated by Alexander; Mind Over Matter: new interview with Cronenberg; Good Night Nurse: new interview with Lowry; Outside and Within: new interview with special effects creator Joe Balsco; Celebrating Cinepix: The Legacy of John Dunning, a new interview with his son Greg; archival 1998 interview with Cronenberg; stills gallery with optional audio interview with Dunning (executive producer of Shivers); theatrical trailers; and tv/radio spots.
I have to say that this is perhaps my favorite horror film ever because it is so cleverly made, and the kind of slap-in-the-face to the Sexual Revolution that happened in the '60s and '70s. It's that type of film that you couldn't make today since it was so ahead of its time. It's an essential example of how horror films can go beyond just blood and guts, and have something profound to say about humanity literally eating itself inside out, in more ways than one.