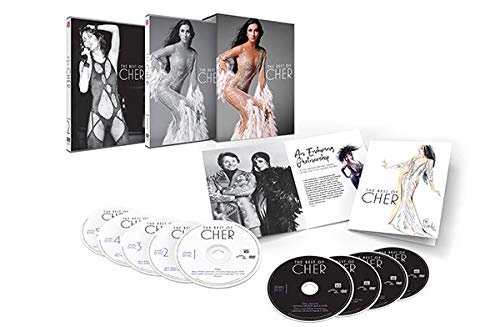 When The Sonny & Cher Comedy Hour ended after the couple's divorce, CBS stuck with Cher. She starred in an eponymous variety hour for two seasons, 26 episodes from February 16, 1975 -January 4, 1976. She reunited with Sonny, creatively, for The Sonny & Cher Show which ran until 1977. Time Life has released The Best of Cher Volumes 1 & 2, a nine-disc set that shines a spotlight on the superstar that will surely delight fans.
Volume 1 focuses on Cher, presenting 10 episodes. On five discs. Guest stars include Elton John, Bette Midler, Flip Wilson, Tatum O'Neal, Wayne Rogers, Raquel Welch, Terri Garr, the Pointer Sisters, Freddie Prinze, The Jackson 5, Lily Tomlin, Liberace, Linda Ronstadt, Tim Conway, Ike & Tina Turner, Greg Allman (her soon-to-be husband?), Carol Burnett, The Hudson Brothers, Ray Charles, and the Muppets. With her guests and on her own, Cher shows off her singing and comedy chops, and the fashion stylings of Bob Mackie.
Volume 2 starts with two late '70s TV specials, Cher…Special (April 3, 1978) and Cher…and Other Fantasies (March 7, 1979). Dolly Parton and the Tubes are guests on the former, and Lucille Ball, Elliott Gould, Andy Kaufman, and Shelley Winters appear on the latter. Special features the typical sketches and dance numbers, while Cher and the writers are get artsy during Fantasies and create one of the weirder shows I've seen on broadcast TV.
Next up are two concerts from the '90s: Cher: Extravaganza – Live at the Mirage (February 4, 1991), which aired on CBS, and Cher: Live in Concert at the MGM Grand in Las Vegas (August 28, 1999), which aired on HBO. Viewers get 11 songs from the Mirage and 18 songs from the MGM Grand with four repeats: "We All Sleep Alone," "I Found Someone," "After All," "If I Could Turn Back Time." The video quality is better on the latter, but she's surrounded by talented musicians on both. Lastly, Dear Mom, Love Cher is a documentary about Cher's mother, Georgia Holt. More for the Cher completist, but she did live an interesting life.
The extras are spread throughout the set. Volume 1, Disc 1 presents interviews with Cher, her executive producer George Schlatter, guest star Lily Tomlin, and costume designer Bob Mackie along with an excerpt from a 1975 episode of The Dick Cavett Show. Disc 2 has more with Tomlin and an excerpt from Dinah! (September 12, 1975). Disc 5 has a Cher CBS Promo and more with Mackie.
Volume 2 Disc 2 features Play Rehearsal, an Alternate Opening for the TV special, and then taken from the tour: Cher's Big Blooper; a Tour TV Commercial; Backstage Home Movies narrated by Cher; I Survived the 1990 Tour, assembled by the musicians and crew as a present for Cher; and recorded at the Meadowlands Arena in New Jersey, a performance of "Heart of Stone" with boyfriend Richie Sambora joining her. Bonus Songs: "Baby Hold On" and "Tougher Than the Rest" are each shown from The Mirage, Rehearsal, and the Heart of Stone Tour:
Disc 3 has Cher discussing her BELIEVE Tour 1999 and signing the National Anthem, Super Bowl XXXIII. Disc 4 presents Superstars and Their Moms (May 3, 1987), a TV special hosted by Carol Burnett and her daughter. Cher and her mom, a co-executive producer, visit with her sister and also her former school principal. The Late, Late Show with James Corden (June 19, 2018) finds Cher playing Spill Your Guts or Fill Your Guts.
The Best of Cher Volumes 1 & 2 lives up to its name as it demonstrates why she has been an icon in TV, music, and fashion over the decade. Some of the best of The Best is the rare archival material that will enjoy reliving or discovering.