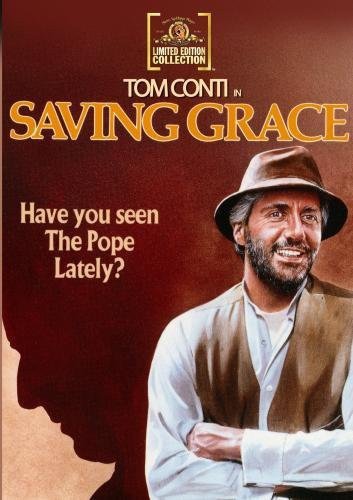 A gently comedic drama about finding religious fulfillment in action rather than ceremony, the little-seen 1986 film Saving Grace is testament to the intelligence of director Robert M. Young.
There are a number of elements here that could easily push the film into territory too melodramatic or too artificial — there's a glowering villain who holds sway over an entire village, a budding romance between a celibate man of the cloth and his beautiful landlady, the death of a child in a pivotal moment of action — but Young knows when to pull back, introducing these story threads without feeling the need to give each one an obvious resolution. Like he did in his debut film ¡Alambrista!, Young crafts a dramatic film that isn't underpinned by sentimentality.
Also in the film's plus column is the warm, immensely likable performance from Tom Conti at its center. Elected as Pope Leo XIV, Conti's character reluctantly takes the job and soon finds the myriad bureaucratic and ceremonial duties of the office almost entirely preclude actually helping people. When he's accidentally locked out of the Vatican one day, it affirms his desire to make tangible contact with the world, and he travels to a secluded, impoverished village where he knows there is no priest.
As his absence stretches from days into weeks, the pope's cadre of closest advisers (including Fernando Rey, Erland Josephson and Donald Hewlett) are forced to continually invent new excuses in the film's most outright comic moments. Back in the village, Leo finds his presence somewhat unwelcome, thanks to the imperious de facto leadership of Ciolino (Edward James Olmos) and the apathy of longtime residents like Abalardi (Giancarlo Giannini).
Conti's Leo isn't looking for an opportunity to preach or convert; he simply wants to become part of the community and serve their physical needs. For him, the truest example of religious leadership is to spearhead a campaign to rebuild the decrepit aqueduct system, returning irrigation to the village and revitalizing it in the process.
Saving Grace gives us an inspiring religious figure in the fictional Pope Leo XIV (fun fact: the conclavist movement elected an "antipope" Pope Leo XIV in 2006), but the film doesn't get by on banal inspirational tactics. Young's low-key sensibility, strong character development, subtle wry humor and utter lack of treacle make for a religious film not drowned in its own self-seriousness.
The MGM Limited Edition Collection burn-on-demand disc presents the film in its original 2.35:1 aspect ratio and grants it a really strong transfer, free of significant damage and featuring bold, bright colors. The film's theatrical trailer is also included.