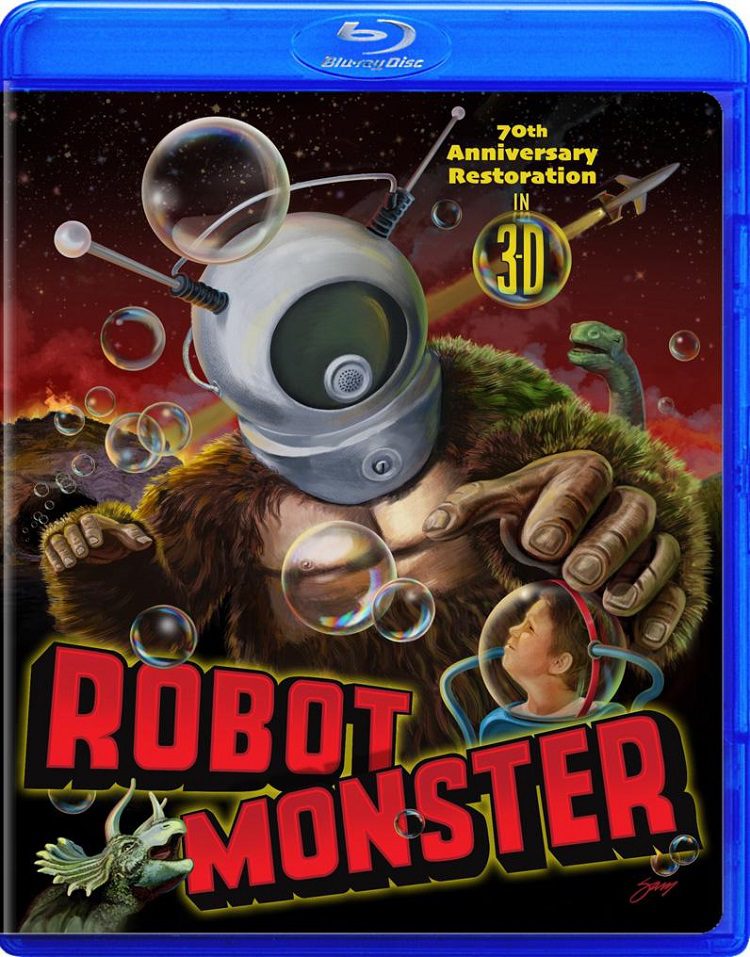 Bayview Entertainment celebrates the 70th anniversary of Robot Monster with an impressive release that features a quality restoration by 3-D Film Archive and is packed with over two hours of bonus features. The work done in both those areas will likely result in the disc making many "Best Blu-ray of 2023" lists in spite of the long-derided movie they support.
As it had when Robot Monster opened in theaters, Stardust in Your Eyes (6 min)is a 3-D short that precedes the feature. Slick Slaven sings a song while imitating different Hollywood actors. Then we meet two children, Johnny (Gregory Moffett) and Carla (Pamela Paulson), who stumble across two archeologists working in a cave entrance. The children's mother and sister take the children away so the whole family can take a nap. Johnny wakes up and goes back to the cave but instead of the archeologists he is knocked out by a calcinator ray. There's an inexplicable cut to monsters and dinosaurs fighting.
Johnny awakes just before the arrival of one of the most ridiculous creatures to ever grace the silver screen: a guy wearing a gorilla suit with a space helmet for a head. He is called Ro-Man XJ-2 and he communicates with his leader, the Great Guidance. Turns out, Ro-Man has destroyed all but eight lives on Earth and he intends to complete the job to make way for his kind.
Johnny returns to his family's home, but now the older archeologist is his father and the other, Roy, is Alice's boyfriend. They aren't sure how to defeat Ro-Man, but the confusion caused by the feelings it develops for Alice prove to be Ro-Man's downfall.
Producer/director Phil Tucker's Robot Monster might have been appealing to kids in 1953 who were intrigued by monsters and aliens, but it's clearly a movie to be laughed at and not with due to it being poorly made. That they were able to get a complete feature out of spending an estimated $16,000 and shooting on location for four days is commendable, but little else about the movie is. It's understandable why Mystery Science Theater 3000 riffed on it.
Wyott Ordung's screenplay makes little sense, although there are a few clues as to what's going on. The dialogue is corny and the events are odd. For some reason, while being chased by Ro-Man, Alice and Roy not only take the time to stop and smooch but get married. When Ro-Man carries Alice off, the actress looks almost gleeful in some shots.
The video has been given a 1080p MPEG-4 MVC encoded transfer displayed in the original aspect ratio of 1.37:1. The Blu-ray offers the movie in BD3D with the proper equipment, in compatible anaglyphic 3-D with one pair of red/cyan glasses, and in standard 2-D. The best available 35mm elements were used for the restoration. The anaglyphic 3-D reveals a lot of depth in the scenes, and even objects as small as bubbles stand out. The 2-D has inky blacks and a solid contrast. Fine texture details, as seen in Ro-Man's costume and the cave where is base is housed, are noticeable.
The audio is available in DTS-HD Master Audio 2.0. Dialogue is clear. Sound effects, especially Ro-Man's equipment, and composer Elmer Bernstein's score show off the dynamic range of the soundtrack.
The bonus features are:
3-D Bonus Content (64 min) – Grouped together into one feature are a new trailer; an interview of Gregory Moffett in Memories of a Pooped Out Pinwheel; Stereoscopic Anthropologist Hillary Hess narrates a video essay about 3D images; new 4K scans of two short films presented in polarized 3-D; newly restored slides from a Golden Age 3-D comic book; Return to Bronson Canyon finds Bob Burns with Ro-Man's original prop helmet; Whatever Happened to Ro-Man? is a faux news report; and a brief restoration demo.
2-D Bonus Content (38 min) – Grouped together into one feature are "Saving Slick," Bob Furmanek talks about his work in searching for 3-D films and finding Stardust in Your Eyes; a classic trailer for Robot Monster; other trailers for 3-D films of the era; the opening title from when the movie was reissued as Monster from Mars; Joe Dante discusses the Monster from Mars trailer from Trailers from Hell. "Mistakes & Innovations" finds Furmanek talking about the intended day-for-night footage and Tucker's use of "Double Film"; an ad for Robot Monster Diaries; and "Rescuing Ro-Man" finds Furmanek telling how he found 35mm prints of the movie
Bela Lugosi – You Asked for It (8 min) in 2-D with and w/o commentary. This segment from a live TV program in 1953 which finds the actor back on screen at the request of a viewer to play Dracula performing a magic trick.
Commentary track with Greg Moffett, Mike Ballew, Eric Kurland and Lawrence Kaufman sit together to talk about the making of the movie.
Robot Monster is memorable but not for the best reasons. The 70th Anniversary Edition Blu-ray is memorable for the right reasons. The restoration looks great in high-definition and both 3-D fanatics and Classic Hollywood fans will love digging through all the bonus material.