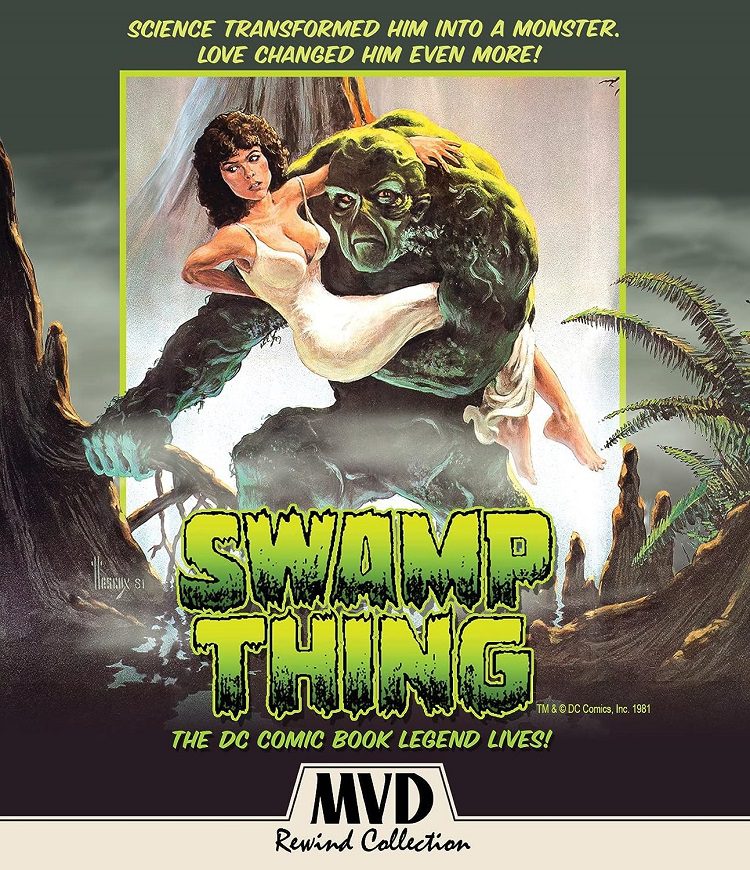 Swamp Thing (1982) written and directed by Wes Craven takes DC Comics main monster from the page to the silver screen in this cult classic swamp romp.
Government agent Alice Cable (Adrienne Barbeau) gets assigned to the swamps where Dr. Alec Holland (Ray Wise) is working on a top secret project involving local plant life. Holland and Cable bond quickly before the sinister genius Anton Arcane (Louis Jourdan) and his mercenary crew cleverly bust in to steal Holland's work. In the ensuing chaos, Holland is set ablaze and makes a mad dash out the door and into the swamp looking for relief.
Assuming Holland's dead, Arcane and his crew proceed to destroy the remaining facility, taking all Holland's notebooks and Cable with them. Although the next day out on the swamp Arcane's baddies attempt to drown Cable but a giant man-like monster (played wonderfully by Dick Durock), comes to her rescue. We learn later that the swamp creature is actually Holland himself mutated by one of his concoctions. From this point on, the comic book-like action is in full swing.
Wes Craven does a fine job in merging comic book action/adventure with a classic horror atmosphere. Craven would later be known primarily for modern horror classics like Nightmare on Elm Street and Scream. Swamp Thing was his attempt to show that he could handle more than just low budget horror. Sadly, the budget kept getting cut on him here as well. The monster makeup was most affected by those cuts and poor Dick Durock as Swamp Thing looks like a man in a rubber suit. Also affecting the suit was the unforeseen acidity in the swamp water that ate at the suit throughout filming. By movie's end the Thing had been patched and taped up so many times it was nearly falling apart. This patch work is visible after the final showdown with the Arcane Monster.
The kooky comic book style wipes from scene to scene are fun to watch and Henry Manfredini's score (he worked on Friday the 13th and other horror films) lends an air of horror to the action scenes; it reminds me of a bit of The Creature From the Black Lagoon. Craven and crew handle the comic book-like action sequences as well as possible for the time and budget allotted. There is one action scene that makes one think thrice as it was shot in a completely different location in California but that's all part of the quirky fun of Swamp Thing.
Swamp Thing is rounded out with a solid supporting cast. As mentioned before Durock tackles his task very well and the young Reggie Batts steals the show with his stoic portrayal of the quick-witted Jude. The two lead henchmen played by David Hess (Last House on the Left) and Nicholas Worth dish out their lines with just the right amount of cheesy comic book humor and bad guy menace.
The Swamp Thing Collector's Edition is part of MVD Visual's "Rewind Collection" available on 4K UHD and Blu-ray. Both include interesting and insightful audio commentary by Craven and make-up effects artist William Munn separately. Munn provides fascinating background on how the Thing's make-up effects came to be and how they held up on set in the swamps and during the action scenes.
Both discs also include the PG-rated U.S. Theatrical version (91 min) and the unrated International version (93 min, which includes an extended Barbeau swamp bath) and the audio commentary options as well. Two minutes of boob time; Barbeau as she bathes and a gypsy-esque dance done before the banquet at Arcana mansion are the only difference between the two versions,
The Blu-ray disc contains the remaining special features including four interviews with cast and crew and one with Kim Newman, whose knowledge of pop culture and its effects on society are always appreciated. It's also really good to watch and listen to Barbeau and Batts tell their tales of life on the Swamp Thing set. The interview with Swamp Thing creator Len Wein's is great as we hear his thoughts on the monster's creation and its screen adaptations.
Special features include
Audio Commentary with Writer/Director Wes Craven moderated by Sean Clark (Theatrical/ PG Version)
Audio Commentary with Makeup Effects Artist William Munn moderated by Micael Felsher (Theatrical/PG Version)
"Tales From the Swamp" with Actress Adrienne Barbeau
"Hey Jude" with Actor Reggie Batts
"The Swamp Thing" with Len Wein, Creator of Swamp Thing
"Swamp Screen: Designing DC's Main Monster" Featurette
"From Krug to Comics: How the Mainstream Shaped a Radical Genre Voice" Featurette
Photo Galleries
TheatricalTrailer
There's also a nifty little Swamp Thing Movie Poster
Wes Craven's Swamp Thing is a delightful beauty and the (bayou) beast tale filled with comic book action and is mostly kid friendly, at least it was for us '80s kids. It has its flaws but what cult classic doesn't? Craven finds the right blend of cheesy, cornball action and humor that's not over the top or ridiculous the way the sequel Return of Swamp Thing (1989) would turn out. The only thing that stupid-silly sequel has over the original is the costume upgrade. Return by the way has a completely different director but that's a story for my next review, so stay tuned CS readers….