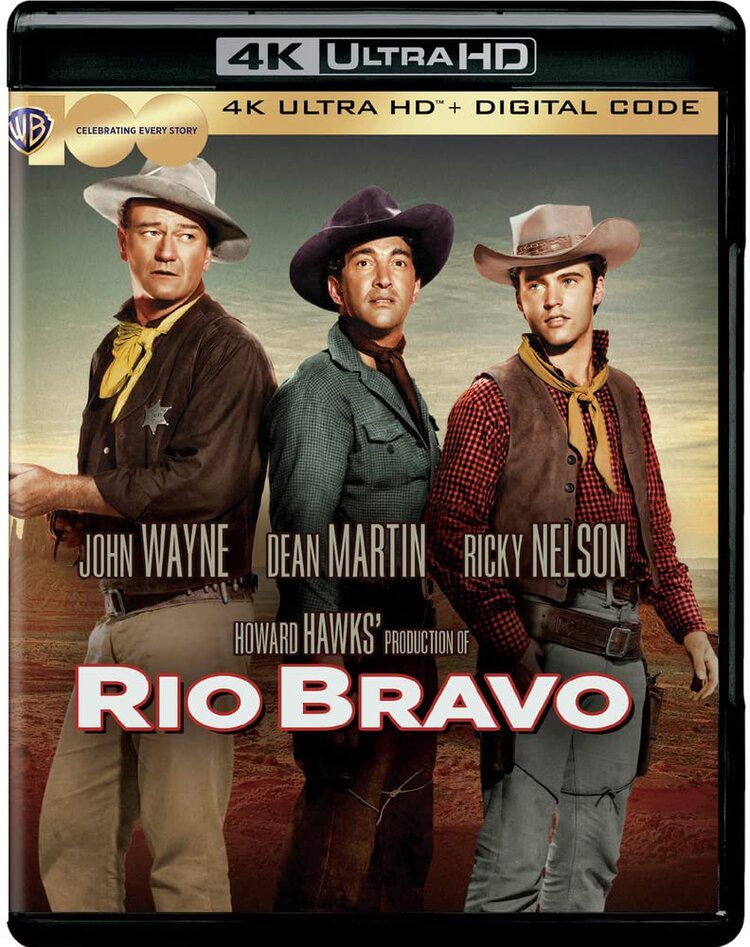 For Rio Bravo (1959; 141 mins.; dir. Howard Hawks)—my favorite Western or damn near it—I have almost no critical faculty.
It's a warm bath of a hangout movie. There's not a bum note in it.
The story, you know—or should. Small-town Rio Bravo, Texas: Having just imprisoned a bad guy, Sheriff John T. Chance's (John Wayne) hold on his prisoner is thin. With only gimpy old Stumpy (Walter Brennan), drunk Dude (Dean Martin), and young quick-draw Colorado (Ricky Nelson) to help him guard the jail against a ruthless band of hired guns, Chance—out-manned and outgunned—will need all the luck he can get.
Every one of these roles sticks with you. Brennan is hilarious. Martin and Nelson are revelations.
As Feathers, the cute widow of a gambling cheat and Chance's love interest, Angie Dickinson keeps purring in your mind long after the film ends. I used to think she didn't fit; that something in her performance felt forced. Now she strikes me as in her own skin. Going toe to toe with Duke Wayne, she's a dream. The chemistry between them is a vibe.
This is a movie that savors the interplay of the cast, and so—it flows cleanly to this purpose, spiced with clever dialogue. You may find Rio Bravo's pace too leisurely. I don't think the movie is long enough.
Primarily, the movie is about the dynamic between an unlikely band of heroes—a small, diverse bunch who join up against heavy odds. It's a movie about friendship and trust; about how to treat others with respect and not give up on the things worth doing, the humans worth supporting.
And it strings charming moments like pearls. The coin tossed in the spittoon, the blood dripping in the beer, and the flowerpot thrown through the window—these are but a few. The movie opens with some of the best silent exposition I've seen in a film. I also love the night scenes, which have a sinister quality and stack up among the best work cinematographer Russell Harlan ever did. Even the singing duet between Martin and Nelson—which at first seems an amusing trifle—becomes a moving reprieve before the start of the big shootout.
Overall, Hawks and Harlan give us an Old West town that ticks softly—light on townsfolk, rife with shadows and abandoned or semi-abandoned buildings, a spray of bullets always looming around the corner. In this hamlet, it's easy to hear every strain of "El Deguello"—the somber cutthroat song that Chance's enemies pay a saloon band to play around the clock. The movie drips with atmosphere.
This is an old pro's film, made with confidence and ease. Based on a script by Leigh Brackett and Jules Furthman—which adapts a short story by B.H. McCampbell and combines dry comedy with a steady rise in dramatic stakes—Rio Bravo is Hawks's greatest directorial achievement. He lets the movie breathe. He gives us time to absorb the characters. The way they react, how they think.
Each time I see Rio Bravo, I find something new in it.
Last, having just seen the new Warner Bros. 4K UHD release, I must say: Wayne has never been so likable. His performance here is among his best. He's the center of the film. He holds it together, and much of what he does he does sans dialogue.
Rio Bravo is a movie peopled with characters I adore. It's a great, fun film.
Even though the new Warner Bros. 4K of the movie makes Harlan's cinematography pop, this release has but one special feature—previously released audio commentary by director John Carpenter and critic Richard Schickel. Which is fine. The 2007 DVD set offers more, such as this commentary, a documentary on Hawks, and a featurette about the Tucson sets. The sharp image is reason enough to buy the 4K transfer (which comes with access to a digital version of the film). I can't recommend it enough.