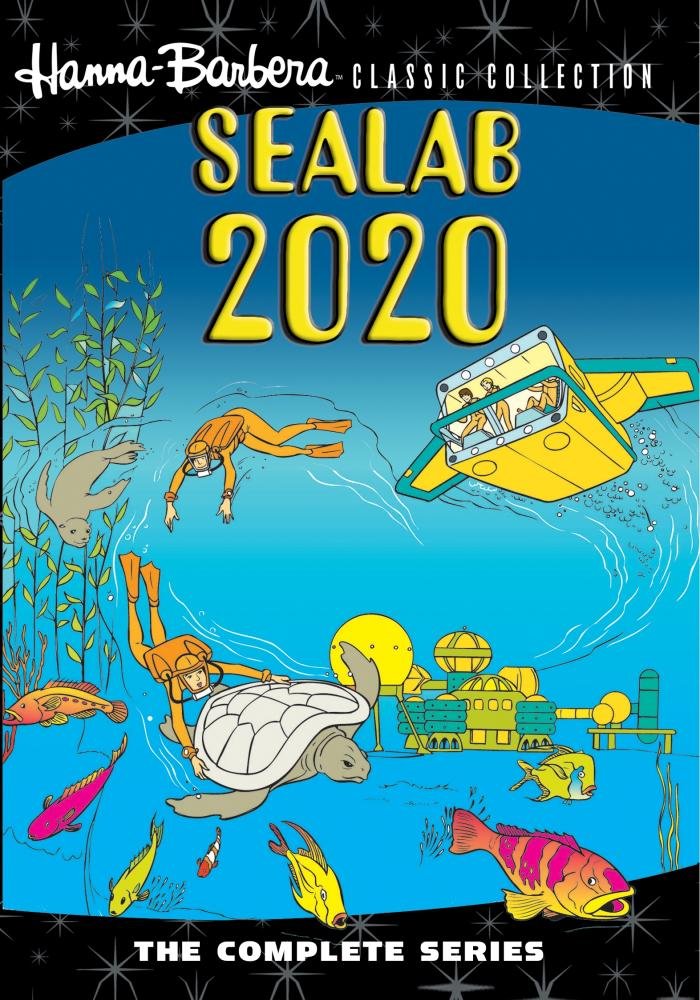 Written by Greg Barbrick
I have to admit that as a kid, I was never much into the "action adventure" genre of Saturday morning cartoons. They were too serious. I wanted Tom and Jerry or Bugs Bunny, not Johnny Quest. But they were very popular in their day, which was basically during the late '60s and early '70s. Just my luck that those were my childhood years. Well, a lot of people would argue that my childhood never ended, which is great, because now I can go back and see what I was missing.
Sealab 2020 definitely falls into the category of action-adventure animation. With the most sonorous tones this side of James Earl Jones, the narrator sets up the scenario; "This is the year two thousand and twenty. The place is the Challenger Sea Mount, the top of an underwater mountain, a complex beneath the sea. Two hundred and fifty men, women, and children live here. Each of them, a science pioneer. For this is our last frontier, a hostile environment which may hold the key to tomorrow. Each day, the oceanauts meet new challenges as they build their city beneath the sea. This is Sealab 2020."
The new Warner Archive manufacture-on-demand two-DVD set contains all 13 episodes of the show, which aired during 1972. The stories themselves are (as expected) pretty pedestrian; this was a kiddie-toon after all. Actually what struck me at first was the background music. From the opening theme, through all of the incidental spots, this is cheese personified. It is as great as vintage porn soundtracks, and (in my world at least) that is high praise.
I doubt if anyone will be requesting Warner Bros. to manufacture a set for them for the music however. Each 22-minute episode generally revolves around Gail and Bobby (the kids) getting in some sort of jam, and being rescued (naturally) in the end. Another aspect of the show I am certain I would not have noticed back in 1972 is the undercurrent of environmentalism the show is infused with. For example, in "Deep Threat" the danger is radiation poisoning. This comes from carelessly disposed of nuclear waste, from (surprisingly enough) previously uninformed generations.
It reminds me in a way of Star Trek IV. While that was one of the best of the Star Trek motion pictures, the whole "save the whales" subtext was a bit heavy-handed. Actually, I think the idea of giving the kids a bit of environmental awareness was a noble thought. Based on current events, such as the BP oil-spill, it doesn't really look like Sealab 2020 had that much of an effect, but hey – they gave it a shot at least.
Sealab 2020 is clearly aimed at the nostalgia market, although there is absolutely nothing here that is not kid-friendly. The whole thing was a kid show from the start after all. It also surprises me a bit that the show came from the Hanna-Barbera studios, who were (sadly) on their way to dissolution at the time. As far as value for your money, these MOD releases are a real bargain. So head back to 1972, or ahead to 2020 (depending on how you look at it) with this very enjoyable set.