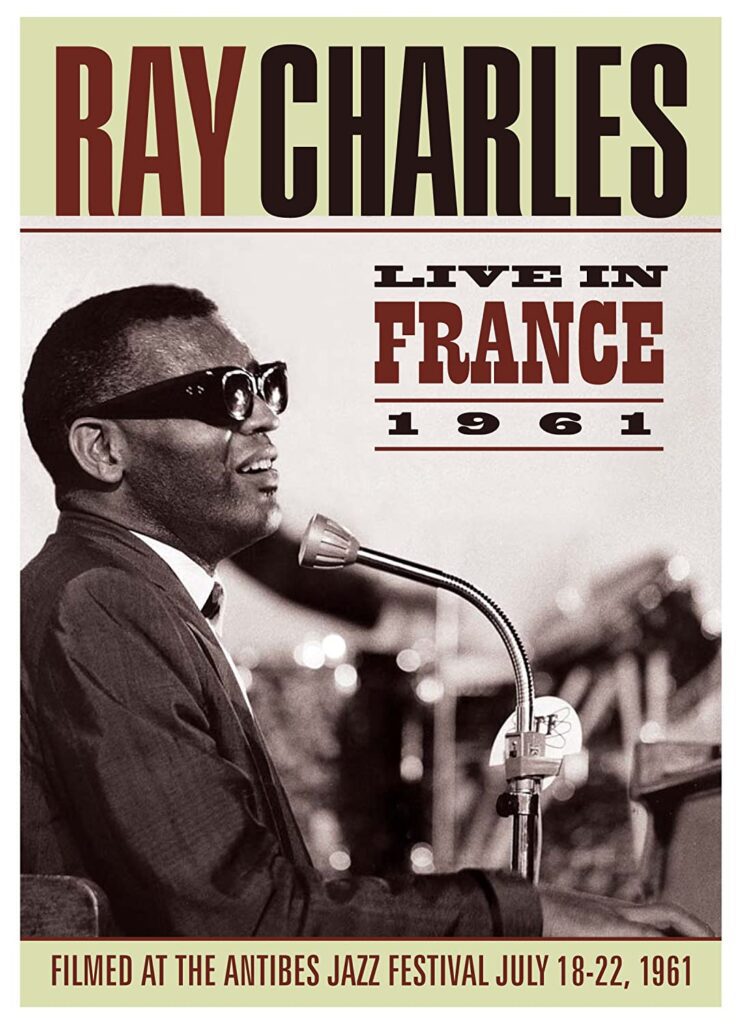 In 1961, it's safe to say Ray Charles was at the peak of his powers. His albums and tours were smash hits and he had signed a deal with ABC-Paramount that granted him 75% of his record's profits and a minimum guarantee of $50,000 per record. In addition, his former label Atlantic, which was still stinging from the loss of its big star, released a number of unreleased Ray Charles songs which when combined with the material he was doing for ABC-Paramount, made for 10 albums of new material between 1960-1961. Life was good indeed.
In 1961, he was invited to perform at the Antibes Jazz Festival in France. The festival featured a number of important acts, including Count Basie; Les McCann; and the vocal group Lambert, Hendricks & Ross and became the first concerts Charles ever performed in Europe. The performances were filmed and form the basis of Ray Charles – Live in France 1961. This DVD marks the first commercial release of this material.
Musically speaking, this is prime Charles. Backed by his famed eight-piece band that included David "Fathead" Newman and Hank Crawford with, of course, The Raeletts on background vocals, Charles and his band play inspired sets covering everything from jazz, big band, pop, gospel, and rock 'n' roll.
The DVD opens with a July 18, 1961, performance. As it was a jazz festival, the band opens with a few jazzy instrumentals including "The Story," an up-tempo, swing-inspired number with solos from the horn section and "Doodlin'," which had a more laid back, bluesy feel with some fine piano work from Charles.
He delivers one more instrumental, an inspired version of the Latin-influenced "One Mint Julep" before launching into a number of his hits. "Georgia On My Mind" is offered as a slow burn, with Newman's flute accompaniment blending perfectly with Charles' awe-inspiring vocal. Charles elevates his signature song to new heights in this version.
The set ends on a high note with spirited versions of "Sticks And Stones" and "Hallelujah, I Love Her So," the former featuring some blistering piano work from Charles. An exciting "What'd I Say" closes the proceedings, with the horn section given tambourines for part of the song while Charles and the Raeletts duel in some fine call-and-response vocals — a terrific end to a fantastic performance.
Up next is the July 22, 1961, show which includes a number of the same songs, but does have a few key differences. The show opens with "Hornful Soul," a bluesy number with some big band elements that features some fine soloing from Charles. It cannot be overstated how good a musician Charles was as he effortlessly coaxed his piano to do his bidding.
"Georgia On My Mind" at this show was closer in arrangement to the single, but it is no less gripping with a fine, emotional vocal from Charles while "My Bonnie" is offered up as an R&B song here. "With You On My Mind" is a fine ballad with strong backing vocals from The Raeletts. The July 22 show is longer and both nights are great performances.
While the performances were filmed, they were never intended for broadcast in their complete form. Rather, they were cut up and used in nine different TV episodes of festival highlights. Complicating matters was the fact that some of the song intros were missing from the filmed footage. Fortunately, Reelin' In The Years Productions was not only able to access these films, but also audio from original radio broadcasts of the festival. They were able to piece together the footage in its original order and, when no footage was available, show original crowd footage in between songs making for a seamless performance. The picture quality of the 50-year-old 16mm films is as remarkable as the performances they contained. Bonus features include five songs from the July 19 show and one song from the July 21 show.
Frank Sinatra famously called Charles "The only genius in our business." Live in France 1961 backs that statement up in full and is an absolute must-own for Charles aficionados.