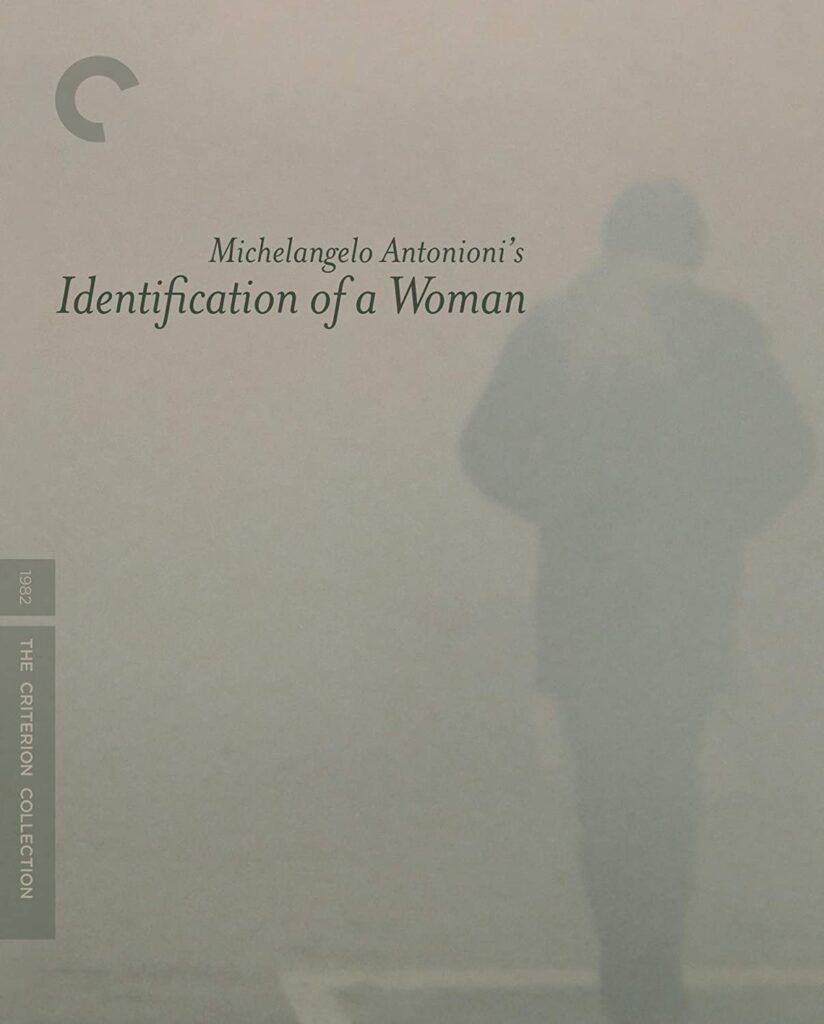 The Film
Among those disinclined to enjoy films without a clear story arc, well-defined conflict, and a resolute conclusion, the films of Michelangelo Antonioni would likely be enemy number one. A sort of lazily dismissive shorthand for the difficulties of art cinema has sprung up around Antonioni's name (see also: Andrei Tarkovsky) but it misses the fact that his films are generally engaging and densely packed with ideas, even if not traditionally fulfilling.
That said, the late-career Identification of a Woman is probably not the best place for an Antonioni neophyte to begin. By most accounts, it's not one of his better films, it lacks the obvious visual brilliance of say, Blowup or Red Desert, and like the film's protagonist, the audience is often left in foggy confusion — and in one scene, literally.
But Identification of a Woman functions as a fairly compelling character piece — it's certainly more character-driven than the bulk of Antonioni's work — around the struggle of film director Niccolò (Tomás Milián) to identify the women he needs, both for the lead in his latest film and for his emotionally fraught personal life, where he's trying to get over a recent divorce. Perhaps it's one and the same woman for both. He certainly doesn't want for choices — he encounters seemingly suitable and willing women almost everywhere he goes.
Eventually, he does fall into relationships with two women — Mavi (Daniela Silverio), an upper-class flirt who's accompanied by threats from a mysterious figure to back off, and later, Ida (Christine Boisson), an actress who appears to be more emotionally available. Both relationships are filled with more stops than starts for Niccolò, whose frustration the audience is sure to sympathize with.
I can't say I really agree with the assertion of John Powers, who mentions in the included essay here that he wasn't sure if Antonioni "ever made a more ravishingly beautiful film," but the film's two premier setpieces — corollaries that each feature a different women — are enough to ensure the film a cachet of visual adroitness.
The first is an iconic drive through the fog, where all of the insecurities and hang-ups between Niccolò and Mavi are brought to the surface in a very literal rendering of their relational disconnection. The second is a moment of wide-open emotional honesty between Niccolò and Ida, framed against the expansive backdrop of a Venice bay — that nonetheless will not lead to relational satisfaction between the two.
Whatever one takes away about the state of modern love from Identification of a Woman, it's doubtful the outlook will be all that optimistic. It's hard to say exactly what Antonioni thought, as the film veers away from personal concerns to the cosmic in a thunderous non sequitur conclusion that somehow feels right even if there are simultaneously 1,000 and zero explanations for it.
The Blu-ray Disc
Criterion presents the film in its original 1.85:1 aspect ratio in 1080p high definition. The film looks very nice, with sharply rendered shots and vibrant colors when they're called for. The image has a pleasing film-like look to it, with just the slightest hint of grain visible. Occasionally, things look a little soft, although that's likely due to the source material, but there's a pervasive freshness to the transfer here that makes for an excellent presentation.
Audio is presented in an uncompressed monaural soundtrack that keeps the dialogue clean and clear in the fronts while allowing the film's horrible '80s Eurotrash synth soundtrack to sound about as good as it could.
Special Features
A rare barebones Criterion disc — with a lower price point to match, it must be noted — as only the theatrical trailer is included. The booklet with the aforementioned essay by Powers and a reprinted 1982 interview with Antonioni lends some additional explication to the film.
The Bottom Line
An attractive presentation for an intriguing film, Criterion's release of Identification of a Woman is a solid deeper cut from the Antonioni oeuvre.