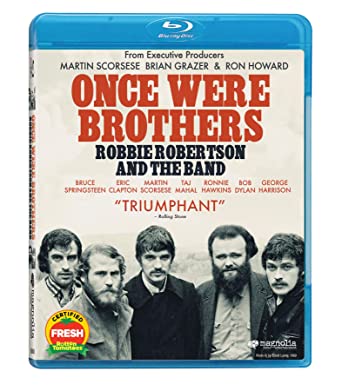 Even before learning that the film was based on Robbie Robertson's memoir Testimony, his name separate from "The Band" in the title and the fact that three of its members are dead (Rick Danko, Levon Helm, and Richard Manuel) suggested this documentary was going to be not so much their story but his. Yet even with that narrow focus, anything that shines a spotlight on the Band and their music is well worth giving one's attention because as Springsteen says, "there is no band that emphasizes coming together and becoming greater than the sum of their parts than The Band…[which featured] Robbie's great writing and three of the greatest white singers in rock history."
After the doc reveals Robertson's family origins, he talks about his own. He got a guitar and playing music spoke to him. Discovering rock music was his "Big Bang." A key moment in his life was when his band opened for Ronnie Hawkins and the Hawks, which included Hawks, in Toronto 1959. At 15, Robertson wrote "Hey Boba Lou" and "Someone Like You," which Hawkins recorded. At 16, he got a tryout for the Hawks, and Danko, Manuel, and Garth Hudson soon joined them.
Wanting to grow and take on new challenges is a constant theme, certainly in Robertson's story. They outgrew Hawkins and became Levon and the Hawks. John Hammond introduced them to Bob Dylan, who wanted them to back him on his upcoming tour. Robertson said "[Dylan] was changing the course of music" as the king of the folk movement now wanted to play with a rock and roll band. It sounded like an interesting detour, but Dylan was the only one who thought it was a good idea because the rest of the world hated it and they were booed every night.
Helm eventually quit not liking the negativity nor being in someone else's band. After the '66 European tour, they took up residence in Woodstock in 67. Danko found an ugly pink house in which they would live and create music on their own and with Dylan, the latter songs released as The Basement Tapes (1975) after the sessions were widely bootlegged. Needing songs to play for record executives, they called Helm back to the fold.
Released July 1, 1968, Music from Big Pink was a seismic shift as psychedelia was all the rage. It helped pave the way for country rock and Americana, along with Creedence Clearwater Revival, before those terms were created.  Eric Clapton says it contributed to him leaving Cream after hearing it. He wanted to join The Band and eventually played with them during The Last Waltz.
Robertson was married with a kid, so he was more grown up and focused than the other guys, who began to drift due to fame and substance abuse. Moving forward, Robertson wrote most of their songs and co-wrote the rest. David Geffen says he met with Robertson, got him to move to Malibu, and suggested reuniting with Dylan, which led to Dylan's Planet Waves and a joint tour.
Life within the Band grew increasingly difficult, and Robertson wanted a break from the treadmill, so folks could fix themselves. A big send-off concert was planned and filmed by Martin Scorsese. The intention was to reunite, but that never happened, at least not with Robertson in the fold though that part of the Band's history is not covered. Helm felt he was entitled to more credit for their music. The two never reconciled with Robertson visiting during Helm's final days, hospitalized in a coma.
Once Were Brothers celebrates the Band yet the film also has an air of sadness throughout. There's no denying the high esteem the Band is held in as musicians, such as Dylan, Taj Mahal, Ronnie Hawkins, George Harrison, Peter Gabriel, and Van Morrison, seen in new and archival interviews, sing their praises. However, the group and individual dysfunction had a tragic impact upon the group in which, to quote Clapton, "[brotherhood] was the soul of the band." While the other members are heard from in archival interviews, their version of events would have helped tell a more complete story.