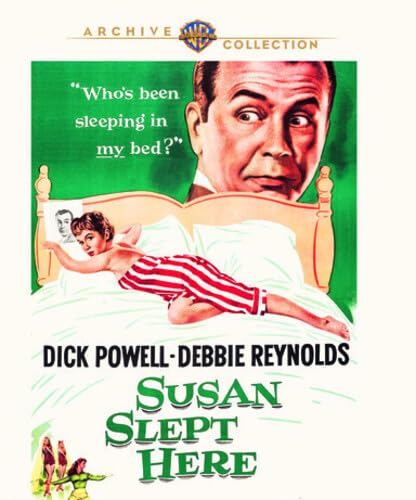 Romantic comedies may have been a dime a dozen back in the '50s, but ‒ as any good numismatist knows ‒ a mint condition dime from the 1950s is worth much more than a pretty penny today. And the Warner Archive has been quite busy of late bringing a venerable assortment of shiny motion pictures classics to Blu-ray for future generations to marvel over, including a grand musical from the '50s, an amazing throwback to the musical from the '80s, and another '50s flick starring one of the era's most beloved musical starlets. In the latter instance, I speak of the late great Debbie Reynolds, who relaxed more than just her singing voice in 1954 Technicolor rom-com, Susan Slept Here.
Replete with well-timed, marvelously written one-liners and quips, the delightfully innocent tale of a late teenager and a much older man would invite more than a bit of scrutiny were it to take place in today's cynical world. But in director Frank Tashlin's universe, the innocent remain just as pure and wholesome as can be, thanks largely in part to the film's protagonist, former musical star Dick Powell. Here, in his last big-screen role, the actor who switched venues and became one of film noir's most beloved Philip Marlowes in Murder, My Sweet stars as a frustrated 35-year-old (sheesh) Hollywood screenwriter, who ‒ despite all of the awards and acclaim ‒ hasn't been terribly inspired as of late.
All that changes when a couple of police detectives deliver him the most unlikely Christmas present: a motherless 17-year-old firecracker (Debbie Reynolds) whom the fellers in vice feel will prove valuable for our hero's impending script about juvenile delinquency. Naturally, a few wires get crossed, especially with Powell's well-to-do fiancee (Anne Francis), who is none too happy to discover there's a beautiful young'un staying in her beau's boudoir! Further advancements in the field of awkwardness develop when li'l Debbie develops a mad crush on her new host ‒ paving way for a bizarre dream sequence which gives both Debbie and Dick a chance to strut their stuff. Glenda Farrell, Alvy Moore, and the great Les Tremayne co-star.
Sporting a gorgeous new 1080p transfer, this beloved, decades-old houseguest is here to stay forever young thanks to the seemingly tireless efforts of the swell folks at the Warner Archive Collection. The Blu-ray's matted 1.66:1 widescreen presentation preserves the original theatrical aspect ratio of the Oscar-nominated crowd pleaser, which you can compare with the included, unremastered theatrical trailer to see just how much of a difference a little love can do for a girl like Susan. A DTS-HD 2.0 Mono soundtrack delivers all of the witty dialogue and the film's two hit songs (neither of which are performed on-screen) with nary a flaw, and English (SDH) subtitles just in case you're laughing too hard to hear all of great lines.
Released the year after Susan Slept Here, 1955's sanitized musical rom-com biopic (it's possible, kids: this movie proves it) Love Me or Leave Me from director Charles Vidor pits another fine pair of musical professionals with each other. Rather, in this instance, Doris Day's Ruth Etting and James Cagney's Martin "Moe the Gimp" Snyder, mostly find themselves against each other (for the full story, please see something I've been told is called "American History"). And, unlike the real life coupling, the onscreen combination of Day and Cagney (who had previously starred alongside one another in The West Point Story together in 1950) is nothing short of perfection.
When a strong-willed dancehall girl Ruth is canned for kicking a sleazeball customer in 1920s Chicago, she catches the eye of a rather unsavory, loudmouthed gangster named Moe takes an interest in her ‒ both figuratively and literally. Soon, with the help of a professional band pianist Johnny Alderman (a young Cameron Mitchell, whose very appearance here officially makes it a great flick) and a shrewd New York City agent (Woman on the Run's Robert Keith, who could very well have been Les Tremayne's balder doppelganger), Ruth is on her way to stardom. But just how long will she be able to spurn the still unsavory demands of her uncouth benefactor whilst harboring a secret love for Johnny?
Sporting many a fine classic tune from the beginning of the 20th Century (from Irving Berlin to Rodgers and Hart, since those are about the only names anyone still remembers anymore ‒ much like the very subjects of this film themselves!), Love Me or Leave Me receives a dynamic 1080p restoration of an original interpositive print (though you'd never know it as it looks that perfect) from the Warner Archive Collection, preserving the 2.55:1 CinemaScope ratio with an accompanying DTS-HD 5.0 soundtrack and English (SDH) subtitles in tow. A trailer and a trio of curiosities ‒ several of which star the real Ruth Etting ‒ wrap up this must-have for fans of one of classic Hollywood's sweethearts and greatest tough guys.
Set on the other side of the globe a good decade after the events depicted in Love Me or Leave Me, our final feature is frequently cited as one of the last truly good musicals of the 20th Century itself. And once you see Blake Edwards' flawless throwback to the genre for yourself, you'll be hard pressed to disagree. Likewise, 1982's Victor/Victoria could very well be the last great picture to be helmed by the late filmmaker, who seemed to crank out nothing but mediocre to abysmal sex comedies and completely unnecessary followups to his beloved Pink Panther series (sometimes pulling an Ed Wood by recycling leftover footage of franchise star Peter Sellers, who died in 1980) afterward.
Here, however, we witness Edwards' creativity in full force ‒ so much so, few people ever take notice of the fact Victor/Victoria is actually a remake. (The original 1933 German film, Viktor und Viktoria, received several different filmic incarnations over time, including a mid '70s Argentinian version entitled My Girlfriend the Transvestite!) Starring the timeless talents of Julie Andrews, Robert Preston, James Garner, Victor/Victoria finds The Sound of Music and Mary Poppins icon Andrews as Victoria Grant, a destitute soprano in Paris who, while unable to sell her incredible glass-shattering voice, is equally unwilling to sell her body instead.
Fate presents her with a incomparable compromise when she meets local gay nightclub legend Carroll "Toddy" Todd (Robert Preston, in his last great role, unless you're that big of a fan of The Last Starfighter ‒ wherein you should sit down and reevaluate your priorities), who has recently received the boot from hit last gig. Inspiration strikes Toddy when he takes note of Victoria's frame and range, resulting in one of the greatest show business scams of all time: a female impersonator who really isa woman! Into this madness waltzes another tough guy from Chicago, King Marchand (the one and only James Garner), who immediately suffers a sexual identity crisis once he lays eyes on "Victor" in action.
The superb supporting cast includes Lesley Ann Warren, former NFL hero Alex Karras, John Rhys-Davies, and excellent bits by Blake Edwards stock players Graham Stark (as the cheekiest waiter since I worked in the service industry) and Peter Arne. The excellent 1080p Warner Archive Collection presentation is as much of a joy to behold as the film itself, and the new lossless DTS-HD MA 5.1 audio mix brings out the best in everything ‒ from dialogue to sound effects to the fruits of composer Henry Mancini and lyricist Leslie Bricusse's efforts. Special features include an archival audio commentary with Edwards and Andrews, an easter egg from the old SD-DVD, and the original theatrical trailer.
All three titles are available now from the Warner Archive Collection, and come highly recommended.