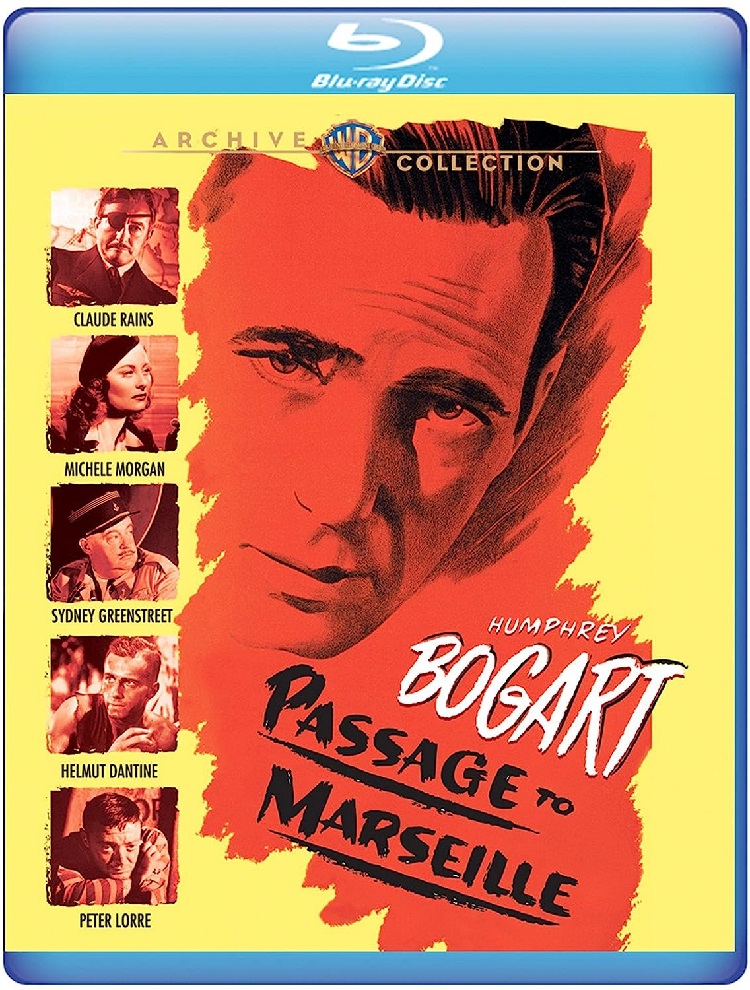 Along with the many wonderful Standard-Definition releases of films that have slipped through the cracks of time, the Warner Archive has also been releasing a limited assortment of classics on Blu-ray. During the last few months alone, the Manufactured-on-Demand outfit ‒ which only issues a handful of titles per week ‒ has unveiled an unbeatable selection of movies hailing from the dark side of classic motion pictures, including many film noir titles from the '40s and '50s. For this modest capsuling of features, I have chosen four Humphrey Bogart films, including one of his most famous characterizations; an alternate (first) take on that very same character, as performed by Dick Powell; and three mysteries from the heart and soul of the one and only Alfred Hitchcock.
We begin with Passage to Marseille (1944) from director Michael Curtiz. A sort-of follow-up flick for hat massive 1942 hit from Warner Bros., Casablanca. Utilizing four of the same leads ‒ Humphrey Bogart, Claude Rains, and the inimitable talents of Peter Lorre and Sydney Greenstreet ‒ the same director, and even a majority of the credited crew, Passage to Marseille made port at the height of America's involvement in World War II, delivering a pro-victory message via an undeniably New York actor (Mr. Bogart) cast as a Frenchman. (Thankfully, Bogie doesn't even try for a European accent, thus preventing any unnecessary, unintentionally hilarious distractions from occurring.)
The story finds Bogart, who ‒ along with Philip Dorn, Peter Lorre, George Tobias, and Helmut Dantine ‒ escape from infamous French penal colony Devil's Island in order to effectively serve their country against ze Germans. But of course it is much more than that. The tale is spread apart over and through a series of flashbacks (seriously, we get flashbacks within flashbacks here, so brace yourself for 'em, kiddies!), to the point where it effectively feels like noir, with James Wong Howe's atmospheric photography only adding to the experience. A scene with Bogart and Lorre gunning down invading aircraft whilst aboard a freighter is a true highlight, and bears an early, eerie resemblance to latter-day "buddy" action pictures which are all too common now.
This Warner Archive Collection Blu-ray offers up a substantial upgrade in quality over the previously-released DVD, including all of the original special features of that release. Special features consists of several theatrical shorts (including a classic Merrie Melodies animated subject), along with a newsreel and a peek at an upcoming film, Uncertain Glory. The trailer of Passage to Marseille itself is (thankfully) included, wherein they really try to sell the whole Casablanca connection. A mini-documentary provides viewers with historical facts about the era the story takes place in. A hilarious blooper reel ‒ Breakdowns, as they were called then ‒ includes a few outtakes from the film itself.
Though our previous destination was Marseille, we are actually docking in Florida next; specifically, Key Largo (1948). The last of four features to showcase the real-life coupling of Humphrey Bogart and Lauren Bacall (the first two of which will are next on the agenda), this classic noir also marked the last time Bogart and classic Hollywood tough guy Edward G. Robinson appeared on-screen together. Their first project together occurred 12 years before in Bullets or Ballots, but by the time Key Largo came out in '48, Bogart's status had elevated above Robinson's; Key Largo is the one and only time the former's name received (slightly) higher billing than the latter in their five films together.
Adapted from a play by Maxwell Anderson (more from him later) and changed from its original source material in a fashion that only Hollywood could do, Key Largo finds disillusioned WWII veteran Frank McCloud (Bogie) wandering through the Florida Keys in search of one or more of the following: a new life, a sense of purpose, closure, or destiny. But only the latter item is on the menu at the hotel he stops off at. The spot itself belongs to the widow (Lauren Bacall) and wheelchair-bound father (Lionel Barrymore) of one of Frank's late battlefield comrades, but it is presently in the control of a small group of very shady men, an alcoholic moll (Claire Trevor), and the little big man in charge of the whole sordid mess (Eddie G. himself).
Tensions mount as the otherwise weird day quickly escalates into a hostage situation, which then worsens as a major hurricane and a gathering of minor hoods start moving towards the all-but-abandoned hotel. And destiny is awfully keen on Frank playing a deciding role as to the outcome of the whole affair. Claire Trevor walked away with an Oscar for her positively outstanding supporting role, while director John Huston (The Maltese Falcon) and Richard Brooks (Cat on a Hot Tin Roof, In Cold Blood) received a nomination for their screenplay. Marc Lawrence, Thomas Gomez, Harry Lewis, and Dan Seymour also star. Like previous DVD releases, this beautiful WAC Blu-ray's only extra is a theatrical trailer.
The aforementioned Dan Seymour returns with his patented form of onscreen villainy in the next Bogart/Bacall classic, To Have and Have Not (1944). Actually, this loose adaptation of Ernest Hemingway's novel happens to be the famous screen icons' first collaboration, and you can actually see the fires of passion ignite between this future real-life couple here. You can also bear witness to one of film noir's best-quoted lines (hint: it starts with the words "You know how to whistle, don't you…"), which was, ironically enough, not included in the original source material. But then, very little of Howard Hawks' Ernest Hemingway's To Have and Have Not bears much of a resemblance to Ernest Hemingway's To Have and Have Not.
Set in Martinique immediately after France fell into the hands of Nazi Germany, the story here finds Bogie as a fishing boat captain who ‒ when he isn't taking rich douchebags out for a ride ‒ is busy trying to keep his nose clean amid mounting political tensions. Practically a precursor to Passage to Marseille (a fanedit incorporating both stories is entirely foreseeable), Bogart's simple world of riding the open waves and keeping his alcoholic first mate (a shaky Walter Brennan) as sober as possible comes crashing to the rocks ashore when a local club owner (Marcel Dalio) all-but-includes him into a mission for the French Resistance. Naturally, local "Gestapo" man Dan Seymour isn't as dumb as he looks, and senses all kinds of trouble.
But it's the barely-legal Lauren Bacall's jaw-dropping, sex-sational debut as a hardened (but nevertheless lovelorn) pickpocket who forms an uneasy (and very steamy) bond with Bogart that steals the show. So much so, an animated Warner Bros. Merrie Melodies short entitled Bacall to Arms nearly copied a quintessential moment in the film scene for scene ‒ a full two years later! Said short is included here, as is a retrospective mini-documentary from 2003 (originally produced for Turner Entertainment) on the romance that would become Humphrey Bogart and Lauren Bacall. A beat-up theatrical trailer and a Lux Radio Broadcast version (featuring the two main stars only) is also included in this beautiful new 1080p transfer from the WAC.
The Big Sleep (1946) is one of two movies here based on author Raymond Chandler's iconic hard-boiled detective, Philip Marlowe. It is also the most popular of the two, having been remade once in 1978 and borrowed heavily from multiple times before and after (heck, even The Big Lebowski owes this one a huge debt of gratitude!). Here, Humphrey Bogart and Lauren Bacall are reunited once more, in the film noir that has since gone down in history as being one of the definitive entries in the genre. The story ‒ though sometimes difficult to completely follow to many, including director Howard Hawks himself ‒ finds Marlowe investigating a simple case of blackmail on the behalf of a wealthy but very unhealthy old general.
It is Carmen (Martha Vickers), the cute and very easy daughter of old General Sternwood (Charles Waldron, in his final film role), who has managed to garner the attention of the guilty party: a rare book dealer named Geiger (Theodore von Eltz). But it is Sternwood's older daughter, Vivian (Lauren Bacall) ‒ complete with a husband who vanished under mysterious circumstances ‒ who catches the eye and fancy of our hero. Interestingly, The Big Sleep was rushed together after the success of To Have and Have Not, its makers completely uncertain as to who was killed by whom in their own screenplay, and then put on-hold until World War II had ended, partly due to a heap of finished WWII-themed movies waiting to be released.
During the film's "shelf life," several scenes were added, re-filmed, or trimmed in order to expand Ms. Bacall's role. In fact, it was during that time Mr. Bogart's marriage dissolved and he and his most famous female co-star wed ‒ making their on-screen chemistry that much more effective. In the 1990s, the original cut of the film was discovered in the Warner vault, which prompted a few Special Edition releases to hit home video. This WAC Blu-ray presents both cuts of the classic, along with an accompanying documentary comparing the two versions and the original theatrical trailer featuring Humphrey Bogart in a library in search of something just as good as The Maltese Falcon, delivered in a way that only the legendary Mr. Bogart could.
Now, while Mr. Bogart is the actor perhaps most commonly associated with Philip Marlowe, he was not the first actor to portray the character. In fact, nearly two years before Bogart epitomized the role, a former musical comedy performer forever changed his career by daring to stick him mug out for a bruisin' in the first Marlowe story on the big screen in RKO's Murder, My Sweet in 1944. Dick Powell beget his work in film crooning out easily-forgotten ditties for memorable musicals at Warner Bros., hoping to broaden his acting horizons by getting some serious acting gigs as time went on. But, as the years flew by, the song and dance routine remained the same, and the actor decided it was time to reinvent himself.
Feeling he was now too old to play a romantic lead anymore, Powell attempted to land the lead in Billy Wilder's Double Indemnity (1944), but lost out to another regular to the Tinseltown comedy scene, Fred MacMurray. But when MacMurray's transformation from good guy to hardnose was not only successful but accepted, Powell knew it was time to give Hollywood some serious Dick ‒ and thus, Philip Marlowe gasped for his first breath of air later that same year for director Edward Dmytryk. The opening scene finds a temporary blinded Marlowe, his eyes concealed behind bandages. It is both an introduction to the story Philip will recount, but also the unveiling of a newly-changed performer cast in an increasingly darker world of film.
Hired by great big huge hulking thug Mike Mazurki to track down his lost lady love, our private Dick soon finds himself knee-deep in stolen jewelry, ransoms, head concussions, scheming femme fatales, and phony psychic healers. Claire Trevor (again), former child star Anne Shirley give a fine final performance (she would retire from acting at the ripe age of 26 after this!), Otto Kruger (Hitler's Children, also directed by Edward Dmytryk), and Miles Mander (The Picture of Dorian Gray) also star. The Warner Archive Blu-ray presents a stellar new HD transfer of the film noir classic, with an audio commentary by author Alain Silver and trailer (with its own unique narration by star Dick Powell) as extras.
While the bulk of these WAC Blu-ray issues have been undeniably pro-Bogart (which, admittedly, you would have to be crazy not to appreciate), it is time we make a sharp turn down a dark alley in Noirville, away from the domain of Bogart (or at least the characters he is sometimes better associated with than others). Yes, now it is time to take a look at three new-to-BD titles from the Warner Archive which preserve the film legacy of the one and only Alfred Hitchcock in High-Definition, beginning with 1941's Suspicion. Almost two decades before he would shock the world with his best-known thriller, Psycho, Hitchcock began his memorable working relationship with another larger-than-life gem from Hollywood's past, Mr. Cary Grant.
Up to the point of Suspicion, however, Mr. Grant has primarily been cast in romantic comedies or dramas. Here, however, that the man born with the unenviable moniker of Archibald Leach was able to show the world ‒ and most importantly, the people who kept casting him in rom-coms ‒ he was more than capable of getting in touch with his mysterious side. Released the year after Hitchcock's similarly-themed thriller Rebecca, the story here finds Rebecca's lead actress, Ms. Joan Fontaine, joining Mr. Grant as ultra-smooth ladykiller Johnnie Aysgarth ‒ who casts his eyes on Lina McLaidlaw (Fontaine) the attractive wallflower daughter of a local well-to-do family; soon casting Suspicion upon himself.
For you see, poor Johnnie has quite the reputation, especially with the ladies. This immediately concerns Lina's parents (Sir Cedric Hardwicke and Dame May Whitty), but she goes off and marries him anyway ‒ only to discover shortly after that, despite his charm and infinite powers of persuasion, Johnnie is actually quite broke. He is also extremely incapable of keeping a job, paying off his gambling debts, or telling the truth and nothing but; having presumably survived this far via the fine art of "male companionship." This sets off the proverbial red flag with Lina, who starts to have a number of well-executed (because Alfred Hitchcock) nightmarish visions, especially once Johnnie begins to casually discuss another fine art: committing the perfect murder.
Nigel Bruce, classic cinema's quintessential Dr. Watson (and who was also in Rebecca) co-stars in a substantial supporting part as Grant's pal Beaky. Thankfully, Hitchcock's utilizes Nigel Bruce better in this one RKO thriller than Universal did in the last twelve Sherlock Holmes features alone. Future The Man from U.N.C.L.E. star Leo G. Carroll (another Rebecca alumni: if Hitchcock liked you, he kept casting you) has a minor role, and be sure to keep an eye out for a man mailing letter. Harry Stradling, Jr.'s excellent cinematography looks positively stellar in HD. Two Standard-Definition extras ‒ a featurette and a trailer ‒ have been ported over from the regular ol' DVD release.
There is perhaps no better-used motif in the whole of film noir than being in the wrong place at the wrong time. This theme comes well into play in our final two titles, I Confess from 1953, and The Wrong Man from 1956, which explore similar themes. In the case of The Wrong Man, a mild-mannered Henry Fonda recreates a real-life example of mistaken identity ‒ and how it can not work for you. When his wife (Vera Miles) reveals she needs some extensive dental work done, musician/family man Manny Balestrero (Fonda) inquires if he may borrow money from his significant other's insurance policy. Unfortunately for him, three insurance clerks believe he is the same man who had robbed the office a few months before.
In I Confess, we have a different sort of protagonist in peril. Here, doomed star Montgomery Clift is Father Logan, a meager Catholic priest in Quebec City who winds up under the grill of Inspector Larrue (Karl Malden) after a nearby lawyer is murdered amid a magnificent opening scene. The actual culprit of the crime here, a German immigrant (O.E. Hasse), is employed as a handyman at Clift's church along with his cook/housekeeper wife (Dolly Haas). When the killer confesses to Father Logan, he sets the classic priest-penitent confidentiality thing into effect; our hero is horrified, yes, but now completely unable to help out the police, even once he himself becomes the prime suspect.
In The Wrong Man, Henry Fonda is such an average, everyday man, he is unable to come up with any sort of proof he was not the burglar, leaving hot-shot attorney Anthony Quayle to try to conjure up a miracle while Mr. Fonda and Ms. Miles (who would later be cast in Hitchcock's Psycho) search desperately for someone to remember him. Montgomery Clift's plight in I Confess differs slightly, as every single piece of evidence (planted by an insane German handyman or otherwise) seems to point to the priest ‒ especially once everyone gets wind Father Logan used to be intimate with high-society dame Ruth Grandfort (Anne Baxter), who, as it turns out, had a very unstable relationship with the deceased attorney.
The Wrong Man and I Confess each make their HD home video debuts courtesy the Warner Archive Collection with beautiful new 2k scans. Each title sports a DTS-HD MA Mono 2.0 soundtrack with optional English (SDH) subtitles, an accompanying featurette (originally produced for each title's respected SD-DVD release) and theatrical trailer (both of which are presented here with a 1080p upgrade, something Suspicion's added preview is sadly missing). I Confess also includes a brief one-minute promotional newsreel clip from the film's Canadian premiere. Though neither of the two features are the best-known of Hitchcock's iconic output, both are uniquely different tales of "mistaken identity."
Enjoy.