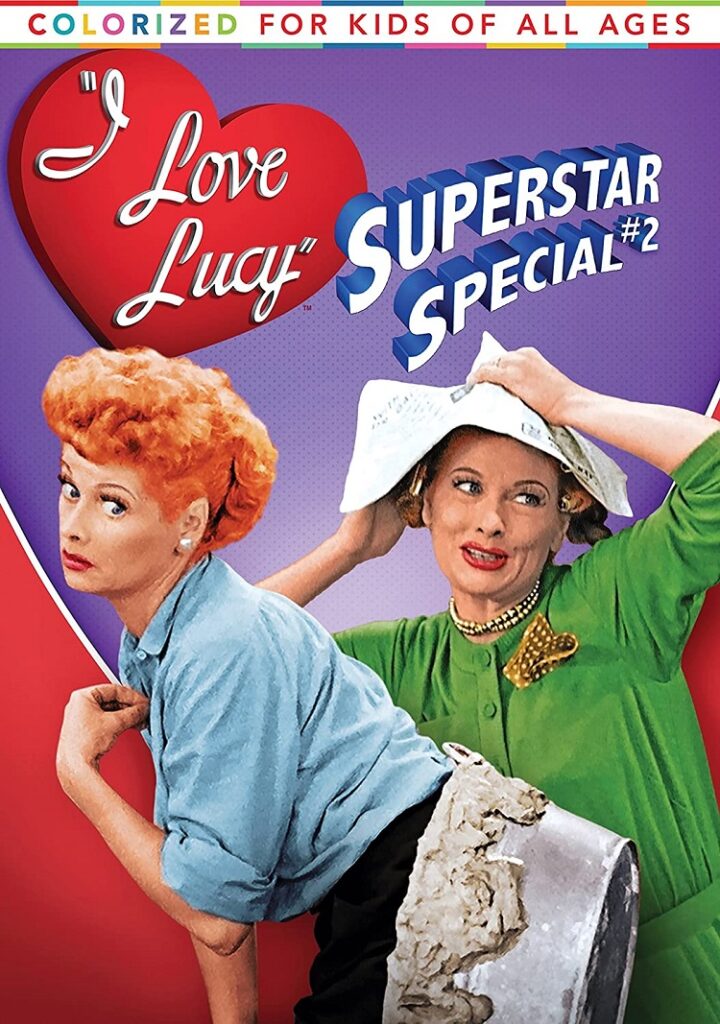 Following its airing on May 20, 2016, the I Love Lucy Superstar Special #2, which aired colorized versions of the first two episodes of Season Five, "Lucy Visits Grauman's" (original airdate 10/3/55) and "Lucy and John Wayne" (original airdate 10/10/55), comes to DVD. The special can viewed in its entirety as can the individual episodes, which are available colorized or in black and white versions and in their original broadcast length.
During their stay in Hollywood, which began in the previous season, Lucy got into many star-studded misadventures. "Lucy Visits Grauman's" finds Ricky (Desi Arnaz) ready to head back to New York now that his work on a film has been completed. Lucy (Lucille Ball), Ethel (Vivian Vance), and Fred (William Frawley) aren't ready yet, so Ricky comprises and gives them a week to finish sight-seeing.
While at Grauman's Chinese Theater, Lucy stumbles across John Wayne's footprint cement slab loose, and the ladies decide they are going to bring it home for a souvenir. Things get complicated when Lucy gets her foot stuck in a bucket of quick-drying cement, and even more complicated when the slab becomes impossible to return.
In "Lucy and John Wayne," the stakes are raised as Ricky needs to avoid bad publicity for his upcoming movie and the whole gang needs to avoid the authorities. Ricky invites Wayne over to redo his prints and signature in a slab, which the good-natured Wayne is happy to oblige. Naturally with Lucy involved, nothing can run smoothly. The highlight is Lucy, who sneaked into Wayne's dressing room, posing as his masseur.
While the colorization process has long had its detractors, the added colors look believable for the most part. The objects look authentic but there's something about growing up seeing these people in black-and-white for decades that makes it hard for my brain to fully accept what I am seeing. Also, when the lights hit foreheads too intensely, the bright spots turn the fleshtones white.
Over 60 years old, the shows remain funny and timeless thanks to the writing and the cast. And yet, I find the Superstar Special DVD to be an odd release. For one, the special edited the two episodes together into one 45-minute program. However, the original episodes run 51 minutes combined, so not sure why anyone would choose to watch the special. Also, if one enjoys and wants to own I Love Lucy, who would want to own only two episodes? If you do, then the Superstar Special DVD is for you.