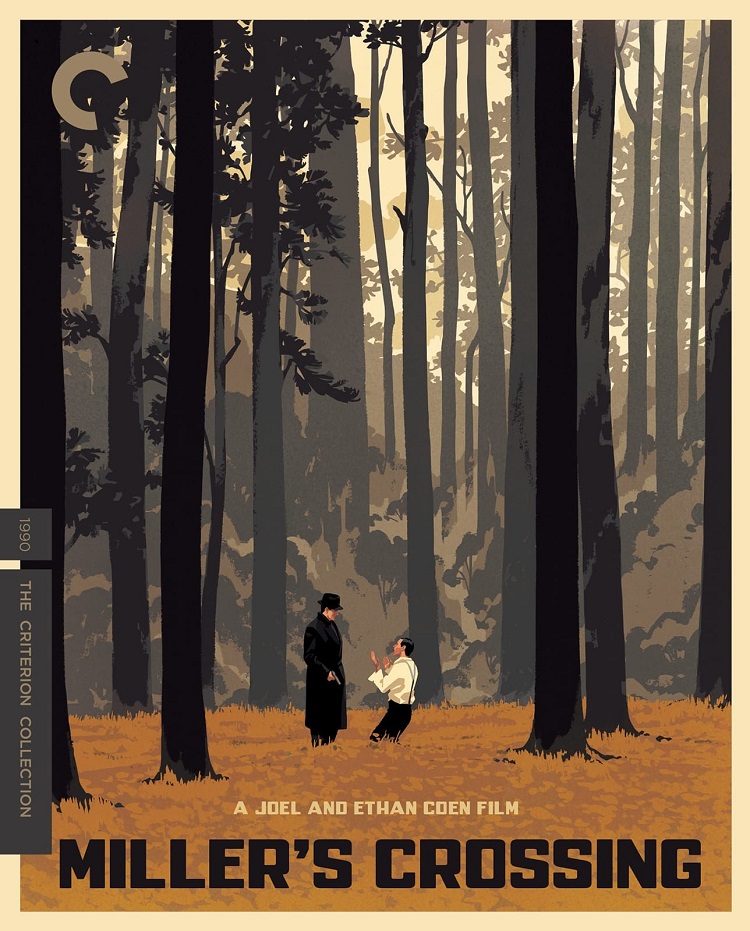 The Coen Brothers are a dynamic directing duo for the film history books. They don't make films within one particular genre. Each film is a mixture of different genres, and they all have the brothers' trademark dialogue, wild and unique characters, and incredible attention to detail. With their sublime 1990 masterwork Miller's Crossing, they successfully recreated the Roaring Twenties (the Prohibition Era), using their own iconic, lacerating style.
A terrific ensemble cast, including Gabriel Bryne, Albert Finney, Marcia Gay Harden, and John Turturro, highlight this story of Tom Reagan, a superior right-hand man (Byrne) to Leo O'Bannon (Finney), a very powerful and intimidating Irish crime boss, whose sharp stoicism is tested when he betrays Leo by catering to the Italian Mafia. This obviously leads to dire consequences for everyone involved, especially considering that Tom is having an affair with Verna (Harden), the sister of a crooked bookie (Turturro), who is targeted by the same mafia, in an increasingly dangerous war over liquor transportation.
This is definitely one of my top five favorite films of the Coens. It has a sense of risk and realism to it that links to a lot of classic noirs from the past, while also subverting the clichés of those films. With cynical wit infused throughout, it's also a brilliant morality tale that has us to confront our desire for evil while we succumb to it. This is just one of many reasons why Miller's Crossing remains one of their best, in my opinion.
The new Criterion edition (which releases tomorrow) includes some interesting supplements including a new conversation between author Megan Abbott and the Coens about film noir and crime fiction; news interviews with cinematographer Barry Sonnenfield, composer Carter Burwell, music editor Todd Kasow, and production designer Dennis Gassner; and new/archival interviews with actors Byrne, Harden, Turturro, and Jon Polito. There's also a new essay by film critic Glenn Kenny.
If you love and are a big fan of the Coens and their legendary collection of films, then this release should obviously be an essential addition to your collection.
Other notable releases:
Some Like It Hot (Kino): Billy Wilder's legendary comedy starring Tony Curtis and Jack Lemmon as two jazz musicians who dress up as women to invade dangerous criminals after witnessing a shooting debuts on 4K UHD.
Gold Diggers of 1933 (Warner Archive): Dick Powell is a millionaire turned composer who rescues unemployed Broadway people (Joan Blonde, Aline MacMahon, and Ruby Keeler) with a new play in this classic pre-Code Depression-era musical.
Don't Go in the House (Severin): A notorious 1980 video nasty about a very disturbed young man who was burned by his demented mother as a child, grows up to be a serial killer, now stalking women with a flamethrower.
12 Angry Men (Kino): The searing 1997 television remake of the 1954 teleplay and 1957 classic film, with Jack Lemmon as the one juror who stands between eleven other men and a young man on trial for the murder of his father. [Read David Wangberg's review.]