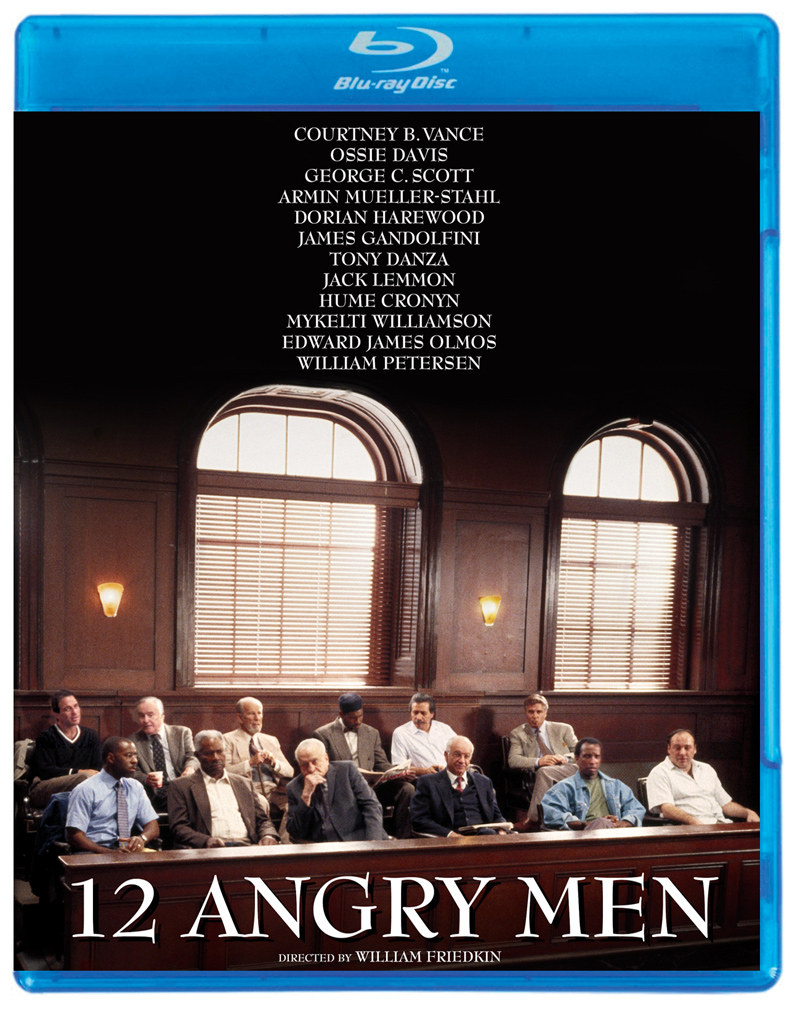 While Sidney Lumet's adaptation of Reginald Rose's 12 Angry Men is a film that is 100 percent perfect and doesn't need a remake, there's something special about William Friedkin's 1997 update that originally aired on Showtime. It's a tight-knit courtroom drama about a group of men who have to make a decision on a young man's life. Did the boy commit murder, or do the jurors believe there is reasonable doubt?
With the exception of the opening and closing scenes, 12 Angry Men never leaves the room in which the jurors have to make a decision. For nearly two hours, the viewer is stuck in a small, rundown room in which, at first, all but one agrees the boy is guilty of murdering his father. What many thought would take less than an hour to reach a decision is going to take much longer than any of them wanted.
Friedkin's version remains true to Rose's original teleplay in that the jurors are not known by any name, only the number to which they are assigned. Juror #8 (portrayed here terrifically by Jack Lemmon) is the one who initially has doubt the young man committed the murder. He has his suspicions, and his opinion doesn't change no matter how the others try to persuade him.
Next to him is Juror #7 (Tony Danza), a salesman who doesn't care one bit about the trial and only cares about getting out of the courtroom and to the baseball stadium to see his favorite team play. Danza's portrayal of the unsympathetic baseball fan is a solid departure for the Who's the Boss? actor, who is normally known for comedic roles. But when placed next to the others in the cast, he doesn't quite reach the range that the rest of them have.
George C. Scott, in one of his final performances before his death in 1999, is a standout here as Juror #3. He's a businessman, who has an estranged relationship with his son. He feels that all kids are the same – rotten, disrespectful, and whatever other negative term you can think of. His decision right from the start is the boy is guilty, and there is no way to change his opinion. Scott commands the screen with his presence and his conviction in the role. As the viewer, you are captivated but also scared to be anywhere near him.
Years before The Sopranos gave James Gandolfini the worldwide acclaim and popularity he achieved in his career, he portrayed Juror #6 here. Of all the other men whose tempers rise due to their opinions and other commitments that they'd rather do, Gandolfini's character remains calm and listens to what others have to say. It's an understated performance, one that is filled with humor and conviction without being boisterous.
One of the biggest risks of adapting a limited set play like 12 Angry Men is that the performances can translate from convincing onstage to over the top in a filmed version. But each actor is a veteran in their own respect and knows how to contain their performance without overreaching and trying to be convincing.
It would be unforgiving to not mention the rest of the cast in this film. Edward James Olmos, Ossie Davis, Courtney B. Vance, Armin Mueller-Stahl, Dorian Harewood, William Petersen, Hume Cronyn, and Mykelti Williamson are the rest of the jurors stuck in the room as they try to reach an agreement. It's a showcase of some of the best acting to come out of a made-for-TV movie, and watching all of these great talents in one film is truly something to behold.
One of the most notable differences in this version versus Lumet's is the fact that there is more diversity in this cast. While diversity casting nowadays seems more like a desperate attempt to please certain crowds, it comes across as more authentic here. Each of these characters is written differently and comes from different backgrounds/walks of life. It becomes more relatable to the viewer, especially if they have had to serve on a jury before.
The temperature rises during the discussion, and it also rises outside – forcing the men to sweat it out in a place with no working air conditioning. At this point, they all want it to be done. Some are at the point of just changing their opinion just so they can leave. Some want to hand it off to a different jury and have them deal with it. It becomes an intense and entertaining back-and-forth amongst the men, as each one tries to convince the others of their opinion.
Fred Schuler's cinematography is filled with several unbroken takes, as the viewer circles around the room – bouncing from one man to the next. Conversations are held in one motion or one static shot, with some even taking place overhead in a bird's eye view approach. It's great to witness.
The new Kino Lorber Blu-ray comes with two versions of the film. One is presented in 1:78.1 aspect ratio, while the other is in 1:33.1 – which is how it originally aired on television. The latter format gives the film a more closed-off feeling, one that is impossible to escape as the men try to hash out their opinions on the case. The former, while still great to watch, doesn't quite have the same effect as it is more for widescreen-formatted televisions. It makes the single setting feel more open than it should be.
While there are two versions of the film present on this new release, the only other special feature is a trailer for the film. It would have been interesting to see some behind-the-scenes features or interviews with the remaining cast members as they give their take on working on this film.
Good remakes of films that were already excellent in the first place are hard to come by. But Friedkin's 12 Angry Men is an exception. It doesn't reach the same level of greatness as Lumet's film, but it does work well on its own.
Kino Lorber will release 12 Angry Men on Blu-ray on February 8, 2022.