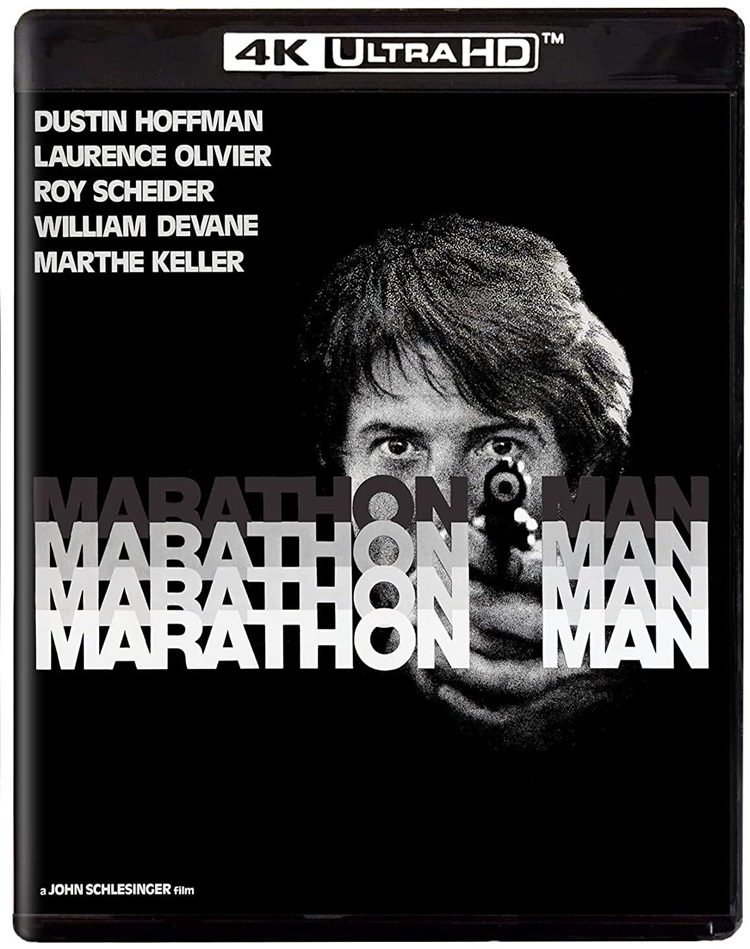 John Schlesinger's movie Marathon Man was written by William Goldman from his novel of the same name. In it, "Babe" Levy (Dustin Hoffman), is a graduate student whose dissertation focuses mainly on the McCarthy hearings of the 1950s. Babe's father had been put on trial at that time and committed suicide not long after. Babe's brother, "Doc" (Roy Scheider), appears to be a big deal in the oil industry, but is actually a spy for a shadowy department in the United States Government.
Laurence Olivier plays Dr. Christian Szell, a Nazi war criminal who has been living in relative peace in South America. Szell's brother, though, is killed in a New York City traffic accident. This means Szell must come to New York to retrieve diamonds from his dead brother's safe deposit box. Szell was a dentist back in Germany, and earned his wealth by stealing gold teeth from the mouths of Jews. Doc knows that Szell will be after the money, confronts Szell, and is brutally stabbed for his actions. Doc makes it back to Babe's apartment, but is unable to convey any useful information before passing away in Babe's arms.
Szell believes that Doc must have told Babe something he needs to know, and so his goons capture Babe and strap him to a chair to try and extract information. There are really only a few minutes in which Babe is in Dr. Szell's dentist chair, but they are some of the most memorable moments in Hollywood history. Olivier comes off as incredibly sinister at the same time as just being concerned about his diamonds and livelihood. Hoffman is the "everyman" who experiences torture the same way most of us would; he pleads, sobs, and promises. Considering that the torture scene has to do with the drilling of teeth, directly into a live nerve, and with emotional levels that high, the fact that Olivier and Hoffman can even pull off the scene is remarkable.
Bonus Features (on Blu-ray disc):
The Magic of Hollywood: Original Making of Marathon Man
Going the Distance: Remembering Marathon Man
Rehearsal Footage
Theatrical Trailer
10 Trailers from the Mid-Seventies
(on 4K UHD and Blu-ray disc)
Audio Commentary by Film Historians Steve Mitchell and Nathaniel Thompson
Marathon Man has a tight script, superb performances (except William Devane as Janeway; he looks and acts like he just stepped out of the Movie of the Week), and terrific direction. It is a true Hollywood classic that should interest cinephiles of all stripes.